Clan in Kericho evicts woman, blamie her for husband's mental illness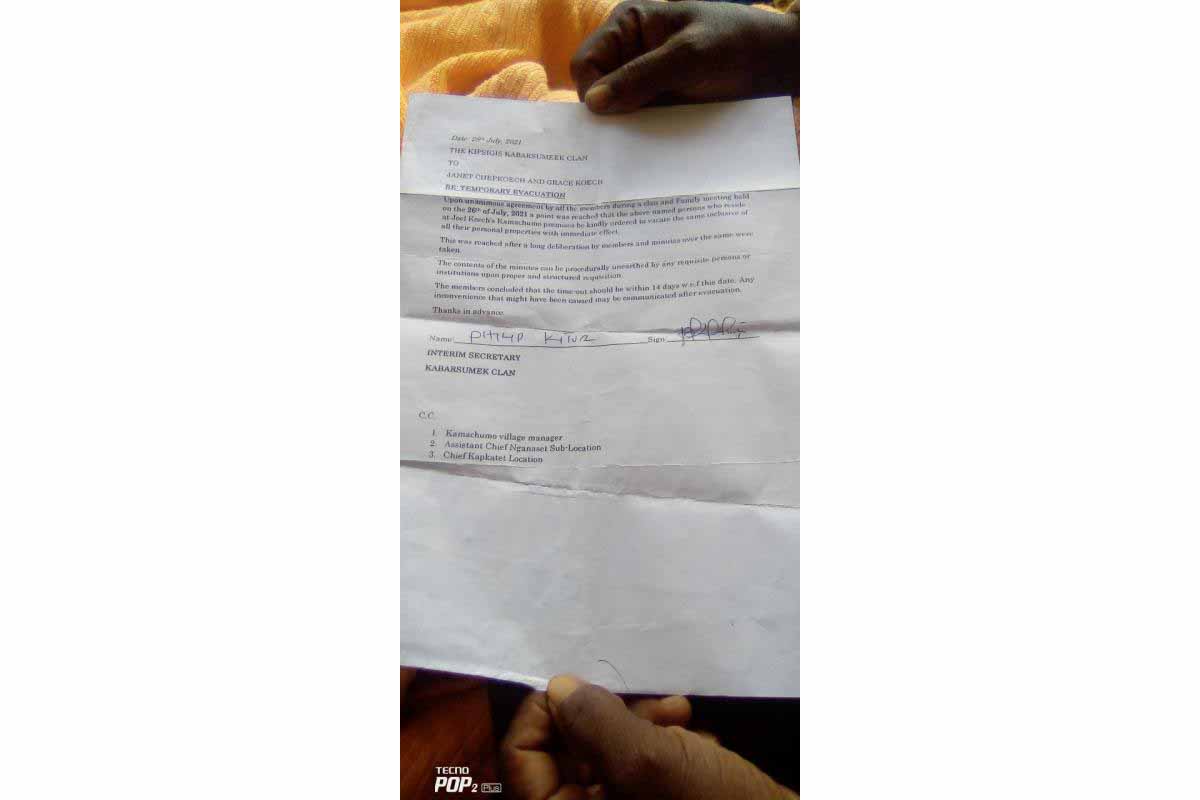 A clan in Bureti constituency wants to evict a woman, blaming her for her husband's mental illness.
Members of the Kabarsumeek clan on July 28 banished Janet Chepkoech, 38, for allegedly having a role in her husband's mental illness.
The clan, through its interim secretary Philip Kitur, gave Chepkoech 14 days to vacate the village. She was also ordered to leave behind property belonging to her husband, Joel Koech.
"Any inconveniences caused will be communicated after evacuating," the letter read in part.
The letter was copied to her mother Grace Koech, Kamachumo village elder, Nganaset assistant chief and Kapkatet chief.
Chepkoech is yet to leave the village as directed by the clan.
She accuses clan members, her step-son and a bishop of orchestrating the eviction in a bid to deny her access to her husband's property, including a four-acre parcel of land.
"Since June when my husband fell ill, I have not known peace. The clan members began pointing an accusing finger at me," she said.
Her husband, Koech, had by then been admitted to Kapkatet Sub-county Hospital.
"From then, my husband's clan members began mistrusting me. They did not allow him to come back to me after he was discharged from the hospital. They instead took him to Itoik village, where he used to live with his deceased wife and children," she said.
Chepkoech said she got married to Koech in 2009 after the death of his first wife. "We have two teenage children."
The decision by the clan has caused outrage among human rights defenders in the county.
Kapkatet chief Daniel Koskei said he was aware that the evicted woman was indeed married to the man said to be suffering from a mental illness. "Chepkoech and Koech have been married for 11 years."
Farida Chepkemoi, a lawyer affiliated with the Federation of Women Lawyers (Fida), described the letter by the clan as illegal and outrageous.
"The clan members have no right whatsoever to issue a 14-day ultimatum to Chepkoech to move out of her matrimonial home. Her husband and family members have not chased her. Where does the clan get the audacity?" she posed.
Chepkoech is also nursing injuries after she was allegedly assaulted by a clan member and her step-son for resisting attempts by a local bishop to plant maize on their land.
"We will ensure no one chases Chepkoech from her home," Chepkemoi said and called on the police to act on the report of assault filed by Chepkoech at Kapkatet Police Station.
"I tried to block a tractor they had brought to plough a portion of my land. They tore my clothes, and I had to flee naked," she said.
"All this while, the bishop was standing by. He claimed he had leased the land from my husband but I was not aware of the lease," she added