Great women who set the wheels of justice in motion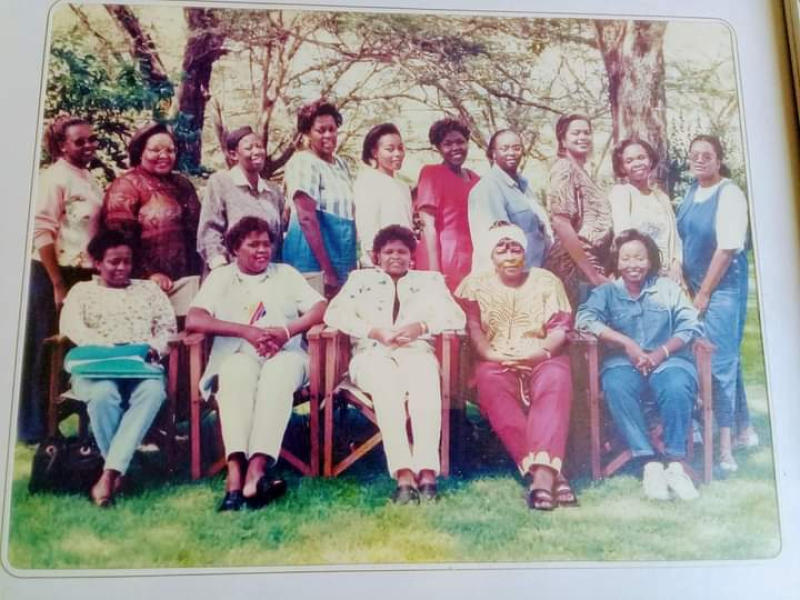 Sometime in 1998, a team of 15 women lawyers smiling for the camera immortalised a moment.
They were members of the Federation of Women Lawyers (FIDA), which chiseled its name by standing for the marginalised by prosecuting their cases even when powerful forces wanted such violations hushed up.
Fida sent chills down the spines of many deadbeat fathers and those accused of battering their wives and children.
Also on their cross-hairs were men who tried to disinherit their sisters and children.
Over time, the lawyers took different paths but apparently, fate has brought them together again.
The former Fida members are now major players in the dispensation of justice, not just peripheral bystanders pointing out abuses and violations of the law.
In the group picture taken 23 years ago, the FIDA council at the time comprised Martha Koome (who was the chair and now Chief Justice nominee), Nancy Baraza (later became deputy CJ ), lawyers Betty Murungi, Alice Wahome (who is now Kandara MP), Njoki Ndung'u who is now a Supreme Court judge, Abida Ali Aroni who is a Family Court judge and Labour court judge Monica Mbaru and lawyer Judy Thongori.
Once vetted and approved by Parliament, Justice Koome will join Justice Njoki at the Supreme Court while Justice Abida and Mbaru serve in Family and Labour courts.
Other prominent Fida officials who are not in the picture and who are currently in the Judiciary are the Chief Registrar of the Judiciary Ann Amadi, who was recruited by Justice Koome as senior legal counsel in 2003, and Court of Appeal judge Agnes Murgor.
After her nomination by the Judicial Service Commission (JSC), Justice Koome said she was grateful for the opportunity given to head the Judiciary.
Great privilege
"I am extremely grateful to the Judicial Service Commission for nominating me to the office of the Chief Justice of the Republic of Kenya. It will indeed be an honour and a great privilege for me to serve this great country as the Chief Justice if confirmed to the office," she said in a statement.
The senior judge added that she is preparing for the next stage, which will be vetting by Parliament.
From Fida, Justices Baraza and Kalpana Rawal, both now retired, were the first to attain senior positions in the Judiciary under the 2010 Constitution. They were deputy CJs.
"She was my chair, she actually interviewed me for the job of senior legal counsel in 2003 and recruited me. She was a great mentor. I later rose to the position of deputy executive director and head of litigation," Amadi said.
Fida will go down in history as the premier civil society movement that has successfully promoted women's individual and collective power to claim their rights in society. It is a group known for its strong advocacy of democracy and the rights of women and children.
Fida was founded by Lilian Wakiiya Mwaura who has been an advocate of the High Court for the last 44 years.
In her early career in law, Mwaura realised that women were marginalised as there were no legal rights for them.
In 1985, Mwaura, together with other prominent female lawyers, founded Fida-Kenya Chapter and she became its first chairperson, a position she held for five years.
Other prominent founders of Fida include Narc Kenya leader Martha Karua, Foreign Affairs Cabinet Secretary Raychelle Omamo, the late Justice Joyce Khaminwa and Justice Mary Ang'awa.
On April 27, Justice Koome made history by being nominated as Chief Justice.
A woman of 'many firsts', as she is popularly known, she went against all odds to defeat top lawyers and other judges in the just-concluded interviews by the JSC.
She has championed gender equality having served as the chairperson of Fida in the 90s.
Justice Baraza was the first deputy CJ under the 2010 Constitution. She was also a chairperson of Fida before being appointed deputy CJ.
Baraza earned a PhD in law from the University of Nairobi where she is now a senior lecturer of family law, social foundations of law and development, jurisprudence and access to justice.
On the other hand, at the age of 24, Karua was appointed a magistrate and served in courts in Nakuru and Kibra in Nairobi.
She was renowned for demonstrating keen and just discernment in her cases, apart from fighting for human rights.
She unsuccessfully ran for the presidency in 2013 on a Narc Kenya party ticket and will go down in history as one of the strongest female politicians.
When President Uhuru Kenyatta took office in 2013, Omamo was appointed CS for Defence. In 2015, she served as an acting CS of Labour and Social Protection.
Currently, she is the CS Foreign Affairs, having served as the chairperson of the Defence Council between April 2013 and January 2020.