The Trans Nzoia police boss lifting the spirits of children living with disabilities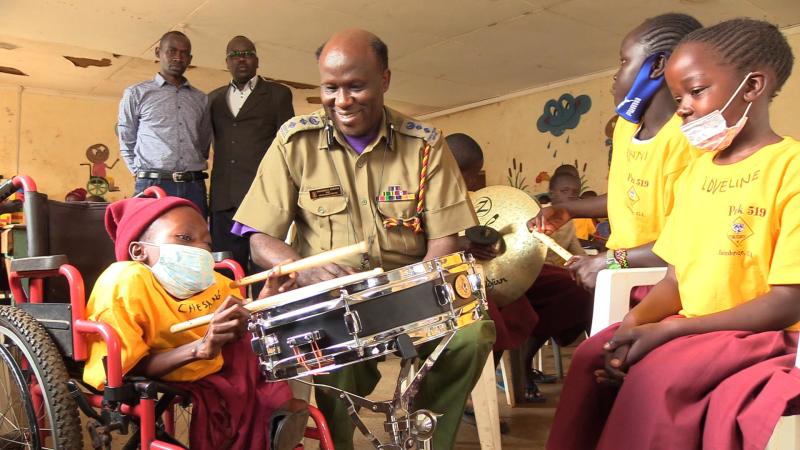 His love for music and a strong desire to give back to the society have pushed Salesio Muriithi to bring joy to children living with disabilities.
The senior superintendent of police is fond of children, a natural pull that binds him with pupils at St Lillian's School in Endebess.
St Lilian's, a special school for the physically challenged in Trans Nzoia County, with 200 pupils, is a unique academic centre in its own right.
The school boasts of the pupils' rich but diverse cultural backgrounds and the vibrant energy displayed in extracurricular activities.
The joy exhibited by the pupils negates the reality of their well-being, as Muriithi takes them through interactive music lessons. When The Standard visited the school last week, Muriithi was engaging the pupils in a game of musical chairs as a warm-up to the session he was to undertake.
A lively mood ensued, and he then distributed musical instruments such as flutes, trumpets and drums to the pupils in readiness for a tune.
Musical bells, drum beats and a rhythmic tone then filled the air.
Muriithi, who is the Endebess Officer Commanding Police Division (OCPD), is a music master.
With vast experience in music and security jobs, he has learnt to impart such knowledge to the youngsters.
He describes his love for music as inborn and motivated by an urge to disapprove of his father's disliked for the career. "My father would flog me whenever I put my talent into practice while in primary school. He disliked the idea. But funny enough, I composed a song castigating his mischief," he tells The Standard team.
He notes that he had a desire to expose his father, who loved chicken. "I want to eat that chicken, prepare it for me," Muriithi imitates his father.
Unaware of the message in the song, Muriithi says his father was fascinated by the song and would occasionally invite him to a local bar to entertain his friends as they enjoyed their drinks.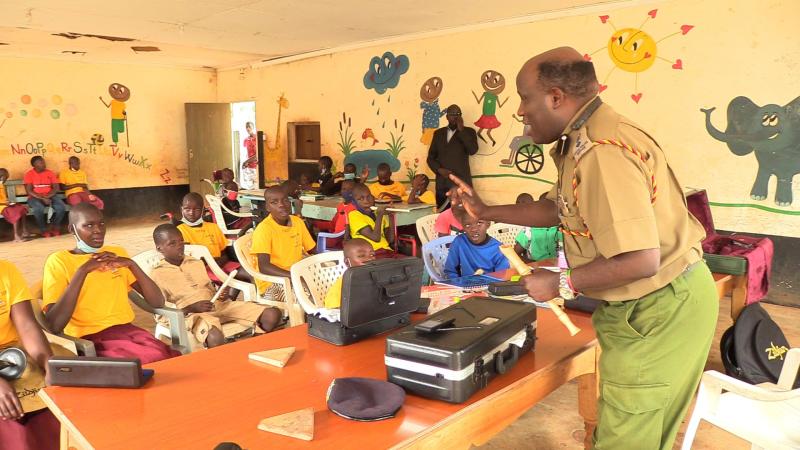 Music career
In 1986, after completing his training, Muriithi joined Utawala Academy in the forces, where he enrolled in the Administration Police band.
The inner drive compelled him to enroll in music classes at London-based Associated Board Royal Schools of Music (ABRSM) through its Kenyan subsidiary. Muriithi perfected his skills and became one of the best in the police band.
The officer is open to doing any genre of music on his alto saxophone.
"I am thinking of starting a music school when I retire. I can play Indian music, rhumba and many others," he says. Muriithi has taught music and scouting in schools within his areas of jurisdiction. He is a music director in the police band.
To add a feather to his cap, Muriithi enrolled in a music program at Kenyatta University, where he graduated with a Bachelor's degree in music.
He has also earned various titles and accolades owing to his industrious work and support to the community. Muriithi has a Head of State Commendation in scouting and is the Vice President of the International Police Association-Kenya chapter.
In all his postings, he has always found a way of interacting with local communities. He says this has helped him perform well in his job.
His daughter Patriciah Wawera, whose stage name is Don Werah, emulated him but majored in the reggae genre.
Transfer of skills
At the special school, Clinton Abale, a Grade Four pupil at the school, plays the flute. He blows the instrument systemically, juggling his fingers to close and open the five holes. He shakes his head to the tune.
"I learnt this skill from Mr Muriithi, who has been coaching us for free. His engagement with us has made me shun the thoughts I had earlier that police were bad people," he says.
Abale, who is barely 10, is thankful to the officer, who also donated musical attire, among other equipment, to motivate and raise the standards of performance for the pupils.
Abale's sentiments are echoed by eight-year-old Lavender Nafula, a Grade Four pupil training to blow the trumpet. "I pray that he continues with this programme until we perfect our skills," she says.
The pupils precisely refer to him as Saleh, his titles notwithstanding. He is so close to their hearts that they see him just as one of them.
Eliud Kipsang, the school's headteacher, terms the initiative a boost to the learning spirits of the pupils.
He says the OCPD has been of profound help to the school fraternity through his unwavering support.
Muriithi has also donated wheelchairs and assistive devices, and also sponsored the pupils to regional functions. He is so free with the pupils that at times he goes to the kitchen, and with the support of the cooks, prepares mandazis for all.
Kipsang uses the opportunity to dissuade parents of children with disabilities from hiding them.
"We have benefitted a lot as an institution through his support. We want to encourage parents with such children to enroll them in schools since they have varied abilities," says Mr Kipsang'.