Family appeals for help as strange disease afflicts son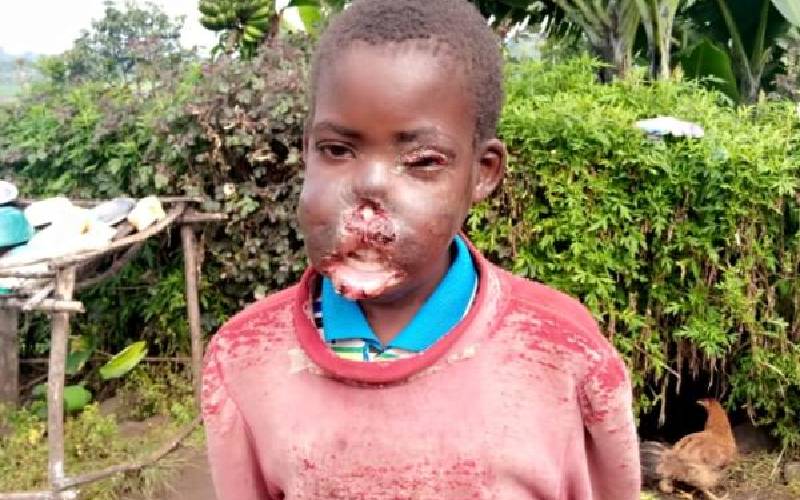 The family of a ten-year-boy is appealing for help to treat a mysterious disease that has terribly disfigured his face over the last four years.
The affliction began when Collins Kipkurui was bitten by an insect while taking sugarcane from their farm at Yalla village in Kipkelion West Constituency.
"After the insect bit me on my upper lip, I got a small itchy pimple which developed into a wound that oozes pus," he said.
Kipkirui's father, Julius Sigei, said four years after the insect bite, the wound on his son's lip became septic and began spreading, eating away at the surrounding flesh. It has now consumed flesh from his lips and part of his nose, and is spreading to his left eye.
Sigei says the life of his seventh child has been turned upside down, even as doctors struggle to find the cause of the ailment.
"I took him to Fort-Ternan sub-County hospital where health workers informed me that he was suffering from an allergic reaction. They said he also had malaria, typhoid and brucellosis, and was given medicine for the conditions," he said.
However, even after taking the medication, the infection on Kipkurui's face has persisted. Sigei said the disease has devastated his family and exhausted their financial resources.
He said he was forced to sell a portion of his land and exhausted the Sh100,000 he got from the sale seeking treatment for his son in hospitals in the county. Eventually, he turned to herbal medicine which he has been applying on the wound.
Kipkurui is currently admitted at the Kericho County Hospital, where doctors are conducting tests to establish the cause of the ailment and treat him.
Kericho Health Executive, Barnabas Ngeno, said doctors were monitoring the boy, who is currently on antibiotics, although they were yet to establish the cause of the disease.
Dr Ishmael Mutai said they were in the process of conducting a series of medical examinations, including a CT scan and biopsy to determine what the boy could be ailing from.
Some samples will also be sent to the Walter Reed Project Laboratory for testing. Meanwhile, Sigei has appealed to the public for financial assistance to cover the cost of treatment, adding that he is a widower, and the sole provider of his 10 children.