Mother of slain student denies daughter was dating suspect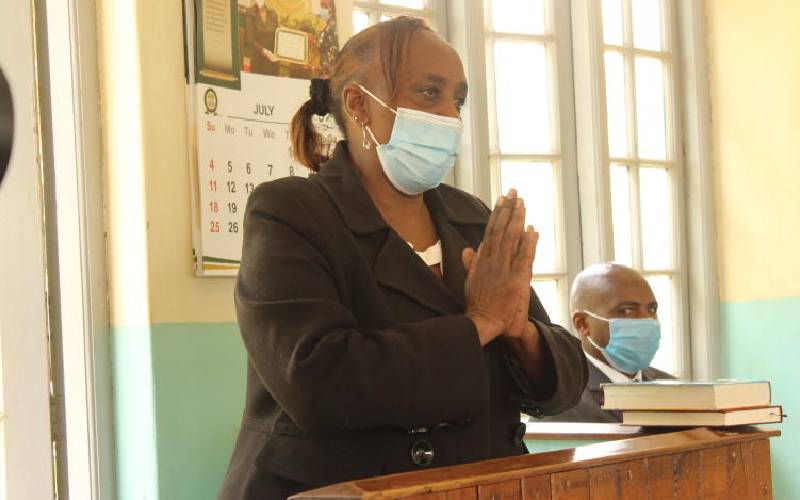 The hearing of the murder case against Naftali Njami Kinuthia, accused of killing Moi University medical student, Ivy Wangeci in cold blood on April 9, 2019, has finally kicked off, after five failed attempts.
Five witnesses including Wangeci's mother and a classmate testified before Eldoret High Court Judge, Stephen Githinji on Thursday.
An emotional mother, Winfred Waithera told the court that her firstborn daughter in a family of three, was a hard-working, focused and self-driven girl, who was in her sixth and last year of medical school.
"She was obedient and soft-spoken. She would not argue with anyone even if she didn't agree with them, not even with her siblings or me," recounted Waithera.
Waithera disputed claims that the suspect, Kinuthia, was her daughter's boyfriend, who used to shower her with goodies.
Further, she said that she only knew Kinuthia, as a pupil, who schooled in Joyland Academy with her daughter before she transferred to another school.
Waithera maintained she always provided for her daughter's academic and basic needs alongside Wangeci's father, adding that their daughter had not introduced them to any man as her boyfriend.
"We always provided everything for our daughter. No one else did, and if anyone sent her money, then what could be the motive? In addition, our daughter wasn't in any relationship that we knew of," said Waithera.
She told court that she had communicated with her daughter, two days before her murder, and she had not reported any threats to her by anyone.
She only recounted one instance, when her daughter called her with a strange number informing her that it was her new number. However, she did not provide reasons for changing her phone number.
Wangeci's classmate, Dr Andrew Koinange, who was with her when the accused attacked her with an axe, gave a moving testimony.
Koinange told the court that he was walking with Ivy heading to class from the university hostels, when they decided to grab some food in a cafe, just next to Moi Teaching and Referral Hospital (MTRH).
But on their way, he saw someone creeping right behind him, holding up an axe.
"I ran towards the hostel, but Ivy fell down. I tripped and when I turned to look back, I saw the attacker hit Ivy's head twice with the axe. Afterwards, he attempted to run away, but a crowd that was forming tried to stop him, but the accused started swinging the axe against them," said Koinange.
He said that the perpetrator was donning a grey cap, light blue shirt and a dark grey jacket, which the prosecution presented as exhibits in court, alongside the axe and knife which were recovered at the scene.
Another witness, Wangeci's uncle John King'ori testified stating that their family had been called by the school dean, informing them of the death of their daughter and that he had gone to the MTRH morgue to identify her body.
Dr Benson Macharia, a pathologist at the MTRH, said that the autopsy conducted on the deceased on April 10, 2019 showed that she suffered deep cuts on the left side of her head and neck.
"The cause of death was hypovolemic shock due to excessive bleeding, since almost all the blood was lost," said Dr Macharia.
The hearing was adjourned to July 22, when more witnesses will testify.