My family was shocked by husband-search placard: Lucy Jemutai
Wearing neatly-clamped dreadlocks, a shiny golden neckpiece, a smile, and a flowery maxi dress with open shoulders, 24-year-old Lucy Jemutai on Friday, April 9 effortlessly hogged the attention of nearly everyone when she arrived at the Standard Bureau in Eldoret, Uasin Gishu County.
Just a day ago, she had taken social media by surprise, when pictures showing her carrying a placard, presumably looking for a husband, went viral.
With Kenya's male population registered at 26.12 million, why would a dashing 24-year-old woman, whose beauty is self-evident, take to the streets to lift a placard in the name of husband-searching? She says it was all comedy!
For those who hadn't interacted with Jemutai's placard, this is what it said: "Scarcity of husbands: I am looking for a serious husband! The qualities are as follows: no age limit is preferred, he mustn't be rich and he mustn't be handsome. Please, help a sister."
Jemutai stood unbothered on the streets of Eldoret Town while displaying her placard.
To many, in the African setting, that was "unlady-like". To Jemutai, it was another day on set; she is a comedienne, and comedy is what she does best. Her stage name is Chepkam, which means 'sister' in Kalenjin dialect.
"Thursday was another day for me on set; I had gone to the streets of Eldoret to shoot an episode of my comedy, which I usually post on my social media pages. During the shoot, hundreds of people thronged the location, amused at the writings on my poster. Nonetheless, I continued with my business unbothered," Jemutai told Standard Digital, displaying a non-forced grin on multiple occasions.
"In my mind, through comedy, I was speaking on behalf of many women, who want to be in stable relationships, but are not able to because of one reason or another. What I wanted to tell them in few words is that, 'it's okay to ask men out. Let us embrace new dating and cultural practices'," said Jemutai, who is a Third-Year Journalism student at Eldoret Technical Training Institute.
The vicenarian said when the pictures popped up on the screens of her parents' smartphones, they called her, seeking an explanation.
"They asked me: 'has the desperation [for a husband] reached that level'?" I told them that it was one of my comedy episodes."
Later in the evening, another picture of Jemutai with an unidentified man circulated on social media, again, with claims flying this time around that she had found a suitor.
"My parents called me again, asking whether the man was going to be my spouse. I told them 'no'. My mother, who has walked with me throughout my comedy journey, later understood what I was doing," she said.
Jemutai said she ventured into comedy in February this year.
She recounted how, while in her friend's house in Kaiboi, Nandi, a short video recorded on phone at lunch hour caught the attention of her followers on social media. She had recorded the video storytelling with her friend while removing detritus from her mouth using a toothpick.
"The recording was about conversations that our married age-mates often have with us; the unmarried lot. You'd hear them pile pressure on us to get married, just like them," she said.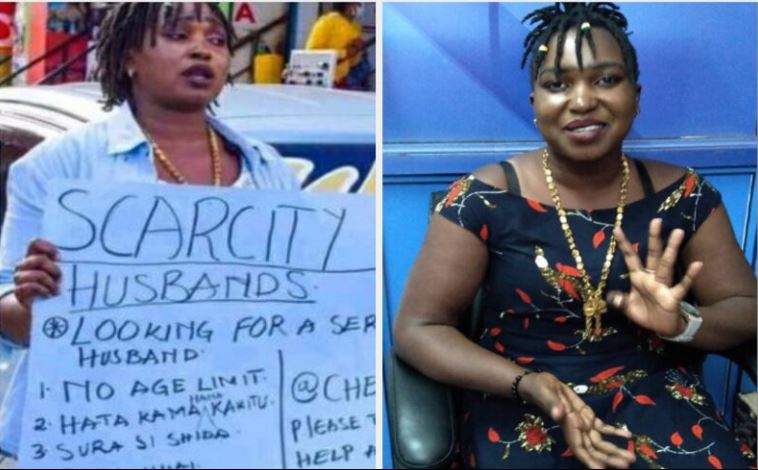 It was that short video clip, which she shared on Facebook and Instagram, that birthed Chepkam the comedian. Her friend helped in circulating the video.
"Many people in my circle found the video recording humorous, and encouraged me to do more of such clips," she said.
Her comedy is centred around conversations that youthful women often have with their friends, especially on matters relationship.
Jemutai said she has always dreamt of becoming a serious storyteller on mainstream media, and that "being a comedienne was the last thing in my mind".
"I have always known I'm cheeky. But never in my wildest dreams did I ever think I would be a comedienne. However, since people have accepted me that way, I would embrace comedy moving forward," said Jemutai, stating the funnyman she looks up to is Felix Odiwuor alias Jalang'o.
"I am dreaming of starting my own YouTube television platform Chepkam TV."
The language she uses in her comedy skits is Kalenjin. "I always aim to be unique," she said.
Her production is usually shot by Eldo Comedy Studios and The Rolling Camera; both based in Eldoret Town, she said.
Her dream is to capture Kenya's laugh industry, saying she's ready to diversify her skits, and adopt a more national outlook.
On whether she's dating or married, she said: "no, I am happily single".