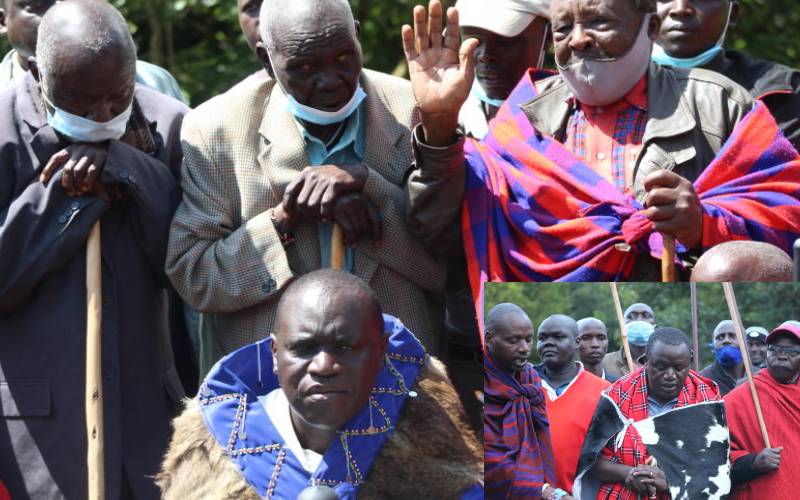 Two Sunkuli brothers are again set to face off in the contest for the Narok governor's seat.
Businessman Andrew Sunkuli and Devolution Principal Secretary Charles Sunkuli have been endorsed by separate groups of elders to vie for the position next year.
The two, who are younger brothers of former Internal Security Minister Julius Sunkuli, were given the go-ahead in events held two weeks apart in Trans Mara West.
In the 2013 General Election, Julius and Andrew contested for the Narok Senate seat, but they both lost to Stephen Ntutu, despite concerted efforts by elders to bring them to a consensus for one of them to go for the seat.
Andrew was endorsed by elders drawn from the larger Sunkuli family and their Moitanik clan on Thursday in a ceremony held at their grandparents' home at Poroko area, while Charles was endorsed by elders drawn from across the county at his Olpisiyai home on January 2.
Retired Chief James Kaipoi said the clan had decided to back Andrew for the seat since he had cultivated a wide network when he contested for the Senate seat in 2013 and had shown he was a development-oriented leader who commands following across the county.
"In 2013, the Moitanik clan did not support Andrew Sunkuli for the Senate seat and we regret that decision since he went ahead to perform very well with support from other Maasai clans in Narok, emerging second behind Ntutu," said Kaipoi.
Douglas Sunkuli, who is the Sunkuli family spokesman, said the family was fully behind Andrew since he does not need any introduction to residents, claiming they believed he won the Senate seat in 2013 but was rigged out.
Douglas urged Charles to respect the clan's and family's decision and shelve his political ambitions and focus on his civil service job.
Repeat a mistake
"We will not repeat a mistake that happened in 2013 where both Julius and Andrew contested for the Senate seat, embarrassing the family and making them lose a chance for one of them being elected since their combined votes were more than what the winner got," he said.
During the ceremony, Andrew was dressed in the traditional Maasai regalia, given a leadership baton and made to sit on a stool in a ceremony conducted by elders, led by Mzee Samuel Kapario.
Speaking after the endorsement, Andrew said he was ready to serve Narok residents as their next governor and that in the next three months he will be touring the vast county by air, road and on foot to reactivate his networks in readiness for a fierce contest ahead.
The businessman, who is fluent in Maasai, Kalenjin and Gusii languages, said he will strive to ensure all communities living in the county coexist in harmony and that in his tenure, never will inter-communal conflicts be tolerated. He assured all communities of their safety.
"I toured the entire county prior to the 2013 General Election and realised that we have vast untapped natural resources, which if well utilised will make Narok one of the most developed counties. I believe the residents will give me a chance to serve them as their governor," he said.
The elders who endorsed Charles said they had identified the Devolution PS as the most suitable person to succeed Governor Samuel Tunai after conducting their survey on several leaders in the county.
Elder Dominic Taama said Charles had shown exemplary leadership in his position as Devolution PS and Managing Director of Ewaso Ng'iro South Development Authority.
"We have sat down as elders from the six constituencies in Narok County in the last few months and identified Charles Sunkuli as the best candidate to be the second governor of Narok County and we will support him fully," said Taama.
Samson Gilisho said Charles was a level-headed leader who was acceptable among all the communities living in the county and that he was best suited to ensure they continue to coexist in harmony.
Gilisho said Charles would also steer the county towards greater developmental heights.
Charles thanked the elders for their kind gesture, saying currently he was comfortable serving the country in President Uhuru Kenyatta's government and would consider their proposal at the appropriate time.
"At the moment I am busy serving the country as the Devolution Principal Secretary and would like to thank President Uhuru Kenyatta for giving me the chance to serve in his government. I would like to do my best for the remaining two years," he said.
Julius (Sunkuli) is also planning to contest the Kilgoris parliamentary seat.