Where did you take our son? Missing man's kin ask police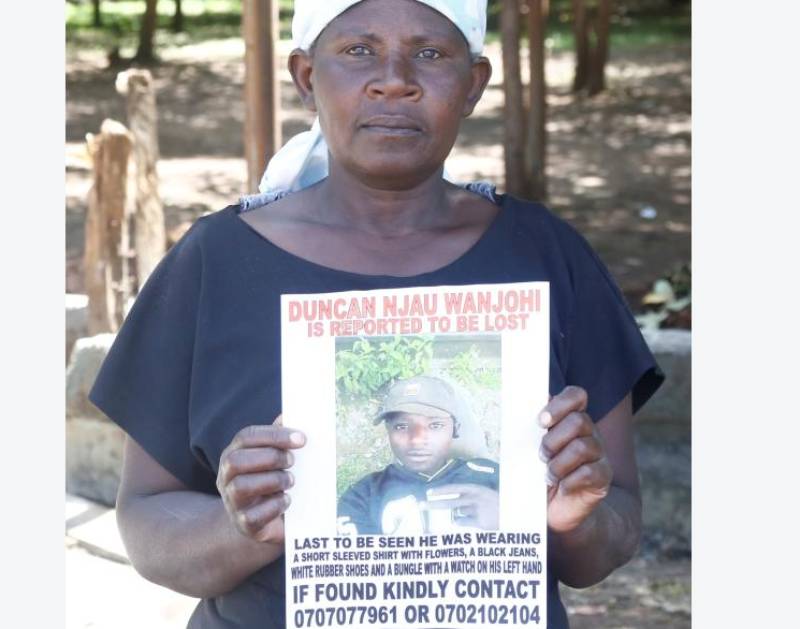 A family in Njoro whose son went missing just days after he was questioned by the police is pleading with concerned authorities to help them find him.
The family of Duncan Njau, 23, say he was questioned by the police over a suspected drug syndicate and set free only to be abducted from his work place by hooded men who bundled him into a car and sped off on Wednesday evening.
"I was heading to his shop where he was sells miraa at around 3pm. I saw three men confiscate his phone. He followed them to a waiting vehicle, Subaru Forester. One of them forced him in and the vehicle sped off towards Nakuru town," said one of the witnesses.
After the incident, the witness who is also Njau's friend said he visited Njoro and Nakuru police stations to check whether he could have been taken there.
Njau's elder sister, Teresiah Wanja said the officers at Njoro Police Station summoned her brother on September 14 where he was questioned and released.
"Immediately I learnt of his arrest, I went to the police station. The officers told me that he was assisting them with critical information on suspects who sell bhang in Njoro but he would be set free," Wanja said.
Njau spent two nights at the police station. Upon his release, he assured his kin all was well and that he had given the police the information they needed from him.
Two days later, the family would learn about his abduction by people suspected to be police officers.
"Witnesses say his captors must have been police officers based on how they acted and the make of the vehicle they were driving. The police have, however, distanced themselves from the incident," Wanja said.
Njau's mother, Julietta Nyaguthii, said she is optimistic that her son will come back home.
She added that they have looked for him in all places they thought he could be at.
"I have looked for him in hospitals, police stations and morgues in Molo, Njoro, Elburgon and Nakuru without success. We have also combed the Menengai Crater forests," Nyaguthii said.
She described her son as a calm and collected person, adding that she was not aware of his involvement in selling of drugs.
"He told me about the police summons which came to me as a shock. He said he would still go if they summoned him since he was innocent. I have not been at peace since the day my son went missing," Nyaguthii said.
She is now pleading with concerned authorities to intervene and help her find her son.
"Even if my son was selling drugs, he should have been taken through the right legal process. My only fear is that his story might turn out like many others of young men who go missing under similar circumstances and are never found," she said.
Tito Kilonzi, the Nakuru County commander dismissed claims that police could have played a part in Njau's disappearance.