High consumption of oxygen among Covid-19 patients in Nakuru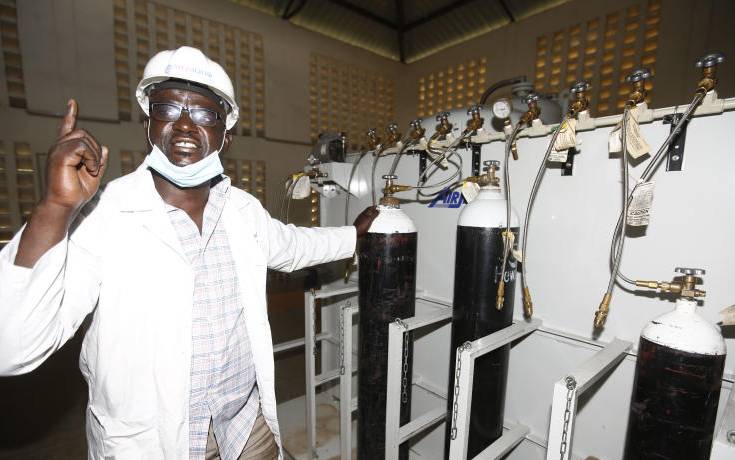 The number of Covid-19 patients in need of supplementary oxygen has increased in the past two weeks in Nakuru County.
At least 12 Covid-19 patients have been placed on supplemental oxygen at the Rift Valley Provincial General Hospital (PGH).
A senior medic at the institution, Joseph Mburu, said consumption of the essential medicine for the treatment of hypoxemia (low oxygen levels in the blood) has risen from 32 to 72 litres of liquefied oxygen daily.
Mburu said it was the first time the facility has recorded a high number of patients in need of oxygen.
The highest number of patients ever admitted at the unit was six, which has risen to 12 now.
"This is the first time the hospital has admitted the highest number of patients with breathing difficulties," said Mburu.
Health records at the facility indicate that all the patients are symptomatic, with the majority having other underlying health conditions like hypertension and diabetes.
"What I can advise the public is to observe set measures to curb the spread. A number of those admitted are from remote villages where we seem to have a surge of infections," said Mburu.
The county has a total of 23 admissions, 12 at PGH, three at Nakuru Nursing Home, and one in Nakuru War Memorial Hospital.
According to doctors, patients diagnosed with the coronavirus might need supplemental oxygen because the infection causes viral pneumonia that paralyses the lungs.
In a recent media briefing on Covid-19, Health Chief Administrative Secretary Rashid Aman said oxygen was a key element in response to the pandemic.
He said the ministry was looking at ensuring there was an adequate supply of oxygen in counties.
"Even as we build capacity in counties, we understand that because of the nature of the disease, it is not enough to have ICUs and ventilators if you do not have oxygen," Aman said.
According to Mburu, oxygen consumption at the facility was 3,600 litres monthly. To meet this high demand, the hospital partnered with Hewatele to set up an oxygen plant in 2017, one of the main suppliers of oxygen in Rift Valley and parts of the Central region.
The Intensive Care Unit, 10 theatres and the maternity wing are supplied with piped oxygen, while the outpatient unit has standby oxygen cylinders.