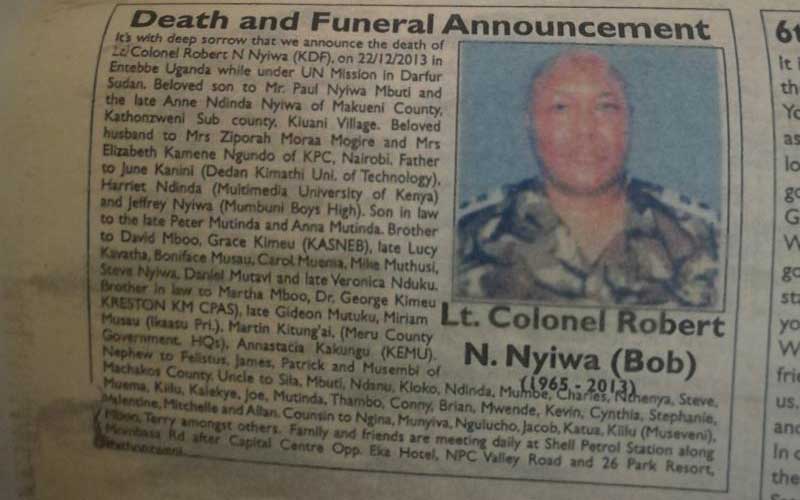 A widow has moved to court to block her co-wife from getting a share of the property left behind by their late husband, a former Kenya Defence Forces soldier.
Elizabeth Mutinda, 47, wants the Nakuru High Court to block Zipporah Moraa, 52, from the estate of Lt Col Robert Ngundo.
Ngundo, who was based at Gilgil Garrison, died in Entebbe, Uganda, on December 22, 2013, on his way back to Kenya from a mission in Sudan.
The soldier had property in Gilgil town, Kathonzweni, Machakos County, several vehicles, shops, and rental houses in Lanet, Nakuru County.
He also left behind Sh5 million in several bank accounts.
Mutinda filed a succession case before Justice Rachel Ng'etich at Nakuru Law Courts.
Moraa told the court she learned of her co-wife from an obituary published in the newspaper on January 2, 2014.
She claimed she was the only legal wife to the deceased as her husband never mentioned the second woman during their 11-year marriage.
"When I read the obituary in a national newspaper, I noticed that Mutinda was also listed as the wife to the deceased. That shocked me because I didn't know her," she said.
Moraa told Justice Ng'etich that she was excluded from the funeral arrangements and blocked from attending Ngundo's burial in Makueni County.
Deserted home
She wants a share of the property and Sh800,000 as fees for their three children.
However, Mutinda claimed that when she got married to Ngundo in 1999, Moraa had deserted the matrimonial home.
She told the court that Moraa had also neglected her three children who were aged six, three and two.
"I took the three children and raised them as my own for more than 10 years before my husband died," she said.
She added that Ngundo informed her that Moraa went away with all the household goods and left the children under his care. "We did a Kamba Customary Law marriage with the deceased and we solemnised our union in July 1999," she said.
She wants the court to consider the 15 years (1999 to 2014) when Moraa allegedly deserted her children and the matrimonial home and block her from the estate.
The case will be heard on November 16.