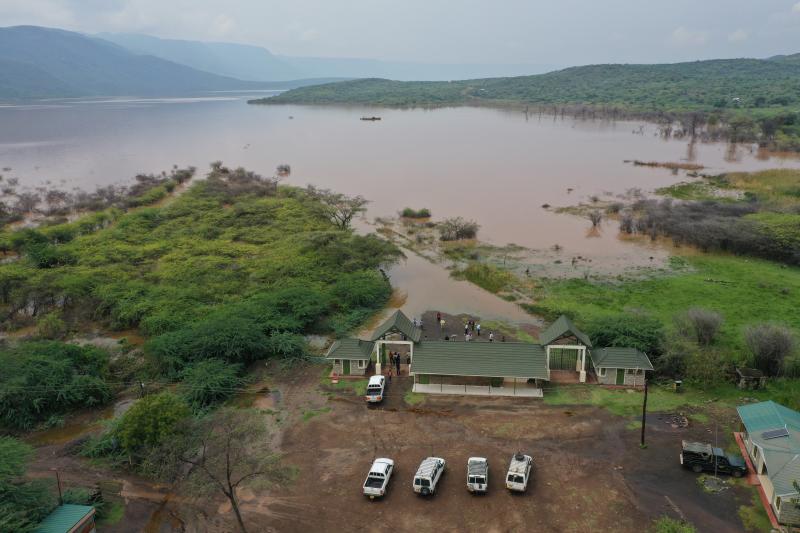 The rate at which Lakes Baringo, Turkana and other key waters in the Rift Valley are swelling is worrying.
The ecological mystery extends from Lake Turkana to Logipi through to magical Lake Baringo, bird paradise Bogoria, Nakuru, Solai and Elementaita and down to Lake Naivasha and Oloiden.
Each day, the waters swell with rage, disrupting power lines, submerging roads and schools, swallowing health centres and irrigation schemes.
"The water level is increasing so fast it is displacing people, farms, homes and infrastructure. It is scary because we have never seen such an occurrence before," Johana Karatu, 69, says.
Though worrying, the phenomenon of the rising water levels that has been linked to climate change is not new.
Read More
By 2010, Lake Baringo was 176 square kilometres but latest estimates project that the lake has spread to cover 276 square kilometres to merge with Lake 94, a historical lake that formed as a result of heavy rains.
"We might be staring at an ecological crisis if this happens. The dramatic rise in water levels along the Rift lakes makes merger a possibility," James Kimaru, Lake Bogoria senior warden says.
Fresh water
Lake Baringo and Lake 94 are fresh water lakes that support abundant wildlife and acquatic life. The neighbouring Lake Bogoria is a soda lake that is a holiday paradise to thousands of flamingos.
It supports the phenomenal hot geysers too. However, the emerging trend has seen it also change over time. Lake Baringo has a pH of 7.8 while Bogoria's is 10.5 and the merger, experts say, spells ecological disaster.
"Lake Baringo has been swelling gradually over time for the past seven years. Major roads have been cut off as a result. Although we cannot exactly point at the cause, siltation and geothermal drilling must have contributed to this phenomenon," Jackson Komen, Lake Baringo warden said.
In 2013, Lake Bogoria swelled to submerge roads and administration offices leading to massive losses. The infrastructure was put up afresh but the water has since spilled over to submerge the new facilities that cost Sh40 million.
"We had put up new curio shops, administrative offices including a conference hall and a new stronger gate, but they are all gone. We had to put up another new gate. The cost of putting up infrastructure has also risen such that a road that was constructed at Sh16 million in 2013 was constructed afresh at Sh30 million," Kimaru said.
Before Lake Bogoria swelled, its original size was 34 square kilometres, but now it seats on 43 square kilometres.
The lake is the county's main revenue earner injecting between Sh80 million to Sh100 million in revenues every year. But coupled with Covid-19 pandemic, the revenues have dropped by almost 90 per cent.
Way forward
To address the problem, Kimaru said the county government has since formed a team which also comprise experts and locals.
But according to him, geothermal activities are to blame for the swelling lakes.
"These geothermal activities within the Rift have contributed to this harsh reality. Now we have titles with farms deep in the lake. Who do we blame this on? Who will compensate us," he posed.
Baringo County deputy governor Jacob Chepkwony, who heads department of disaster management, says the crisis is huge. "It is a catastrophe. The swelling lakes have displaced over 15,000 families. They have cut road networks, disrupted power lines and flooded major irrigation schemes like Perkerra that often supply seeds, and submerged hotels and health centres. Climate change is real and we are feeling it," Chepkwony said.
To mitigate the effects, he said the county has been pleading with locals to move to higher grounds.
As a long term solution, he said experts proposed drilling a tunnel to drain the water as well as putting up dykes to prevent the three lakes from merging.
North Rift Tourism Coordinator William Kimosop confirmed that Lakes Turkana, Longipi, Baringo, Bogoria, Nakuru, Naivasha, Kamnarok, Oloiden and Solai have all swelled.
"There is also a crisis in Lake Turkana. The problem is spilling over to all lakes in the Rift. Soda lakes are changing the ecological behaviours and some like Nakuru and Solai are becoming fishing havens. We need hydrologists, scientists and geologists to look into this strange happening," he said.
To Kimosop, if the three lakes in Baringo eventually merge, it will create a worrying phenomenon.
It is estimated that the lakes are almost five kilometres apart at the moment. Between the lakes are swamps currently fully recharged.
Geologist Florence Tanui attributed the disappearing geysers in Lake Baringo and Bogoria to geothermal activities.
"This is because drilling at the geothermal sites for steam extraction rob the geysers the water and the heat needed to sustain the pressure. It may potentially lower the local water table to the point that geysers activity become unstable," she said.