Water pans promises lifeline to farmers in semi-arid areas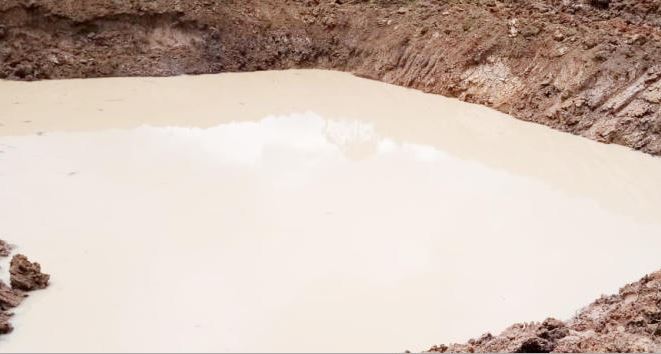 Residents of dry Subukia and Rongai sub-counties in Nakuru County got a new lease of life following the construction of water pans by National Irrigation Authority (NIA).
The authority on Friday launched the excavation of 100 water pans in Solai, which will cost Sh19 million, to ease access to water by locals.
Speaking during the launch, NIA Central Rift Resident Engineer Mr Daniel Bundotich said the project aims to reach at least 500 households in Rongai, with a similar number already attained in Subukia.
"The 520 water pans in Subukia Constituency have been completed. In Rongai's Visoi and Soin Ward, we have sunk 390 water pans, with more in progress within Solai Ward," he said.
Bundotich explained that the water pans have been designed to last the households for at least three months through a sustained supply of 1,000 cubic meters, with no additional rainfall, for sustained food production. "With a million litres, the residents will be able to continue with their farming activities during the dry seasons. This is in line with the government' food security pillars in the Big Four agenda," he said.
Water shortage has been a major challenge to the residents, who face scarcity of food supplies after braving effects of flooding.
Bundotich said the pans would greatly reduce flooding locally, as more runoff water would be collected in the designated spots. Last year foods displaced at least 700 families from their homes.
Joseph Kiprop, a beneficiary of the water pans, explained that food had been a major challenge for the residents. He cited long distances and high costs associated with sourcing quality food stuff from far off markets.
"We grow select cereals, but have no other foods to balance our diet. To get vegetables and fruits, one has to travel to Nakuru town. But with water availability, we are set to produce here," he said.
Some of the farmers expressed optimism that the project would bring them good tidings, economically, as they intend to use the pans for fishing when not serving irrigating.
"To maximally utilise the pan, I will introduce fingerlings to complement my crop farming. If the venture does well, I will move ahead to commercialise it," said Charles Omwenga.
The project was last year implemented in parts of Mogotio and Tiaty sub-counties in Baringo, which have brought forth promising green patches within the county that falls within the Arid and Semi-Arid Land.
The project is being implemented in 38 counties countrywide, with a view of boosting food security and improving livelihoods among the poor population.