Devil made me do it, says mother in savage murder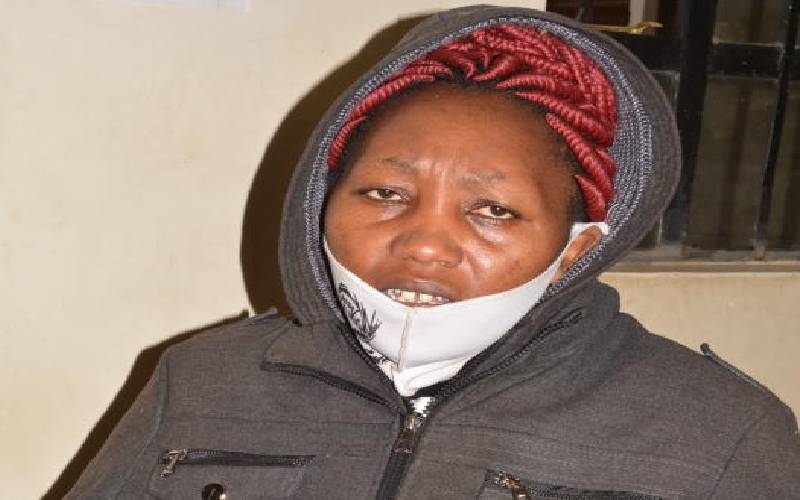 A woman suspected to have killed four of her children is now blaming evil spirits and a broken relationship.
After spending two nights in police cells, Beatrice Mwende Kimothoi yesterday said reality had hit her and she is yet to come to terms with her deeds, which she termed as demonic.
Speaking before she was arraigned in court in Naivasha, the mother of seven asked for mercy, saying she was possessed and did not know what she was doing.
Possessed
"We ate supper together and even watched TV before the children, whom I loved so much, went to bed only for the evil spirits to take over," said Mwende.
Mwende, 42, said her boyfriend whom they parted ways last year would take control over her, ordering her to do all manner of queer things during their relationship.
She claimed that on the 26th day of every month, she would be possessed by evil spirits that commandeered her to do all kind of deeds that she was not in control of.
"I have never loved anyone so much and on this night, he took control of me and I strangled my children one after the other before laying them on their beds," she narrated.
Melody Warigia (8), Willy Macharia (6), Samantha Njeri (4) and Whitney Nyambura (2) were on Saturday found dead on their beds, next to each other. Melody and Willy were students at Milimani Primary School.
Yesterday, detectives were allowed seven more days to continue holding Mwende. She appeared before Naivasha Law Courts but was not required to plead to the charges. The police said they intended to charge her with murder.
Mental assessment
Corporal Samuel Wambugu also told Naivasha Senior Resident Magistrate Yusuf Baraza that they had not conducted a mental assessment on the suspect nor a post-mortem on the four bodies.
Mwende will appear in court on July 6.
While seeking for God's and her relatives' forgiveness, Mwende who worked with an NGO in Naivasha town, said that at no time had she contemplated killing her children.
"Am hoping that this is a bad dream and I will wake up and find my children healthy because I would never even hurt a fly," she said.
The suspect added that on realising what she had done on Saturday morning, she went to seek out the boyfriend who works in Naivasha town.
"I felt so relieved and lighter on seeing him before proceeding to a bar where we always met. That is where the police came for me," she said.