Women tell how hard it is to cope as Widows Day marked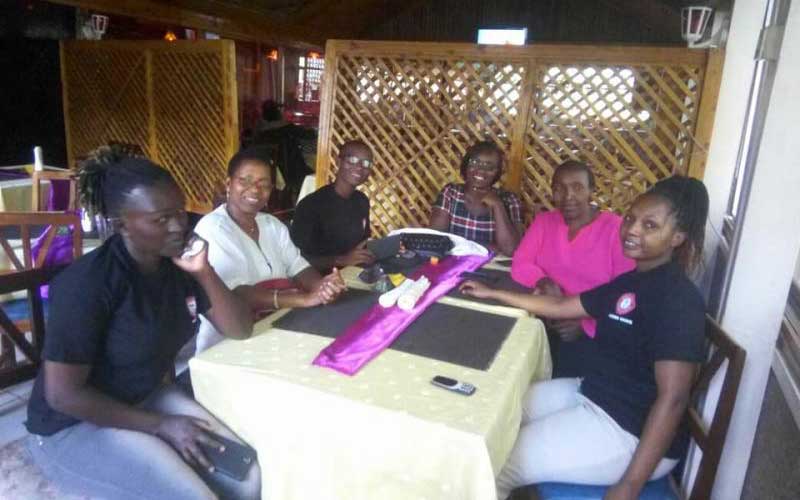 As the world marks the International Widows Day, life for women whose husbands have died in the battle front has been full of heartache, memories and tribulations.
For Lilian Ouma, life has never been easy after the death of her husband, who was the sole breadwinner for their family. Lilian, a mother of three, was widowed at the tender age of 35.
Her husband, Gilbert Ouma, a Kenya Defence Force (KDF) officer was involved in a tragic accident at Kikopey area, along the Gilgil-Nakuru highway in November 2017. He sustained a spinal cord injury and died at the War Memorial Hospital in Nakuru, where he was undergoing treatment.
"As a widow, it has been a challenge raising my children. I also lack moral support," Lilian told The Standard in an interview.
She is among widows who joined the world in marking the International Widows Day, saying financial constraints was among the challenges facing wives of military personnel after the death of their husbands.
Though she opened a small business to support the family, it is not making much profit, and she spends most of the time taking care of her autistic child. Her youngest is three years old.
"I wear a brave face to give my children courage. Two of them keep asking if their father will come back, but I lack words to explain to them that he is gone forever," she said.
Take a quick survey and help us improve our website!
Take a survey
For 34-year-old Maureen Auma from Ndhiwa in Homa Bay County, coping with life after losing her husband has been hard. She has silently endured a myriad challenges from shock of his death, rejection and losing her late husband's property to the extended family.
Auma, in deep thought, recalls how she received the sad news of the death of her husband, Owuor Bonyo with shock. He was a KDF soldier who was among the causalities of the El-Adde attack on January 15, 2016.
Big challenge
The mother of two, who is yet to come to terms with her loss, narrated the fear she has in telling her children about their father's death.
Her youngest child Samuel Owuor, 8, goes outside to play with his friends but returns shortly, crying after allegedly having been beaten. He vows to report the bullies to his father when he comes back. He was five years when his father died.
Auma is confused and does not know if it is the right time to tell her son about his father's death.
"Someday my son will know about his father's death. I am reluctant to tell him now because I have no easy way to explain it to him. I usually just tell him that one day we shall re-unite," says Auma.
Auma met Bonyo in December 2005 and they were blessed with two children, aged eight and 13.
However, while looking forward to raising a happy family, Bonyo was killed in the battle after Al Shabaab launched an attack on the Kenyan-run Amisom army base in the town of El-Adde in Somali.
Auma received the news of his death through the media, having last seen her husband on November 23, 2016 and was eagerly waiting for him to come back home.
Before his demise, Bonyo would wake up to communicate with Auma as early as 5am. On January 15, they had communicated on WhatsApp at around 3am before he went for morning devotion.
"How would you feel, after a tiresome day as you sit down to watch news, only to see pictures of dead soldiers, among them your husband? This is the pain I am yet to recover from," says the widow.
While Auma was still trying to come to terms with the loss of her husband, the extended family was busy arranging for a suitor to inherit her and continue the family lineage. She was forced to flee her home to Nakuru.
Further, her in-laws sold her two parcels of land in Kabondo, claiming she had received compensation from the government and had not shared the money with the larger family.
Compensation logistics are, however, ongoing. Currently she receives Sh12,000 monthly pension.
Teaching course
Before his death, Bonyo had enrolled her in a teachers training college. She teaches at Anara Primary School in Homa Bay County, but supplements her income by stitching sweaters.
To help families cope with life, Heroes Oasis Counselling Centre, a non-governmental organisation offers wives and families of soldiers psychological, logistical and financial support.
"Counselling is what enabled me get back on my feet. I met and shared my challenges with other widows," she said.
Five years later, she moved back to her matrimonial home, where she encourages other widows to venture into income generating activities.
"The life of a widow is tough. At times, someone just needs a warm hug and encouragement that they will make it through. This is the reason I decided to encourage those in distress," she said.
Immaculate Kukubo, the founder of Heroes Oasis Counselling Centre, told The Standard that immediately death of a soldier is reported, they rally the military fraternity to provide moral support to the bereaved.
Kukobo says the State should offer financial aid to widows of military personnel and include them in a pension scheme, for life, after death of their husbands.