Agencies on the spot over collapsed Kericho building, as boy, 7, dies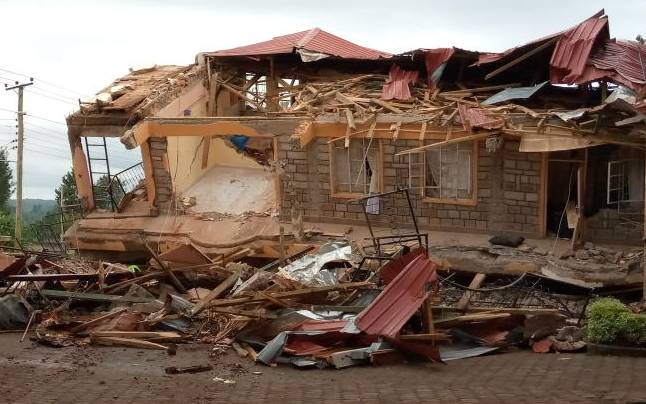 The National Construction Authority (NCA) and Kericho County are on the spot over the collapse of a three-storey residential building that claimed the life of a seven-year-old boy.
Ainamoi MP Slyvanus Maritim, who visited the site, said NCA officials and county's department of Lands, Physical Planning and Survey should be held accountable for the tragedy.
"The cases of buildings collapsing in the country must come to a stop," he said, adding that all parties in the construction industry must do their part.
Mr Maritim asked governor Paul Chepkwony's administration to probe how the building was cleared for occupation yet tenants had raised concerns over its structural soundness.
"Someone must take responsibility over the collapse of Tebs View building. We must know who approved the building or whether there was a Certificate of Occupation in the first place," he said.
Five families escaped unhurt from the collapsed building, but one family lost a seven-year-old boy in the Tuesday night tragedy.
Little Ronald Kimutai was crushed to death inside his parents' house on the third floor of the building.
His aunt, Priscilla Chepkorir, who managed to rescue Kimutai's four-year-old sister, said she was in the kitchen preparing dinner when she heard neighbours screaming as they took to the stairs when the building began to creak.
"I immediately grabbed my four-year-old niece and dragged her with me out of the building," she said. When they had safely moved out of the building, she realised Kimutai was missing.
Kimutai's mother had just stepped out of the house to move household goods into a room in the adjacent building where they preparing to move to.
Cracks in the building
Chepkorir said they first noticed cracks in the building on Sunday and were in the process of moving to another house within Tebs View Court.
Institute of Engineers of Kenya (IEK) South Rift chapter vice chairman David Koskei said preliminary findings showed the ground on which the building stood had been weakened by the ongoing rains.
He asked developers to engage qualified professionals when putting up buildings.
NCA officials who visited the scene yesterday inspected the rubble, but declined to comment.
"We are junior officers sent here to inspect the collapsed building. We have no authority to comment on the structural soundness or any other matter about the building at the moment," said one of the officers.
The Kericho County Executive Committee Member in charge of Lands, Housing and Physical Planning, Barnabas Ngeno, said the property owner obtained approvals for the building and started its construction eight years ago.
He said it was among the buildings that were due for routine inspection.