Landslide victims oppose closure of camps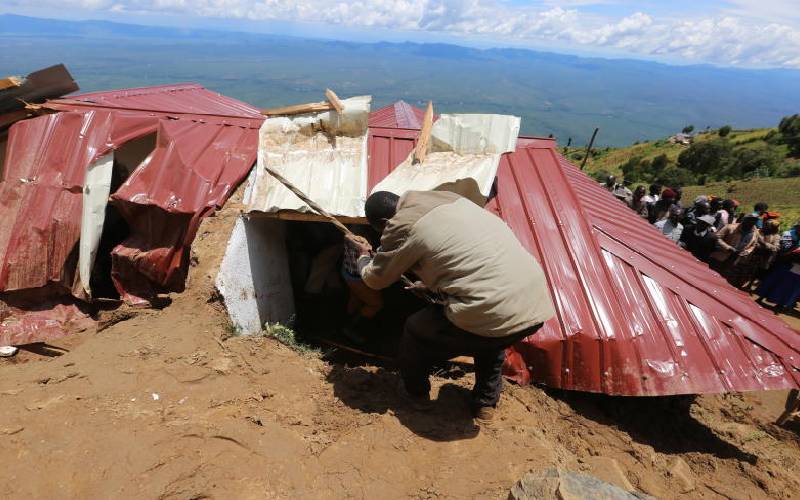 Victims of landslides and mudslides in Elgeyo Marakwet and West Pokot counties have been forced to accommodate their relatives after the government closed all evacuation camps, in a move that has sparked an uproar.
At least 240 families were displaced by the tragic landslides that killed at least 35 people in both counties last month.
Government officials yesterday said the camps were closed earlier this month, citing crowding that left them exposed to risks of contracting Covid-19.
The closed camps are Wewo AIC church, Sambalat and Kipyeigor primary schools in Elgeyo Marakwet and Cheptulel Primary School in West Pokot.
However, leaders said affected families had no access to relief food and depend on relatives, who have been hosting them for more than two weeks.
Boaz Kimitei, a displaced person, said they could not return to their homes in Kiptoit village on the Kerio escarpment even after the heavy rains that caused a landslide in the area subsided.
"We are now living with relatives because we can't return to our homes after huge cracks formed during the rainy season. We fear the cracks will trigger another landslide. We have also been warned by the government not to return to the affected area," Mr Kimitei said.
Keiyo North Deputy County Commissioner Julius Maiyo said all families in affected areas were ordered to leave camps and live with relatives to avoid crowding and risk contracting Covid-19.
"Any relief food and assistance from government will be delivered to them in their relatives' houses because we have their data," he said.
In Embobut/Embolot, where nearly 200 families from Kipchumwa area were displaced, Ward Rep Paul Kipyatich said the government had no data on where the families will relocate to for ease of delivery of relief food.