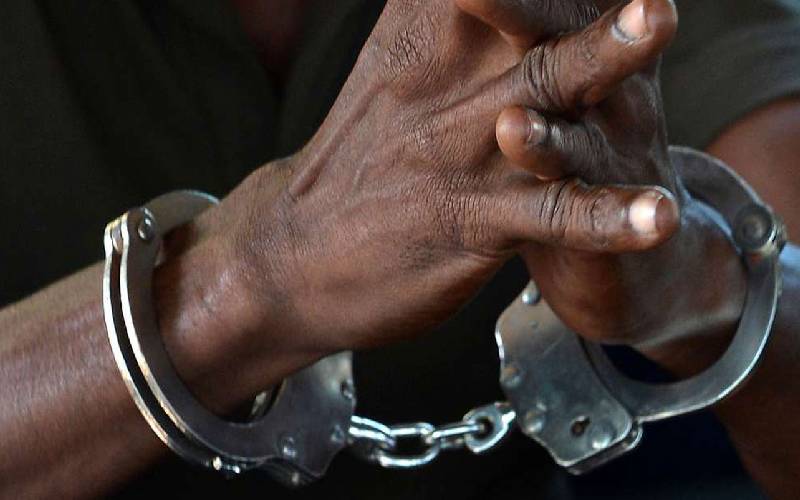 Detectives from the Directorate of Criminal Investigations (DCI) on Saturday arrested a suspected member of a criminal gang robbing business premises in Nakuru town.
The 35-year-old man and his two accomplices who escaped had gone to rob a fruit joint, at Section 58, in Nakuru Town at around 6.30 pm before being nabbed.
According to Nakuru Town East DCI Benson Mutie, members of the public alerted the police after the armed suspects raided the joint and started stealing from their victims.
The suspects, armed with a Sterling sub-machine gun, and a revolver pistol, had ordered operators at the joint that sells exported fruits to lie down, confiscated their cell phones, and threatened to kill those who defied before the officers arrived.
Read More
"The criminals locked the joint, shot in the air to scare the operators, and mercilessly roughed up a soldier with the guns after he tried to raise an alarm," said Mutie.
"They also tied the cashier with a rope and ordered him to give them money for the sale of the day."
Police arrived and ordered them to surrender but they defied before the officers swang in action arresting one of them as the other two fled with an unknown amount of money on a waiting motorbike.
Mutie said the Sterling submachine gun and parts of the revolver pistol were also recovered at the scene of the crime.
Investigations to arrest the suspects who escaped are ongoing with the arrested man set to be arraigned on Tuesday.
"We are probing the suspect to know where they got the weapons and if we have re-grouping if criminal gangs," said the investigation boss.
Cases of robbery and break-ins have increased in the county following dusk to dawn curfew, among other public health measures aimed at preventing the spread of coronavirus.
Several complaints have been made at the DCI of a gang that target bank customers.
Rift valley regional DCI boss said at least three suspects have been arrested.
According to him, they hang along Banks and ATM machines and monitor the movement of clients whom they spy and rob, at broad daylight.