Police officer makes free masks in fight against Covid-19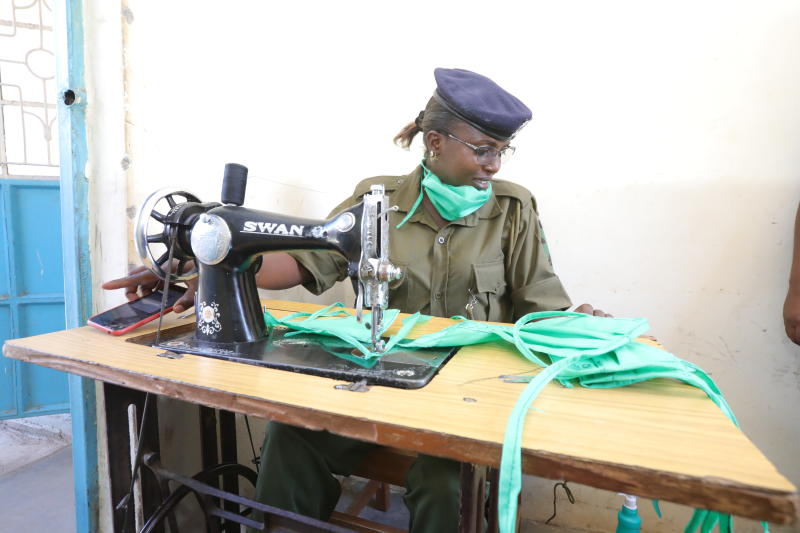 It is mid-morning in Tot trading centre, an area located in the drought and banditry-prone Kerio Valley, Elgeyo Marakwet County.
At the fast-growing trading centre lies Tot Police Station – located near the border of Elgeyo Marakwet and Baringo counties.
In one of the offices at the station, a middle-aged woman was busy with a sewing machine.
The sound of the sewing machine which could be heard outside the office told of a rigorous tailoring work inside a police station.
Apparently, someone at the police station was beating a deadline.
Inside the office, police constable Caroline Makena, 29, was busy with a sewing machine.
She is the only female police officer out of a dozen attached to the station.
The officer who was recruited to the police service in 2015 and posted in 2016 produces masks.
For at least two weeks, Ms Makena has been busy, juggling between her police duties and production of face masks as the fight against the Covid-19 pandemic intensify.
Amid the busy measuring, assembling, sewing and ironing of the masks, Makena reveals a tough balancing act between her police duties and production of masks.
She distributes the kits to locals in the remote area of Marakwet East constituency for free.
She says it is her own way of giving back to the society.
Ms Makena says she was compelled to produce the masks after discovering that locals were not putting them on despite insistence by the ministry of health that the masks were critical in protection against Covid-19.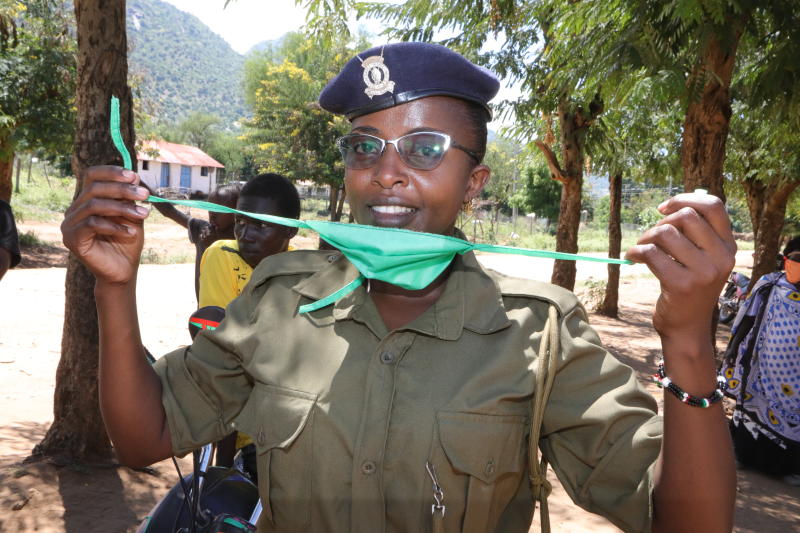 Until last month Ms Makena was a reproductive health champion. She has been going round schools in the Kerio Valley, together with her male counterparts, sensitizing girls on reproductive health care, sexual offenses and gender based violence.
The youthful officer had just reported to the office after enforcing the curfew in night patrols together with a couple of her colleagues.
She also uses her free time speaking to primary and secondary school girls about reproductive health, and giving them free sanitary pads and undergarments.
In the afternoon as the sun sweltered, the police officer was at the centre of Tot, distributing free masks.
"I acquired tailoring skills at the National Youth Service (NYS), but recently I decided to use the skills to produce free masks. I had my sewing machine and I immediately embarked on production after acquiring raw materials," Ms Makena explains.
Ms Makena started by making masks for fellow officers after discovering that they were at risk of contracting the virus that has killed more than 120,000 people across the globe.
Colleagues also consider her a philanthropic officer who has dedicated her time and meagre resources in the fight against the disease.
"I started by making masks for my colleagues. After that, I discovered that boda boda riders, their passengers and locals in Tot were not wearing masks. When I asked why they were not putting on the protective wear they said they said masks were not available, that is when I increased production. I felt it was my duty to help them protect themselves from Coronavirus," says Ms Makena.
She says she currently produces 50 masks which are donated to vulnerable groups including elderly people, vegetable-selling women (mama mbogas) and boda boda riders.
Makena explains how it became so difficult for her to acquire a mask after the Ministry of Health said it was mandatory to wear the protective equipment, forcing her to send for one in Eldoret – about 140 kilometres away from the remote area.
She says after the trouble of looking for a mask she did a soul searching and made a decision to use her tailoring skills to make face masks.
"I watched Health Cabinet Secretary Mutahi Kagwe delivering his daily Covid-19 briefing and I heard him asking the youth to use their skills to help in the fight against coronavirus and that challenged me. It sounded like the CS was addressing me. I did some soul searching and I started laying plans to make masks as my contribution to the fight against the virus," she recalls.
When she started, Makena says, she did not have money to buy materials including cotton garments from carrier bags and canvas among other materials.
She says she bought her first mask-making materials from Sh1,000 she got from her sister who considered her idea noble.
"I had not made a mask before and when I bought my first mask, I decided to take the measurements and cut it to examine the materials used to make it. The first day was problematic for me because I was still learning. I produced two awful masks. I had to borrow a sewing machine after discovering mine had some mechanical problems," she says.
She adds: "I was posted here early last year and I didn't like the place because it was the epicentre of banditry attacks. We now have peace and things are smooth. Today, even when I travel home, I feel like quickly returning to my work station because of the close attachment with the people."
Hassan Kiptoo, a resident says locals in Tot area were surprised to see a police officer who was expected to arrest people who were not complying with the directive to wear masks in public places donating the same protective kit.
"We thank madam Makena for the gesture. It is not normal for a law enforcer to take a leading role community services. She was not born here but her support is immeasurable," Mr Kiptoo says.
Makena's colleague only identified as Ndung'u says the masks are also given to residents who come to the station to report cases.
A Tot-based tailor Caroline Kibor is Ms Makena's protégé. For a week she has been producing masks for sale.
Ms Kibor says she was trained by Ms Makena after demand for masks rose.
"I used to know Makena as a police officer. A few days ago, she walked up to me and said she was also a tailor and that she was producing masks. She trained me and I am now producing 50 pieces a day," Ms Kibor explains.
Area Assistant County Commissioner Linus Kotut thanked the police officer for using her personal resources to supplement government efforts of face masks production.
He says the masks have benefitted locals from the area and those from neighbouring Tiaty area, Baringo County who visit the area after peace was achieved last year.
"Access to masks has been the biggest challenge. We have received a few of the protective kits from the government but they are given out to health workers. The masks produced by the officer are of the right quality and we applaud her for the good job," area Public Health officer Jennifer Chelang'a said.
Ms Chelang's asked other tailors across the region to embark on production of homemade masks to protect locals in remote villages against Covid-19.