DP Ruto: Don't target the innocent because of me
RIFT VALLEY
By Jael Mboga | Mar 7th 2020 | 3 min read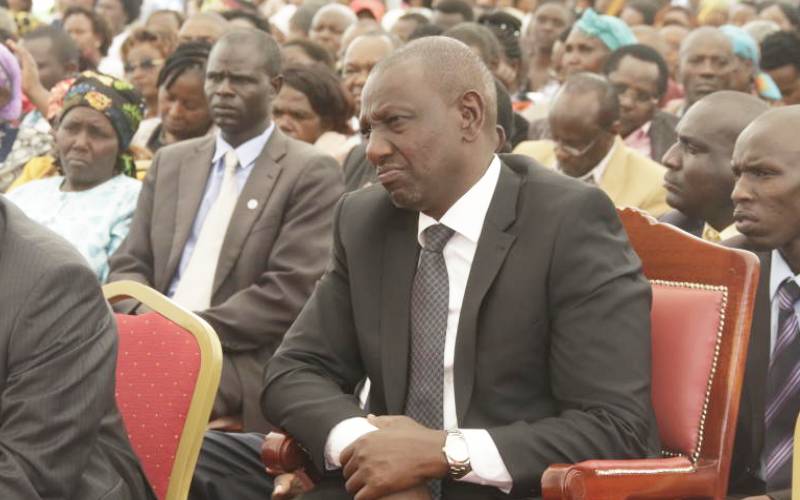 Deputy President William Ruto has said his political opponents should not target the innocent.
He was referring to Sergaent Kipyegon Kenei, whose body was found in his home on February 20.
Director of Criminal Investigations George Kinoti said Kenei was murdered and made to look like he committed suicide.
Speaking at Kenei's funeral in Chamasis, Nakuru, on Saturday, Ruto said his detractors planned the meeting at his office over the fake Sh39 billion arms tender deal. Kenei's death has been linked to the arms tender.
The DP linked his political opponents to the fake arms deal that led to
Kenei's death
.
Kenei was a high profile witness in the Sh39b fake arms deal, implicating former Sports Cabinet Secretary Rashid Echesa and three others.
He added that those who killed Kenei are the same who planned the arms deal meeting in his office and did not want the soldier to spill the beans on what took place.
"I am aware there is a scheme orchestrated to demean my office and ensure I do not get anywhere," the DP told mourners.
"Those executing the scheme to undermine my office to stop me may have the system, but we have God."
Ruto urged Kinoti to get to the truth of the murder and leave out politics in the investigations.
"For political reasons, the DCI is being used to undermine my office ... saying Ruto will not be there in 2022."
The DP said his office has no relationship with the Department of Defence over gun procurement.
He criticised the attention given to the Office of the Deputy President, and not the individuals involved in the scheme.
"Kill me if you want, but I will not back down over the schemes and threats. I'm ready for it," Ruto stated.
The DP further urged Kenei's father John Chesang to remain calm and allow investigators to do their job.
He promised to look into Kenei's compensation to his widow and children.
Chesang asked the government to ensure the truth about his son's murder is not covered up.
"I urge all officers in this country to do their duties without fear. Work diligently and the truth will always stand with and for you. We expect transparency in the investigations without any form of cover up for the sake of any other officer who may be working in such a risky environment," he said.
Chesang said the family is yet to come to terms with the death of the 33-year-old officer.
"It has been a very painful experience. We thank the police officers for supporting us. I'm glad investigations have revealed that my son did not commit suicide," he said.
Kenei was found dead
in his house in Villa Franca estate in Imara Daima, Nairobi, at about 4pm, with a bullet wound to the head.
Kenei did not, however, answer or return phone calls they made to him to find out what the money was meant for.
The money was transferred from Kenei's Equity Bank account a day before his body was found in his house.
Kenei was scheduled to record a statement with the Directorate of Criminal Investigations in connection to a Sh39.5 billion fake firearm tender.
The officer was said to be on duty when former Sports Cabinet Secretary Rashid Echesa hosted two foreigners at Harambee House Annex building.
Chesang said the family was dissatisfied with investigations and questioned why Kenei's body was moved from the crime scene without thorough investigations then later returned.
It took the intervention of the DCI boss Kinoti to have homicide department take charge of the crime scene.
Kinoti said Kenei had on February 18 called a close friend and colleague asking for guidance on how statements are recorded, implying a willingness to do so as directed by his superiors.
Widow Judith Yegon has eulogised her late husband Kipyegon Kenei as a dedicated father to their children.
She described him as a "handsome warrior who had a deep sense of fashion and humour".