State takes aerial spraying of locusts to three more counties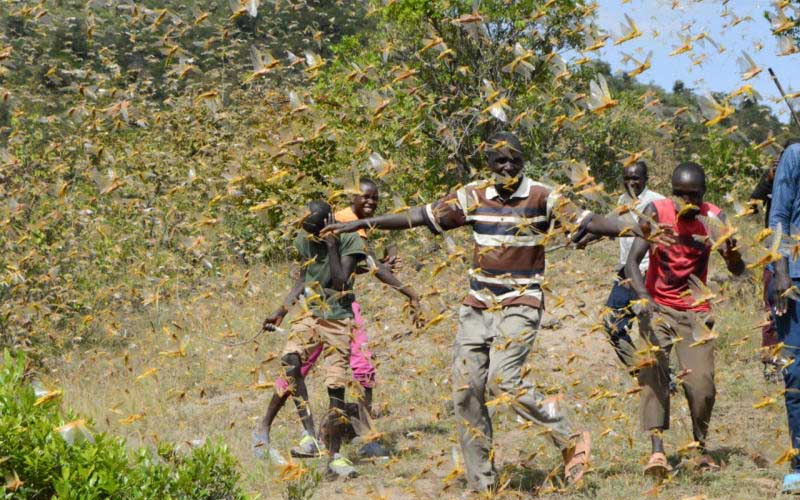 The government has started aerial spraying of desert locusts that have invaded parts of Elgeyo Marakwet, Baringo and West Pokot counties.
On Friday and Saturday, officers from the National Pest Control Unit, using aircraft fitted with sprayers, started spraying the destructive insects.
The locusts have covered approximately 48 square kilometres along the Kerio River belt.
The locusts, estimated by agricultural officials to be a swarm of more than 50 million, have been traversing the three counties, leaving a trail of destroyed crops in their wake.
They had also swarmed the Romoi Game Reserve that hosts elephants, zebras, giraffes, camels and livestock.
Residents are optimistic that spraying the locusts will restore the fragile ecosystem and help avert food insecurity.
Stubborn invasion
Barnabas Morori said he has not witnessed such an invasion ever before, and thanked the government for coming to his community's rescue.
"We tried chasing them but they are stubborn. We hope the pesticides will kill them," said Mr Morori.
Another Elgeyo Marakwet resident, James Komen, a small-scale livestock farmer, said he was worried his livestock would lack pasture after the insects invaded his farm and ate most of the vegetation.
"They have invaded the whole village. I thought it was a whirlwind," said Mr Komen.
"They are feeding on acacia leaves, which also feed our cows and goats. We fear our livestock will starve. The spraying will surely contain the menace."
Elgeyo Marakwet Deputy Governor Wisley Rotich said immediately reports of the locusts invading the region were made, a team from the country agriculture department was dispatched to monitor and relay information to the National Desert Locust Control Unit.
"Agriculture Cabinet Secretary Peter Munya instructed that we monitor and give accurate co-ordinates ... of the swarms," said Mr Rotich.
"We are optimistic the insects will be controlled."
Livestock feed
He said acacia tree leaves are a favourite delicacy of the pests. Acacia flowers, however, are necessary for honey production, while the leaves make good livestock feed.
Rotich added that county officers were recently trained by the Food and Agriculture Organisation on how to manage the locusts.
Barnabas Kwambai, an agricultural officer, said the tall trees in Kerio made it difficult to control the insects through spraying by hand.