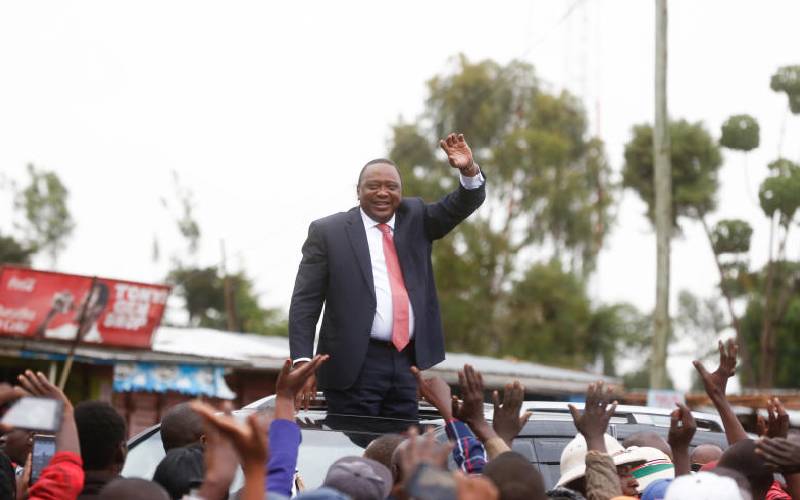 President Uhuru Kenyatta slammed outspoken Bahati MP Kimani Ngunjiri over his opposition against the handshake between him and ODM leader Raila Odinga.
Uhuru criticised the MP for what he termed 'selling fear to people of Rift Valley' and working against his dream of uniting the country before he completes his term.
Uhuru in a gloves-off attack said he watched the legislator insult him for some times and decided to visit the constituency to find out from the voters if they had sent him to insult him.
"There is one man who has made it his habit to insult me daily. I decided to keep quiet and observe him until a day I would come to Bahati. I am here to find out whether it is you (residents) who send him to hurl insults at me.
"No one is happy when we have bloodshed after every five years. We won't buy their intimidation. We have to ensure people live in peace. If he (Ngunjiri) is not able to deliver he can step aside and I will take his place and deliver what you expected from him," said Uhuru.
Uhuru added: "We want to see milk, coffee and tea prices back to where they were. We want people have access."
He accused Ngunjiri of calling press conferences to insult him every now and then.
"Instead of serving the electorate, he is always in the press insulting me. Ask him what wrong I have done to him. Tell him to leave me alone," he said.
"A country is not built by name calling. I am interested in bringing all communities together. We want to ensure that whenever we have an election everyone goes home with peace of mind. They won't stop me. The greatest gift I will leave to this country is peace. Not intimidation after every five years."
Ngunjiri, a strong supporter of Deputy President William Ruto's 2022 presidential bid, has been at loggerheads with the Head of State over his handshake with Raila.
He was recently summoned at the Rift Valley regional Directorate of Criminal Investigations where he was ordered to surrender his firearm after the firearm's licence was revoked.
He was stripped off his bodyguards and grilled over remarks he made at a press conference that DP Ruto was kicked out of a government house in Mombasa early this year.