KWS to use choppers to plant trees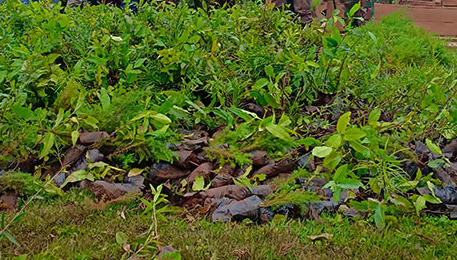 The Kenya Wildlife Service (KWS) and researchers have come up with a new and innovative way of planting trees in national parks and reserves as one way of increasing forest cover.
Under the system that is seeking to plant over 100,000 trees every year, choppers will drop tested seed balls into targeted parks.
According to Wildlife PS Prof Fred Segor, the move is in line with the Cabinet's decision that all ministries and state departments begin planting trees across the country.
He said the ministry had decided to use KWS as a lead agency in tree planting as it was in charge of wildlife parks.
Segor said the service will use choppers to drop seed balls in the parks that will later germinate into trees.
"This is a new concept where we will drop seeds from the air in parks that we know they can germinate easily and quickly," he said.
He said the initiative was part of government efforts in increasing the forest cover from the current 7.2 percent to 10 percent.
Take a quick survey and help us improve our website!
Take a survey
"We have so far planted 10,000 trees in the first phase but the next one will have to use choppers to hasten the process," he said.
Segor was speaking to the press when he led senior ministry and KWS officials to a tree planting initiative at the KWS Training Institute in Naivasha.
He said KWS had sufficient land to carry out tree planting and called on Kenyans to support the government's initiative in its bid to increase the forest cover.
His sentiments were echoed by KWS Director General John Waweru who said the seeds had been treated and could not be damaged or eaten by wild animals.
Waweru termed the method as fast and effective adding that the seeds had a grace period of five years by which they would have germinated.
"These are quality seeds that will be released from the air and we are sure that they will grow in any circumstances and on whatever park in the country," he said.
On his part Teddy Kinyanjui from Seed Kenya said the seeds had been tested by Kenya Forestry Research Institute and certified to be of acceptable standards.
He said the germination rate was at 60 percent in the new concept that will see seed balls dropped from the air.
"This concept can be applied anywhere from any location and can be applied on all areas that had been degraded as a means of restoring our forest cover," he added.