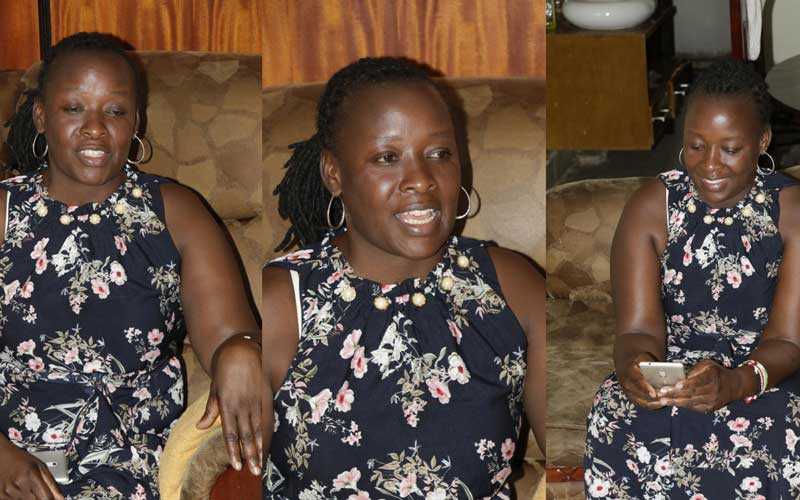 Betha Akoth, 45, a freelance community health officer, gets emotional as she recounts events of the night of May 15 and 16, 2006, at her home in Kabachia, Nakuru County.
On the fateful night, she was happy as her husband John Wanyama had just been discharged from hospital where he was rushed after a road accident.
Akoth, then 32 years old, was expectant and did not know that it will be the beginning of 13 years of pain and agony.
At around midnight, their dog started barking prompting her to peep outside through the bedroom window.
She switched on the security lights only to see a hooded man jump over the walls, break the padlock and let in 15 people.
Akoth locked the door to the main bedroom and refused to open. The assailants made their way through the guest room and broke the glass in the children's bedroom.
"I had no choice but to open the door. I couldn't let them get to my children and assault them or do something worse," she said.
The criminals demanded money as they ransacked the house for valuables.
Akoth had only Sh4,000 and this infuriated the criminals who turned violent and started assaulting her.
"They kicked me, slapped me, and whipped me," she said.
One of the hooded men with the flashlight ordered her to the bedroom where her husband was lying.
"Their leader placed a metal rod on my husband's chest after he discovered that he couldn't walk.
He turned to me and told me to be useful or he kills him," she said as tears rolled down her chicks.
Akoth pleaded with them to spare her as she was pregnant but they mocked her saying that even pregnant women have intercourse.
"They forced me on the bed next to my husband and started debating who will go first after which they started raping me in turns," she said.
She bled but they did not stop and her ordeal continued for about an hour.
"No one came to help although I called the police. My husband was shocked and only spoke to me at 5am asking if I was okay," she said.
Battled nightmares
After the ordeal, Akoth underwent tests and was put on medication to ensure safety of the baby.
She was in and out of the police station for the next seven years to follow up on the rape case which sadly collapsed for lack of evidence as she never identified the assailants.
Akoth battled nightmares every night which deprived her of peaceful sleep.
"I was furious and wanted the culprits hanged, I viewed men as monsters and suspects and it affected my marriage since it took a long time for me and my husband to be intimate again," she said.
In 2012, her life changed when she met other rape survivors who had gone through worse experiences. "I saw children, pregnant teenagers and those infected with STIs after sexual violence and got courage."
Akoth's turning point came when she started campaigns against sexual and gender-based violence with institutions such as USAID and National Aids Control Council.
She was finally able to open up this year about the ordeal. She condemns parents who opt for out-of-court settlement with rapists saying they belong in jail.
She advocated for better sexual violence handling procedures. "The government should have one central place where victims can get all the assistance at once to avoid inconvenience and other dangers," she said.