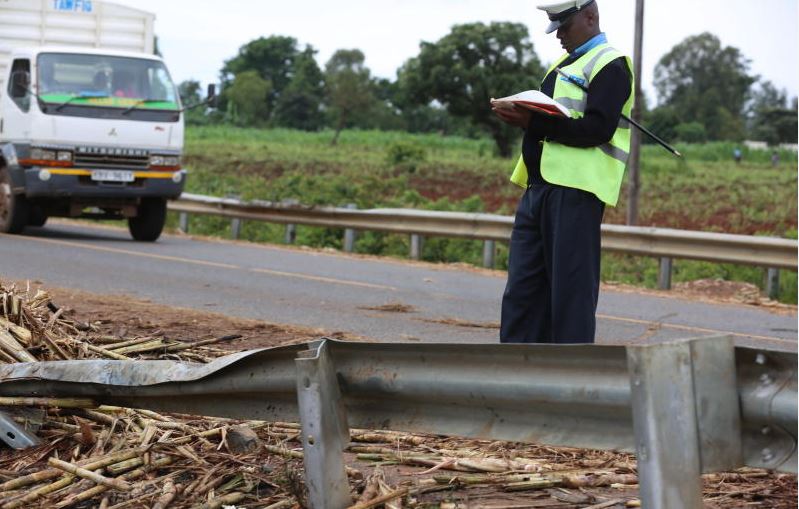 Travellers along the Maai Mahiu-Limuru road escaped death narrowly following a grisly accident involving multiple vehicles yesterday. The accident near the Italian Catholic Church occurred after a trailer heading downhill developed mechanical problems and rammed into the cars along its path, injuring 18 people. Six of the injured were rushed to various hospitals in the area in critical condition. During the mid-morning incident, area residents went on a looting spree and made away with bales of flour and mattresses from vehicles involved in the accident.
SEE ALSO: Three killed after car hits motorbike outside city hotel
Police officers at the scene had a hard time controlling the surging crowd intent on going on looting, with the situation further worsened by the heavy downpour at the time. An eyewitness, Jasper Karanja, said he saw the lorry hurtling downhill before ramming into several cars, a matatu and a trailer in its path. "The trailer came downhill hitting one car after the other before crashing by the roadside," said Karanja. The narrowness of the road made it impossible for drivers to move their vehicles out of the path of the oncoming lorry in time. A matatu passenger, Jennifer Njeri, who was heading to Nairobi from Narok recounted her miraculous escape after the trailer their vehicle.
SEE ALSO: Speeding vehicle kills two people in Kericho
Njeri who was not hurt said their driver suffered serious injuries and was rushed to a hospital in Maai Mahiu town. "We knew something was wrong when we started hearing loud bangs but we were not able to get out of the matatu in time," she said. Confirming the incident, Naivasha OCPD Samuel Waweru said preliminary investigations indicated that the trailer that was going downhill might have developed a mechanical fault. He said the driver was not among the injured. "The accident involved at least ten vehicles and we glad that no lives were lost," he said.
SEE ALSO: Two die in Naivasha road accident
The accident comes barely a week after three family members died along the Nairobi-Nakuru highway after their vehicle was hit by two trailers near Marula farm.