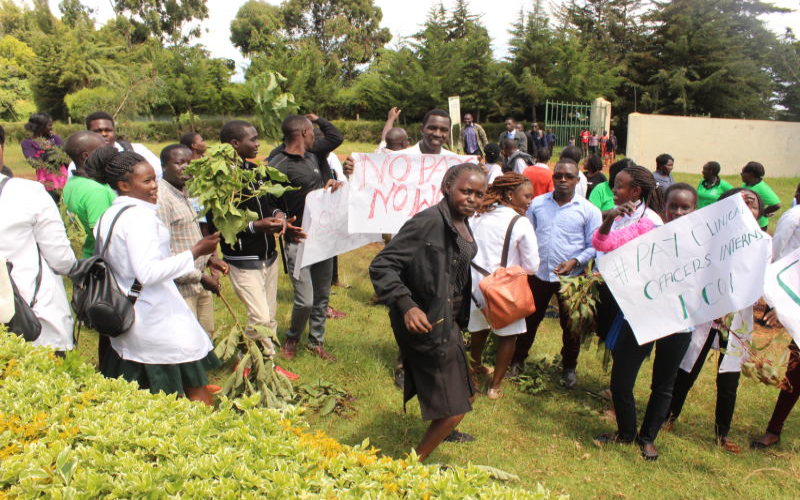 Clinical Officers (COs) in Elgeyo Marakwet County who have downed their tools for the past one threatened to continue with the strike as fight over promotions intensify.
The COs, went on strike on Monday last week and they are adamant that they will only resume work when the county promotes them.
They are claiming the last promotions were done four years ago in 2015.
The Cos also accused Governor Alex Tolgos' administration of exploiting 16 CO interns attached to several hospitals by declining to pay their medical allowances.
Elgeyo Marakwet county chapter Kenya Union of Clinical Officers (KUCO) General Secretary Mark Kipsang and Chairman Martin Lokalis said all 98 COs working in the county will defy sacking threats issued by senior health officials in the county.
Kipsang claimed that money had been allocated for payment of intern COs during the county's 2019/2020 budget but the interns are yet to receive their dues.
"We have not gone to work since Monday (last week) but we are surprised that the county government is still not listening to our demands. We are telling that the county that we will not be back to work until when we see promotions and re-designations," Kipsang warned.
The general secretary asked the county government to ratify a 2014 schemes of work for COs, which he says would improve the welfare of the officers.
He also cited move by the county to allegedly disregard efforts by diploma holder COs who have advanced their education while in service.
The unionist demanded the implementation of a Collective Bargaining Agreement (CBA) signed in 2017 before they return to work.
Lokalis, the KUCO chairman, Elgeyo Marakwet chapter said the strike has derailed services in major health facilities including the Iten County Referral Hospital and all sub-county hospitals.
"We are asking the county to stop intimidating COs because they are not returning to work soon," Lokalis said, claiming that the county has failed to negotiate with them.
Elgeyo Marakwet intern COs leader Steve Wasike said the diploma interns who have completed their college studies have joined their seniors in the strike.
"I am asking all my colleagues to boycott work until when we are told why we are not being paid yet money was allocated for their perks in the budget. We will not be cowed by threats," said Wasike.
In response to the strike, County public service board (CPSB) chairman Michael Lelit said the county has no money to pat the COs.
Mr Lelit said consultations among senior county officials to resolve the industrial action are ongoing.
"Whenever we have the money, we will sit together with the COs and implement the promotions. We are yet to meet because consultations at a higher level are still underway," the board chairman said.