Kimwarer evaluation team lacked national outlook- Murkomen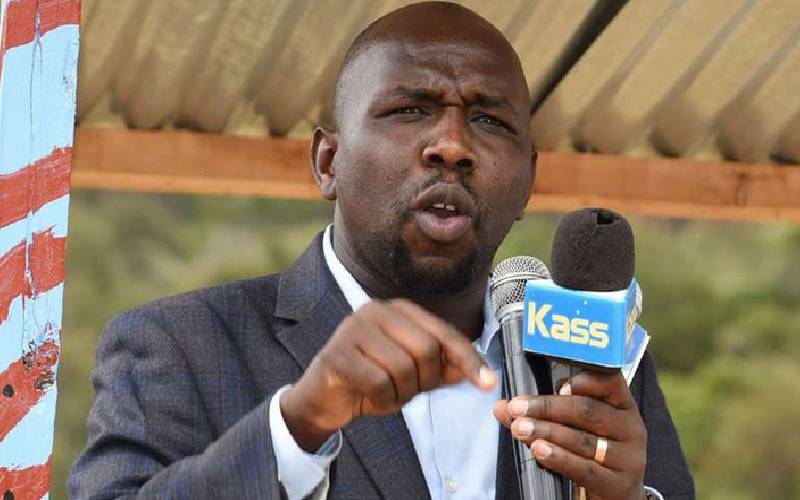 The immediate cancellation of the Kimwarer Dam project by President Uhuru Kenyatta on Wednesday has elicited furious reactions from leaders allied to DP Ruto.
Outraged by the annulment, Senator of Elgeyo Marakwet Kipchumba Murkomen, took to Twitter claiming that the cancellation of the dam project was part of a long term choreographed plan to smother the project.
"Planned Cancellation of Kimwarer and restructuring of Arror dams doesn't surprise me at all. The plan all along was to kill the projects (sic)."
The Senator further accuses the Technical Committee chaired by Principal Secretary for Infrastructure Paul Maringa of misleading the President arguing that its composition did not reflect ethnic and regional balance.
Murkomen has termed the cancellation as a deliberate act of discrimination to deny the people of Elgeyo Marakwet the 'national cake.'
"The Technical Committee didn't carry out public participation. Elgeyo Marakwet County has been denied the rightful share of national projects in a deliberate act of discrimination."
The county legislator urged President Uhuru to constitute a transparent team to look into all projects in Kenya without ethnically profiling some regions.
"We're consulting as people of Elgeyo Marakwet and we shall do everything to ensure that justice is done."
"It is a slap on the face for the entire community. Out of the fifty entire (sic) projects in Kenya, why Kimwarer alone and the others are going on?" asked Victor Kimaiyo, a resident in Elgeyo Marakwet, in an interview with KTN.
Some locals have asked President Uhuru to reconsider his decision.
Cancellation
President Uhuru Kenyatta ordered the immediate cancellation of the Kimwarer Dam project on grounds that it is both financially and technically unviable.
According to the Technical Committee, the Sh 22.2 billion was found to have been overpriced and would be financially unsustainable since it relies on a costly pumping mechanism to supply water.
It was also found to lying on a geological fault line.
However, displaced residents in the area will be compensated.
Scandal
President Uhuru formed the committee to assess the two projects after it emerged that Sh21 billion had vanished in Arror and Kimwarer dam projects that led to the stepping down of Treasury CS Henry Rotich and his PS Kamau Thugge.
Twenty-six government officials were charged in the multibillion-shilling scandal.