Chiefs warned on protecting bandits as security tightened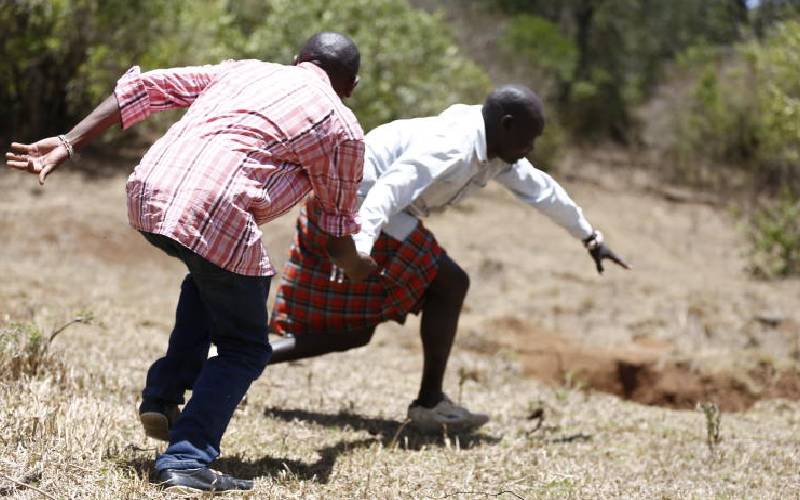 Police have intensified security in conservancies and ranches at the border of Samburu and Laikipia counties to stop herders from grazing their stock in private farms.
The herders, believed to be from neighbouring Marsabit County, drove hundreds of livestock to Samburu in search of pasture and water.
County Police Commander Karanja Muiruri said the movement of herders was attributed to a prolonged dry spell in Marsabit.
Prevent herders
Mr Muiruri said police in Samburu were working with their counterparts in Laikipia to prevent herders from encroaching private property.
"Security has been intensified to ensure herders do not stray to private ranches as they search for pasture," he said.
Muiruri said a number of ranches and conservancies had been encroached by herders, leaving owners counting millions of shillings in losses.
He said police patrolled the villages and ranches regularly.
"A number of herders get to Samburu and later find their way in Laikipia where there are more ranches. Regular patrols are on course," he said.
Last month, General Service Unit (GSU) and Anti-Stock Theft were deployed to flush out herders from private ranches in Laikipia.
Operation commenced after herders, mainly from Samburu, Baringo and Isiolo counties, drove hundreds of cattle and camels into the establishments.
According to police records, illegal herders invade conservancies during dry spell in November and December.
In April, a number of herders moved their stock to Komu swamp at the border of Eastern and Rift Valley regions, but they made their way back to the private ranches and farms.
"Destruction of private property cannot be tolerated and we are keen to avoid such," said Muiruri.
Operation started
Meanwhile, an operation to recover illegally held firearms in Samburu has started.
Muiruri said some individuals held firearms illegally without undergoing any civilian firearm vetting process.
"We are moving from one manyatta to another to forcefully recover all illegal firearms in the hands of bandits who terrorise residents," said Muiruri.
The operation was launched on Monday in Samburu Central and shall be extended to other cattle rustling-prone areas.
Muiruri said only eight firearms had been surrendered following the directive by Interior Cabinet Secretary Fred Matiang'i.
Dr Matiang'i issued a 21-day ultimatum to illegal firearm holders countrywide to surrender the weapons at police stations nearest to them or risk being declared dangerous criminals.
The notice issued by the ministry for those who had not undergone vetting ended on July 5.
And in North Rift, administrators found sympathising with suspected bandits will be sacked.
Rift Valley Regional Commissioner George Natembeya warned that security personnel who fail to curb crime risk disciplinary action, including sacking.
Mr Natembeya, speaking in Kapenguria during a security meeting where all chiefs from West Pokot County attended, attributed frequent banditry attacks to some administrators hiding criminals.
He said chiefs were custodians of critical information at the grassroots and that those who fail to fight the cattle rustling in their jurisdiction would be shown the door.
Protect property
The commissioner urged chiefs to be responsible and protect residents and their property so the vice is eradicated.
"You should be aware of everything within your jurisdiction. You must be disciplined. Chiefs are civil servants and not bosses. Leadership is a privilege not a right," Natembeya told the chiefs.
He directed chiefs and other civil servants in the region to operate within their jurisdiction.
"All chiefs should be on the ground. We shall not allow anyone to work by making phone calls. Chiefs should be a source of instant information and should report any cattle thefts and attacks on time for prompt action," said the commissioner.
Area Governor John Lonyangapuo assured the security teams of the county government's support in ensuring that insecurity at the border points was eradicated.