Kihika children fight on to eject mothers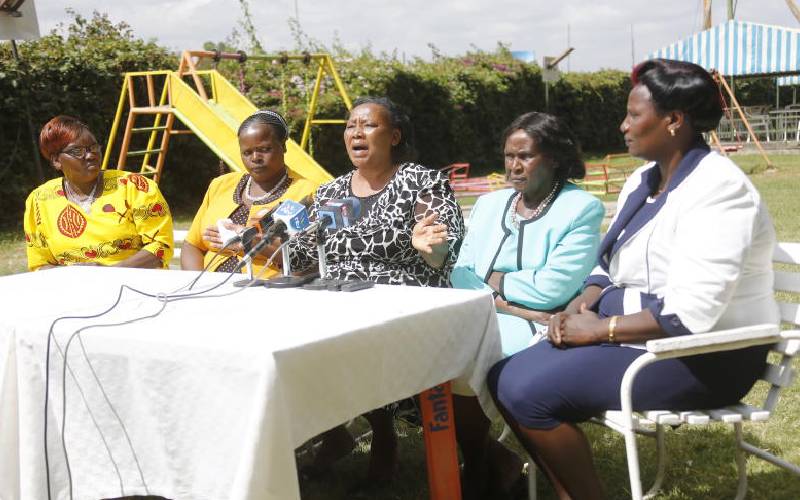 The battle to control the Sh600 million estate of former MP Kihika Kimani has moved to the Court of Appeal.
Three of Kihika's children — Anthony Gichia, Florence Nduta and Judy Muthoni — have challenged a High Court decision that had dismissed their application to oust their four mothers, who have been administrators of the estate.
In his ruling on January 24, Justice Anthony Ndung'u said allegations made against the four co-administrators, despite being serious, had not been proved.
New administrators
On September 14, last year, the children had sought the court's intervention to be named new administrators of Kihika's estate in the place of Margaret Wambui, Alice Mukuhi, Mary Wangari and Miriam Warau.
They had told Justice Ndung'u that Wambui, Mukuhi, Wangari and Warau had failed to proceed diligently with administration of the estate.
The children also wanted the court to amend a grant issued on October 13, 2009.
Take a quick survey and help us improve our website!
Take a survey
In their application, they said Wambui was 89 and that she was senile and sickly. They proposed that she be substituted with her daughter Nduta.
Mukuhi, they said, was 76 and infirm, besides not being available to co-administer the estate, adding that she wished to be replaced with her son Gichia.
The children claimed Wangari was ailing and that she refused to cooperate with her co-administrators. It was proposed that she be substituted with Muthoni.
Warau, they claimed, had messed by disposing a parcel of land without the court's authority. They said it was time she stopped being one of the administrators.
But in response, Wangari opposed the application and said she was in good health and always ready to cooperate.
Neglect duties
Wambui also denied having neglected her duties as an administrator, saying she had always acted diligently. She, instead, accused her daughter Nduta of being unsuitable to administer the estate.
The court found that the children had not provided any medical documents to back their claims that the four defendants were in poor health.
The court further ruled that no evidence had been tendered proving that the current administrators were unable to perform their duties.
"On the material before court, I am persuaded that acceding to the prayers sought herein will lead to further convolution of the issues before court. No proof has been tendered to prove inability of the current administrators to perform their duties. The application has no merit," Justice Ndung'u ruled.
Kihika died on November 19, 2004 and a petition for grant of letters of administration was lodged in court in 2005.
Fifteen years after the politician's death, there have been numerous court appearances by interested parties who have filed applications and counter-applications.
Quarter-acre plot
In October last year, the court directed that a quarter-acre plot in Nairobi be sub-divided and sold. The sale was to be conducted jointly by the administrators.
Part of the proceeds from the sale of the land was to be used to settle known debts as well as expenses incurred after a valuation of the estate.
The court had directed that any remaining money be held in a bank account and only paid out to needy beneficiaries on its orders.