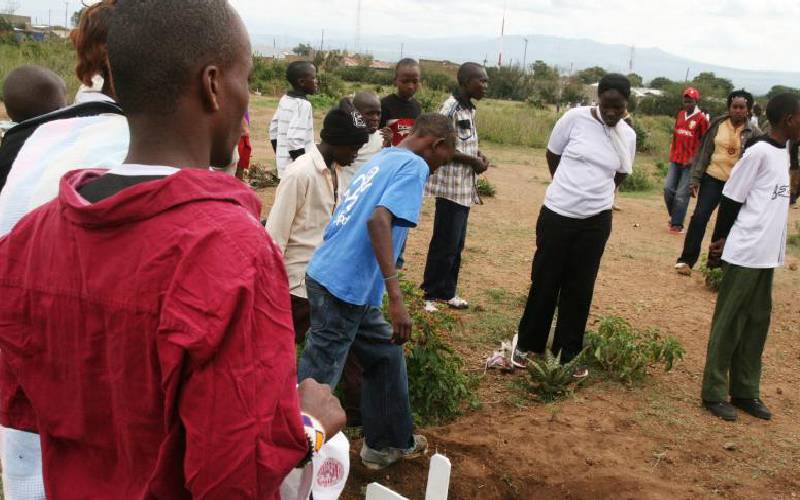 The cemetery crisis in Nakuru deepened after efforts by the county to buy land in three sub-counties failed.
Plans to get land for cemeteries in Gilgil, Subukia and Elburgon hit the wall after landowners failed to respond.
The county has extended an expression of interest to June 15 in the hope that it will get land.
It is the third time in as many years the county has failed to get land in Naivasha for a cemetery.
Read More
The local cemetery filled up three years ago.
Land division and an increase in land prices have been linked to the crisis.
Cemeteries in Nakuru town, Molo and Naivasha are filled up.
Public Health chief officer Samuel King'ori said it is becoming increasingly hard to get land for a cemetery.
King'ori said Gilgil, Subukia and Elburgon towns will in the coming months face cemetery challenges.
"We are optimistic that we shall get cemetery land for the three towns as we have a budget for that," he said.
On Naivasha, he admitted it had become impossible to get the required land, forcing residents to bury their dead in Longonot or Gilgil.
"Naivasha cemetery was the first to fill up and three years later no one is willing to sell their land."
Meanwhile, services at the Naivasha Sub-county Hospital mortuary have been over-stretched due to the rising number of unclaimed bodies.
There are currently 20 unclaimed bodies in the facility that has a capacity of 12.
King'ori said the county is seeking a court order to dispose bodies that have not been claimed for three months.