State might have lost over Sh95m to get land for PEV victims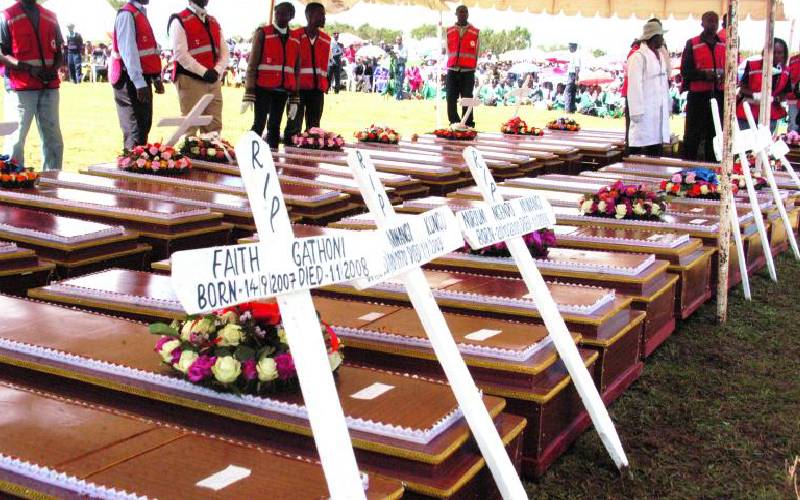 The Government may have lost Sh95 million while buying land to resettle those displaced from their homes due to violence following the 2007 elections, a court heard.
The deal involved purchase of 755 acres from owners of Ndonga Farm in Subukia, Nakuru, to resettle 260 Internally Displace Persons. About 600,000 people were displaced across the country and 1,200 killed in the violence.
The High Court in Nakuru heard that documents used in the transaction, between the then Ministry of Special Programmes and sellers, were forged.
The matter ended up in court after ten family members who are contesting sale of the land claimed a Special Power of Attorney letter used in the transaction was forged.
Forensic investigations showed the documents were forged and that the signatures were not authored by eight sisters and their sister in-law, according to the family's lawyer Steve Biko.
Biko produced a letter from the Directorate of Criminal Investigations, dated October 31, 2014, indicting the ten signatures were fake.
Mr Biko told the Environment and Lands Court in Nakuru forensic investigations were carried out as directed by the same court on January 28, 2013.
The documents had allegedly been signed by Irene Kanyi, Mary Nyambura, Wangechi Mburu, Winnie Muthoni, Hellen Mureithi, Zipporah Waringa, Hariet wanjiru, Loise Wanjiku, Mary Wangari and Penina Wangui.
On March 9, 2012, the High Court ordered the DCI to investigate authenticity of the special powers of attorney document dated January 10, 2011.
The Special Powers of Attorney were allegedly issued to Philip Kamau, a brother to the eight sisters.
"The questioned document (Special Power of Attorney) was submitted to the forensic examination at the DCI headquarters on March 17, 2014. The examiner formed an opinion the document was a forgery as the signatures were not authored by the alleged persons," read the letter by J. M Kilungu, Subukia DCIO.
Though the officer indicated forensic document examiners report had been attached to the letter for ease of reference, it could not be traced prompting the court issue summons to the DCIO Subukia.
The 10 were beneficiaries of the estate of the late Benjamin Njoroge Wamanji.
Complainants sued the Attorney General, Permanent Secretary Ministry of Lands and his Special Programmes counterpart. Their petition was filed in September 2011.
The Government, according to the ten, permitted a number of IDPs to take over, settle, cultivate and exploit and illegally use and assume the parcel of land.
They claim their property has and continues to suffer illegal invasion and exploitation by IDPs.
State counsel Winnie Cheruiyot said she had not seen the report indicating there was forgery and added that the person who made it should appear in court.
"A letter forwarding the report was done, but we did not have the report. DCIO Subukia should present himself or an officer to present a report in compliance to the order of court dated March 9, 2012," she said.