Gideon: Counties are the first line of defence on hunger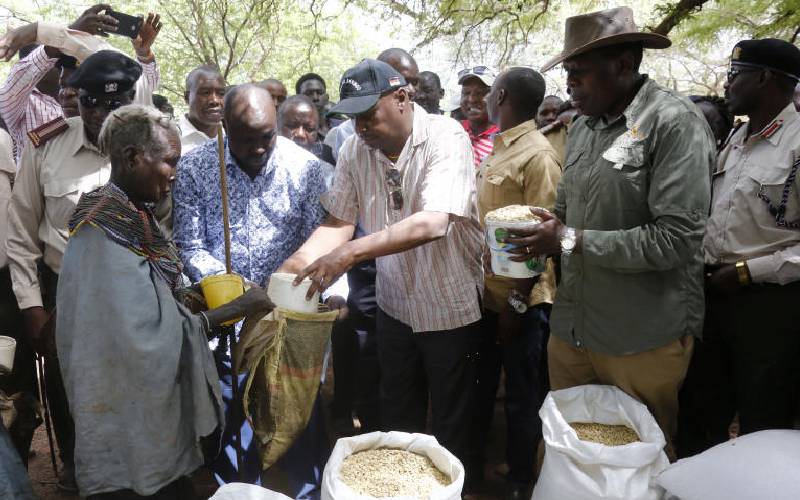 Baringo Senator Gideon Moi has blamed the county government for failing to address hunger and drought issue in the region.
Speaking during a visit to Nginyang' area, Gideon said counties were the first line of defence in mitigating hunger and drought, and that governors must be held accountable.
Gideon was accompanied by Devolution Secretary Eugene Wamalwa as they distributed food to Tiaty residents.
"The county government stands as the first line of defence. Money is channeled to counties from the national government and thus they have enough to deal with the issue of food security," Gideon said.
He reiterated that counties should fight hunger before the national government could intervene. "This is sad and unacceptable. The county government must take its responsibilities seriously and not look on helplessly yet the funds are there."
The senator said he was in the region to find out whether money sent to the county was used to help residents. "Year in, year out; this will not be the trend. We will not be here to supply food. It will be failure on the part of leaders."
Gideon said there were irrigation schemes underway in parts of Kerio and that he would hold a stakeholders' meeting to address the issue of Amaya Dam in Churo Amaya ward of Tiaty.
"The issue of food insecurity in Baringo should come to an end. We have to mitigate and ensure this hunger issue will not recur."
Gideon said it was sad that Baringo had benefited from the Equalisation Fund yet those mandated to plan for the money had not done a prudent job.
"I fought for the county to receive the Equalisation Fund. We will get over Sh800 million to benefit the people of Baringo."

Wamalwa echoed Gideon, saying county administrations should be the first line of defence in times of crisis.
"We would not wish to be coming here each time to distribute food. You have the ability to produce your own," he said.
He said water shortage would also be addressed, adding that the National Drought Management Authority had received Sh3.5 million for water trucking.
Wamalwa said the national government had released Sh2 billion to ensure counties affected by hunger received food supplies.
"We have more than 4 million bags in the strategic grain reserve. We will bring more food until things are in order," he said.
The CS said the country recorded a bumper harvest of more than 40 million bags of maize last year.
Wamalwa assured that the elderly, orphans and widows would benefit from a Sh12 billion cash transfer programme.
Tiaty MP William Kamket and his Pokot South counterpart David Pkosing said the Government should stop running away from the fact that people were starving.
"Why do some Government officials say there is no hunger? The Government is aware and that is why food has been supplied. Chiefs and MCAs must not be intimidated. Say it as it is," said Mr Pkosing.