Six people killed in heavy gunfight at border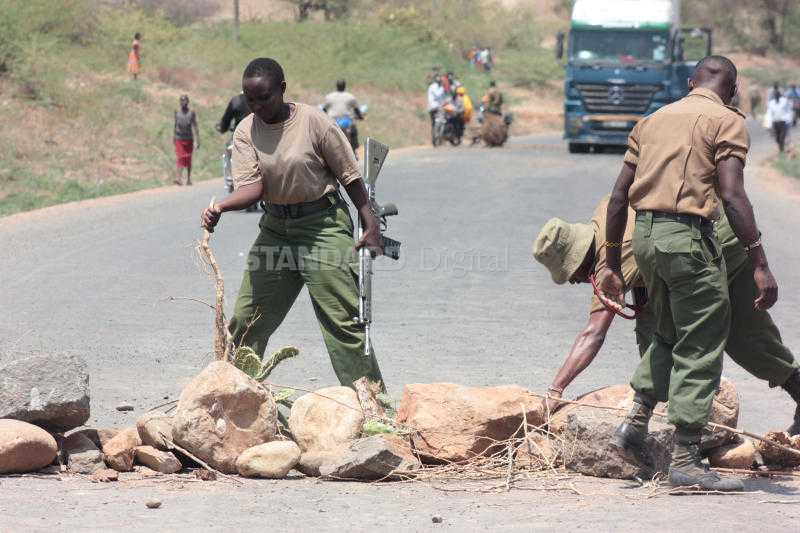 Tension continues to remain high in Kerio Valley following the killing of six people in two bandit attacks on Friday. A dozen others sustained gunshot wounds.
Although security officials put the number of those killed at five, hundreds of residents have fled the border point of Elgeyo Marakwet and West Pokot counties at Chesegon in fear of more attacks and schools in the area might be closed.
Fierce gunfire lasted until Friday night, with suspicions abound that the attacks were carried out meticulously with sophisticated coordination. Residents said the raiders divided themselves into three groups and attacked with precision within a short time.
At around midday, heavily armed suspected Marakwet raiders in military fatigue crossed to West Pokot border and attacked Cheptulel location, killing four herders before driving away an estimated 400 animals.
And in swift retaliation, Pokot raiders, with the aim of recovering the stolen cows, attacked Kapkobil village near Tot trading centre, killing two people and injuring four others. They however did not take any animal.
Accosted
"At about 6pm, the Marakwet youth drove the cows away towards Marakwet but were accosted by a group of attackers from Baringo County.
"We suspect that the West Pokot herders sought for reinforcement from their Baringo counterparts," said Marakwet East Assistant County Commissioner Wilson Tangus.
Pokot Central Deputy County Commissioner Geoffrey Kithinji said: "The raiders ambushed herders while grazing their livestock at Chesegon village along the border and indiscriminately shot at them. Several animals were killed in the heavy gunfight."
Mr Kithinji said security officers have been deployed along the border to help in the recovery of the stolen livestock, which were taken to Marakwet East Sub-county. Sigor MP Peter Lochakapong condemned the attack and asked security teams to intensify patrols along the border.
He urged peace committee members to ensure the animals are recovered and handed to the owners.
"We don't want this vice to continue along the border since we recently opened Chesegon market to help unite the two communities," he said.