Leaders praise Nicholas Biwott in emotional send off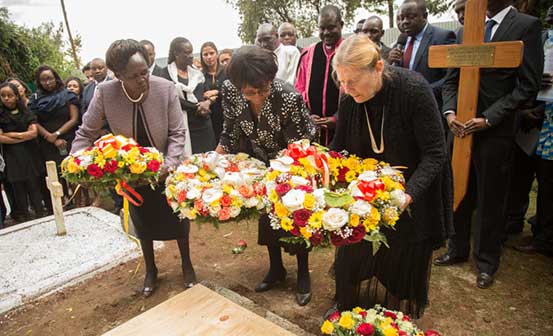 Former powerful Cabinet Minister Nicholas Biwott was buried Thursday.
President Uhuru Kenyatta and his deputy, William Ruto, joined thousands of mourners to bid farewell to the man better known as Total Man - a description that elicited both fear and respect from friend and foe.
Just before sunset, the gold-coloured casket was lowered to his final resting place in Toot village, Elgeyo Marakwet county. President Kenyatta eulogised Mr Biwott as 'a great leader'.
"We have lost a...man who stood firm, who was diligent in what he did and truly committed to his country... When the history of this country is written, there are men and women who will stand out as responsible for all the good that has happened in this country. Biwott is one of those people....no one throws stones at a tree that has no fruits. Biwott was a tree that bore fruits for this county for many years to come," he said.
Baringo Senator Gideon Moi read a tribute on behalf of former President Daniel arap Moi, who remembered Biwott as a close ally and strategic thinker.
"I was greatly saddened because he was a personal friend for over five decades and a partner in the development of Kenya. In all the ministries he served, Biwott contributed greatly to the formulation of policies that became operational blueprints," the former president said. Mr Gideon recalled that Biwott and the former president were close allies.
"What can I say about Biwott? I knew him from a very early age. He was a close confidant of my father and relied on him immensely. When I asked him why, he said he could get the job done...he was not always the most popular man in the room, but you could not fault his strategic thinking," he said. "Fare thee well, Total Man, Go well, Karnet (steel)."
Standard Group Chief Executive Sam Shollei, who spoke on behalf of professionals, eulogised Biwott as one of the greatest people he ever met.
"I have met many people in this world and in Kenya and I can say that I have never met a cleverer, wiser person than Biwott and may his soul rest in eternal peace. I wish the family greatness and success," said Mr Shollei.
Prof Margaret Kamar, one of his wives, said the family 'forgives completely' those who said negative things about Biwott.
"We will never hold a grudge against anybody," she said.
Biwott's funeral service took place at Maria Soti Girls Centre, a school that bears his most potent legacy in the county.