Administration Police officer linked to pub robbery while armed with a gun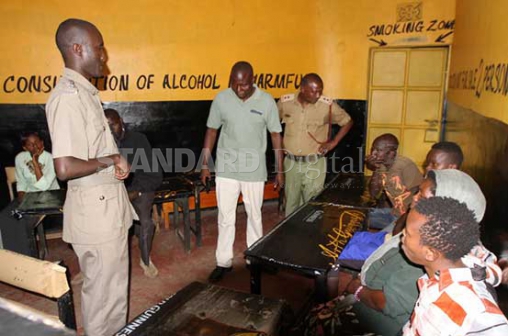 An Administration Police officer in Kaimunyi location, Nakuru County has been linked to a pub robbery.
An eye witness claimed the officer was among the four armed robbers who terrorised patrons at a pub in Arap Chumo Centre before robbing them off their valuables on Thursday night.
Edna Cherop, the witness, said she left the club at around 10pm but returned after meeting a group of suspicious men.
According to her, the suspects armed with a gun and crude weapons entered the bar and ordered clients to lie down, before robbing them of their valuables.
Surprisingly, while robbing off clients their valuables, the woman was spared and they later left with her.
The woman said the gang dumped her a few metres near the railway line after threatening to finish her if she reported the matter.
On being freed, she said she went back to the pub and claimed she knew the suspect who was armed with a gun and that he was an Administration Police officer.
The patrons who were robbed all went and wrote statements at the Baraka Station where Cherop claimed to have revealed she was ready to identify the alleged officer.
"We were shocked to learn the suspects left with the woman. She also claimed that one of the suspects was an AP officer whom she was ready to identify," said owner of the pub who sought anonymity.
Kiamunyi Chief Elijah Njoroge said they are working round the clock to ensure all suspects are arraigned in court.
"...no officer has been arrested yet. We cannot allow police officers to engage in crime," said the chief.
But in a new twist, during the interrogation at the pub yesterday morning, Cherop trashed the statement she had earlier recorded at Baraka Station further complicating the investigations.
Bernard Koech, another witness, said the suspects entered the pub and posed as clients. A few minutes later, three of them unleashed crude weapons and ordered clients to surrender their valuables.