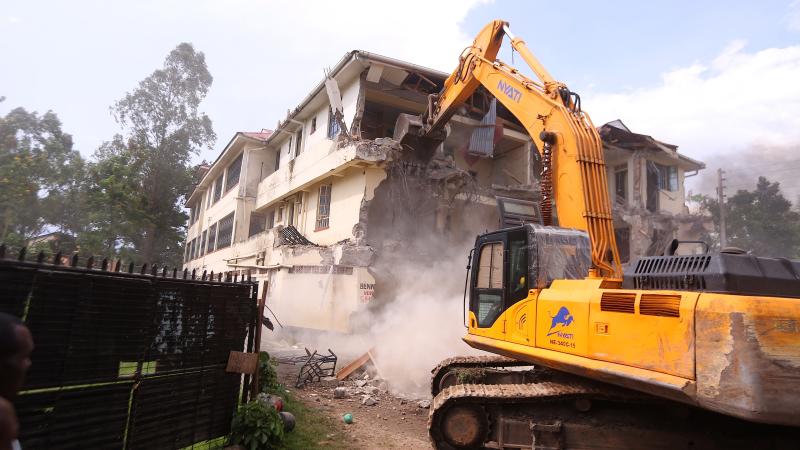 Amenities such as schools, hospitals and churches make an area more attractive to developers and prospective tenants.
While some of these might be contributing to the area's property appreciation, some might be a nuisance or non-preferential for different clients.
For example, a church just a few metres from a home could be nice on Sundays but a nuisance to some on weekdays, in case worshippers decide to hold a loud night vigil.
Or a morgue a stone's throw away from your doorstep could be disheartening that every time you leave or get home you have to give way to mourners collecting or delivering the body of a loved one.
There have been complaints from estate associations over loud music from churches or clubs within or near buildings that they thought to be residential.
As a developer, how then do you ensure that the only amenities which make the selling point of your development are the only ones allowed? And if you have already put up a house or apartment block for sale or rent and some strange amenity sets base next door, what can you do?
Mr Reuben Kimani, chief executive officer Username Investment Ltd, a real estate firm, says amenities should provide convenience and comfort to a tenant or investor who has bought the land and intends to develop it.
"However, the preference of amenities varies from one person to another," he says.
Mr Kimani says one of the means to ensure only the right amenities show up at your doorstep is getting your property in the right zone.
A zone is a land area that has been earmarked for a particular use. This can be either commercial, residential or industrial.
This saves you as an investor because all those who acquire the property in the area will have common goals and needs.
Mr Kimani advises investors or individuals to avoid buying property next to vacant government land. "Government land can be used for any purpose as need be and at some point, the land may be used for a purpose that you won't like," he says.
He says developers should get the right target market for their projects such that you do not end up with a list of people with conflicting interests.
He however notes that some developers are opting for mixed-use developments which are a mix of retail shops, homes, and parks. "But if a developer chooses to do mixed developments, they should always let the client know," he says.
Properties are grouped as commercial, residential and agricultural with each of them demanding unique amenities to increase convenience to the owners or tenants.
For example, a commercial property that touches the highway may not be ideal for a residential home.
Mr Mburu however notes that most developers are mischievous and will go to an area knowing well the developments proposed in the area.
He says the development plans are public documents and should be known if for example a morgue, coffin shop or school has been proposed for in an area.
"But you find some developers, they come to an area, they know very well what is happening, but they think at some point they will be large in number and contest," he says.
He gives an example of Athi River and Syokimau areas which have long been known to be hubs for industries.
However, developers have gone to those areas and acquired properties.
"Then when the rubber meets the road, they think they can be heard more than those other (investors)," he says. "Most of the developers are mischievous to a certain level. In most instances, most of this information is known."
Mr Mburu says every development on land is based on a plan developed where stakeholders are consulted. "In such a case, you will find that one development came before the other," he says.
He explains that development planning happens at a macro level - where the plan is the one being developed by the authority in the area which in this case is the county government.
Locally, it is what stakeholders in that area like or estate association - recommend. Macro plans are not specific to plots but local plans are.
For example, Nairobi with a land area that is too large for county plans - making zoning more suitable.
The stakeholders categorise areas as mixed-use, low-density residential areas (like Karen), and high-density residential areas (like Kasarani). Such a high-density area may end up being further categorised as mixed-use where offices, businesses and residents end up sharing an apartment block.
"If an area you are interested in was zoned as a mixed-use, and some development standards issued, then we get lower-level plans (local plans) which will at least capture the details, and it can go to plot specific," he says.
The specificity of the plan is what usually ends up determining if an area closer to a major road be set aside for commercial, and maybe the third or fourth row will be residential.
Hence even when the application to set up the morgue is submitted to the authority (county), it will be assessed within the confines of the development plan.
The application will be counter-checked with the physical plan, where the requirements like the size of the land and environmental considerations will be assessed.