Size 8 to head peace call
PULSE
By - | February 8th 2013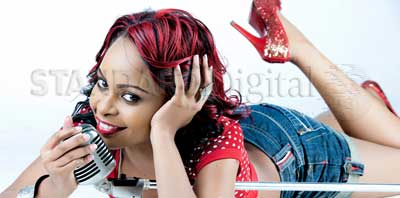 As political gears shift into overdrive ahead of the March 4 General Election, local celebrities are coming out to voice their stand, calling on Pulsers and Pulsaters to keep the peace. Size 8, the new Peace for Africa and Economic Development (Pad) ambassador shared her views with Pulse
A week ago, a filthy rich politician running for a top political seat invited talented singer Size 8 to his office with a lucrative proposal.
He wanted her to join his political campaign and front his campaign for power in exchange for some good cash.
"The plan was for me to attend ten political shows across the country during which I would be paid Sh200,000 each. The total amount would come to Sh2 million, an awesome amount," the Shamba Boy singer told Pulse during an exclusive interview on Tuesday.
"I had been watching clips from the 2007 post-election violence with chilling pictures of bloodshed. I recalled how Kenya burned down, stirred by political instigations. I hated imagining I would support a politician at the backdrop of all these. I said 'no' to the offer and decided to rally the youth towards a peace call," she remarked, nearly breaking into tears.
Even after declining the offer, Size 8 has come across more politicians throwing in even more lucrative offers.
Size 8 is not alone in this as a number of artistes including gospel stars, among them Daddy Owen and Victor Mbuvi, have declined enviable sums in the current political windfall season as political parties get to the last stretch in an attempt to woo the youth vote come the March 4 General Election. "Cash can be so luring. However, as a role model to the youth, I decided not to support any presidential candidate or party by performing at their political rallies but rather form a neutral group that would unite the youth towards a peaceful election season," she added.
It has been three weeks since Size 8 began visiting Nairobi slums alongside fellow artistes, among them Victor Mbuvi.
And early this week, a group christened 'Wa Kenya Peace 2013', that has been supported by Peace for Africa and Economic Development (Pad) appointed her the ambassador of the peace campaign.
"The project is to be executed in the run-up to the General Election to ensure peace prevails prior to, during and after the elections. Pad is an award-winning grassroots peace organisation that works with youth on economic empowerment enterprises and making them a network of local communities' peace ambassadors," Size 8 said.
"The movement has developed a network of 350,000 youth peace ambassadors in the grassroots and I am glad that my dream to create a scalable opportunity to rally millions of Kenyans, especially the youth, as certified peace ambassadors to ensure peaceful elections and peaceful transition in Kenya has come true," the singer added.
As Kenya approaches yet another general election, there are a myriad of commendable peace promotion initiates in the country in the effort to ensure that Kenya does not experience a repeat of the 2007/2008 post-election violence that claimed more than 1,500 lives, displaced more than 350,000 persons and destroyed more than 42,000 businesses according to Ushahidi.com.
Among the other celebrities who have come up with peace initiatives include Mombasa-based award-winning singer Nyota Ndogo, the Wasanii Wananchi group led by Frasha, Lady Bee, Octopizzo, Size 8, Eko Dydda, Mimmo, Victor Mbuvi, Zaka (Ukoo flani Maumau), Alice Kamande, Juliani, Nonini, Wyre and emcee Phillipo.
The Size 8-led project aims at mobilising at least five million Kenyans as empowered peace ambassadors during this electioneering period by instilling a personal connection to responsibility of peace efforts in the country.
"The project has launched a 20345 mobile phone short code campaign through which every Kenyan who sends a message with his or her official name and contact details will be commissioned as certified Pad peace ambassador to promote peace in his or her local community," Size 8 concluded, calling upon other like minded celebrities and young people to join her in the move.
To further uniquely establish the tangible peace-building approach, the campaign will also engage all presidential candidates and their running mates by attending all presidential rallies and presenting peace ambassadorial certificates to presidential candidates, their running mates and parties to guarantee peace commitments.