LORD'S PRAYER BEFORE AXE
By ROBIN TOSKIN
Elly Kalekwa, the President of deposed Kenyan Premier League champions Sofapaka, insists the club has developed well, despite finishing fourth, but warned some of his underperforming stars they may be shown the door.
Sofapaka won the KPL in their first participation in the local topflight, and sunk in Sh55 million to defend it, only to surrender the trophy without even the proverbial 'kick of a dying horse.'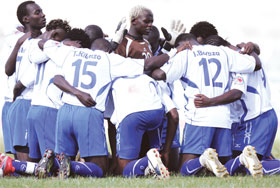 AMEN:Sofapaka players huddle before a past KPL match [PHOTO: STAFFORD ONDEGO/STANDARD]

In an interview with FeverPitch yesterday, Kalekwa said: "It would look like we have failed by finishing fourth. But to be fair to the coaches, the team has improved. We won the title ugly last year and this season we have played some breathtaking football."

He added: "But while we have made progress, I feel really let down by the performance of some of the players. With the transfer window open, you see some players leave the club particular those whose contribution we feel did not match their standing."

Sofapaka had been tipped to retain the title after a spending spree that saw them acquire Nigerian Abbas Akinyemi, Idrissa Rajab (Tanzania), Musa Mudde (Uganda) and Harambee Stars midfielder Osborne Monday from Azam of Tanzania. Also, club-less Allan Wanga was taken into Sofapaka fold.

Kalekwa reportedly rejected a $34,000 (Sh2,720,000) offer by Sudan giants El Merriekh to prise away Congo DR-born striker Bob Mugalia as his sought to build a formidable side.

To cap it, Kalekwa scoured the Buganda Kingdom and brought in coach Sam Ssimbwa by splashing $6,000 (Sh480,000) in signing fees after refusing to renew the contract of his championship winning tactician, Robert Matano at the beginning of the season.

But even with these signings Sofapaka still had to rely on the 33-yearold warhorse, John Baraza for goals and the striker will be crowned the KPL Top Scorer on Wednesday for the second year running.

And after a meek challenge, Ssimbwa and his technical staff were relieved of their duties and rookie coach Ezekiel Akwana was installed on an interim basis.

Although he won the FK Cup, which guarantees them continental football in the Confederation Cup, Sofapaka staggered to the finish line, drawing along the way with relegated Mahakama.

It's business

And last week, some of his flops confided in FeverPitch that they have not been paid two-month wages and that Kalekwa was infringing on their contracts.

Kalekwa admitted to not paying the wages, but insisted it was the only way he would punish them.

"It is a business. I have spent sleepless nights looking for funds yet they go out there and don't put up a fight especially in the last three rounds. In any case it is not all the players who have not been paid because we have assessed the contribution of each of them."

Captain James Situma said although they missed out on the premiership title they won several other trophies.

"At least we won the Supersport Super Cup, FKL Cup and Mashujaa. However, we could have done better. May be we lacked the experience of playing in several competitions beginning with the CAF Champions League," Situma said.

Sources close to the club President told FeverPitch that Kalekwa feels he has been stabbed at the back by some players especially having been made to believe the coaches were wrong.

"I removed Matano and brought in Ssimbwa, but they wouldn't perform. Now I sent away Ssimbwa and still they couldn't even beat Mahakama. So who is the problem here."

Kalekwa's critics, however, say he may not have given his staff enough powers to deal with the lazybones.