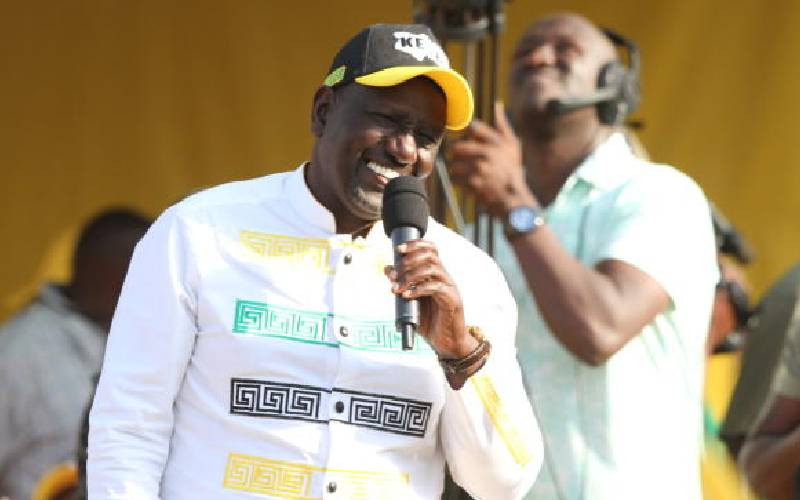 The cost of basic commodities, such as food and fuel, should never be this harsh. Indeed, life has never been this bad in our country.
The day we all have been waiting for is beckoning. Tuesday, August 9, 2022, is a blessed day. It calls upon you and me, the citizens of Kenya, to perform a sacred duty for our country. We are going to elect our leaders for the next five years.
Our Constitution invites each one of us, on Tuesday, to choose from among us those we prefer to determine our life and that of our families, and the destiny of our beloved country, Kenya.
I invite all of you, my fellow citizens of Kenya, to be purposeful and deliberate as you vote. Do not take chances with that hallowed ballot paper – it is all you have got to choose between stagnation and progress; between the way life is, and what it ought to be.
We in Kenya Kwanza recognise and appreciate that every Kenyan is called upon to take a vote under very strenuous circumstances. The economy is in the doldrums. The cost of basic commodities, such as food and fuel, should never be this harsh. Indeed, life has never been this bad in our country. Kenyans have received a terrible beating. We cannot afford to put food on the table for our families; pay your school, health and even transport bills. Hakuna ugali sosa tena.
Small businesses have closed shop. Others are barely hanging in there, because the cost of doing business is terrible. Imekua biashara ya pata potea. For the farmer, you are now walking on productive land that is not cultivated. You are not able to tend to a healthy crop. It is no wonder we have an Ugali sosa crisis. Unemployment is soaring; there is even less wíra ni wíra.
We are all victims of an economic management system gone rogue on us. But don't despair. It is in times like this that we must suspend our fear of the unknown; the predictions of Armageddon. It is time to have the courage to say NO to anything that threatens our humanity, civility and decency. We may suffer today, but never lose sight of remaining Kenyan and correcting the wrongs. Vindu vichenjanga.
To do that, we must believe in a better tomorrow. But it is our duty to make that better tomorrow. Let's not surrender to sceptics; those who insist there is nothing wrong. This is the essence of your vote; to choose leaders who will make decisions to better your lives. And the choice is between promise and guarantee. Remember, Kenya Kwanza is your guarantor. Usipotezee wakati huu.
Kenyans, we have walked with you on this journey of reflection on how to remodel our country. We have come to you where you live, everywhere in our country. We have listened to you and heard you clearly. We know your hopes, your anxieties and your fears. We assure you that we are not about to let you down. You have given us your attention, ideas and support. It's time to put a signature to all that contribution by voting for Kenya Kwanza.
In the Social and Economic Forums that we held together, you recounted your pain and reasons why. You told us what you want done to heal your destroyed lives. We have, together, agreed on the Kenyan Women's Charter, the Youth Charter, the Charter for People Living with Disabilities, and charters on the education and health sectors, among others.
We have agreed on and signed County Economic Charters. We have developed an authentic homegrown Kenya Country Plan, from these charters. We thank the legendary Mama mboga, boda boda, shoeshine, saloonist, farmer, fisherman, hawker and construction worker, for this great achievement. You gave us a template from which we are going to deliver better living to Kenyans.
This is what gives us the confidence that we are together on the wishes and hopes of a majority of Kenyans. We have agreed that from day one in office, our work will be to; tackle the punitive cost of living to affordable levels, reduce cost of doing business, tame runaway corruption, guarantee universal health coverage for all Kenyans and arrest the draining public debt and taxation.
These measures will provide relief and space for initiation of Kenya Kwanza guaranteed comprehensive flagship programmes in re-engineering agricultural production, streamlining support for Micro, Small and Medium Enterprises, investing in housing, guaranteeing Universal Health Coverage and rolling out the digital superhighway for citizen empowerment.
Put together, these interventions will bring down the cost of living, eradicate hunger, create jobs, expand the tax base, improve foreign exchange balance, and give us inclusive growth. In the Kenya Kwanza Plan we are very clear about the implementation schedule. We know what are the quick wins, what should be done in the short term, medium term and long term. We also know what should not be done.
It is because we have this clear Plan of Action for Kenya that we reiterate our call for, and commitment to, peaceful, free and fair elections. We demand that the recent maleficence in attempts to twist the elections must stop. We want a calm country after elections so that Kenya Kwanza can embark on its Plan for Kenyans, without delay.
We want to tell the world that at Kenya Kwanza, we are committed to a peaceful election. We will not contradict our vow to uphold peace. We submit to peace not because we are shy or fearful, but because we understand the need to have a conducive environment to invigorate an ailing economy that needs all of us to fix.
For this reason, we reassure all investors - local and foreign - of protection of their investment. We welcome all the local regional and international partners with goodwill to come and assist in re-awakening the giant that's the Kenyan economy. Ours is a coalition for change, and we invite you to be a part of this change. Our policy is that there is everything for all. Kenya is a land of plenty, but only if we can bake the cake together and share in it.
Indeed, any interference with the elections, or sabotage of elections, by rogue State functionaries will be a betrayal of Kenyans' right to build a functioning inclusive economy. It is to overthrow the Kenyan dream for a brighter day. Kenya Kwanza remains hopeful and vigilant and will not be a part of such schemes. Let each functional institution offering support to IEBC, keep to its lane and leave to IEBC its mandate to conduct elections without interference.
We appeal to Kenyans to turn out in large numbers to exercise their right of political participation.
The writer is the Deputy President and UDA/Kenya Kwanza presidential candidate.