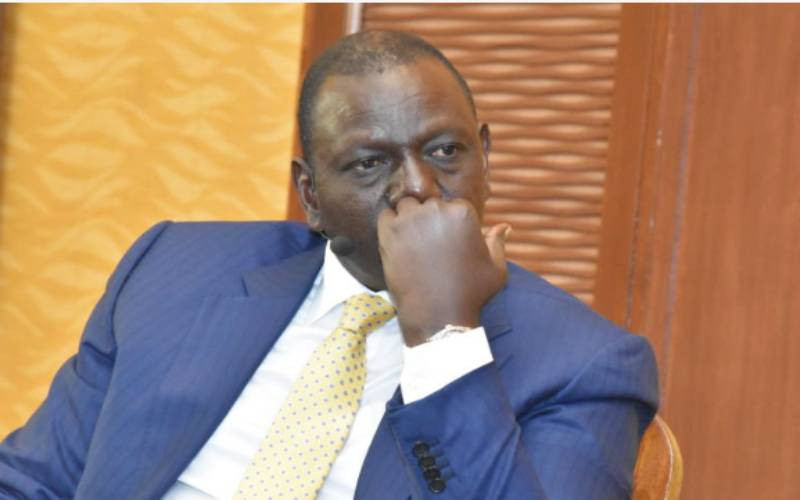 Deputy President William Ruto has alleged that the government is fully out to ensure he loses the presidential election on August 9.
The DP said the State has been using chiefs, Cabinet members and local administrators to frustrate his presidential bid.
Ruto claimed that several State officers have been holding night meetings to strategise on his failure at the ballot.
The deputy president said Interior Cabinet Secretary Fred Matiang'i and his Principal Secretary Karanja Kibicho were at the centre of the plot.
According to Ruto, the two top Interior officers have been "intimidating" chiefs and other junior administrators in efforts to compel them to support Raila Odinga's presidential candidature.
Ruto said some chiefs "have been threatened with sackings" if they fail to cooperate.
He further alleged that the administrators are being used to mobilise Kenyans to turn up in large numbers and cast their ballot in favour of Odinga.
"These two gentlemen (Matiang'i and Kibicho) must know that there is a shortage of fools in Kenya. What you've been telling the chiefs, have been relayed to us by the same people. They are actually complaining of the constant harassment," Ruto said on Thursday, August 4 while addressing journalists at his Karen residence in Nairobi.
The DP alleged that larger parts of Rift Valley have been profiled as violence hotspots in efforts to encourage voter apathy.
He said Rift Valley administrators have been meeting at night to strategise on how they'll suppress voter turnout in the region, an area perceived to be his key stronghold.
Without giving any evidence, the deputy president said senior State officers have sponsored the purchase of national identity cards from Rift Valley voters, a move meant to stop them from voting on Election Day.
On Wednesday, Interior PS Karanja Kibicho told Ruto that senior State officers participating in election campaigns was not new, and that it happened in 2017, when Ruto was deeply involved in government operations.
Kibicho further said he was wondering why Ruto and his team were complaining of State officers' involvement in the electoral process, yet in 2017 the DP was silent when the then-opposition outfit, NASA, raised similar complaints.
The PS said the involvement of chiefs in the electoral process was not different from what they usually do in other programmes such as sensitising Kenyans to embrace Covid-19 vaccination, safety measures against the disease and encouraging 100 per cent primary to secondary transition.
"Chiefs and assistant chiefs chair the location and sub-location security committees which are instrumental in ensuring grassroots peace and stability. Engaging them regularly is a necessary normal," he said.
Ruto, however, says in 2017, "chiefs were not campaigning for presidential candidates on top of lorries like I see today".
"Whether what is being done today by the chiefs was done before, it is still wrong," he said.
In a call for transparent elections, Ruto asked the Kenya Power and the Communications Authority of Kenya to ensure that on August 9, there will be power and internet connectivity respectively.
"I have confidence that the IEBC, if left alone, can deliver a credible election," said the DP.
The DP also alleged that President Uhuru Kenyatta was out to frustrate his campaign efforts.
He said the president will be in Mombasa on Thursday, August 4, and he (Ruto) has, therefore, been asked to cancel or postpone his planned Tononoka rally.
Ruto vowed to continue with his plans to address the Mombasa constituents, and that he'll hold the rally in the afternoon, even if he won't be granted access to Tononoka Grounds.
President Kenyatta is on the record saying he fell out with his deputy over Ruto's integrity.