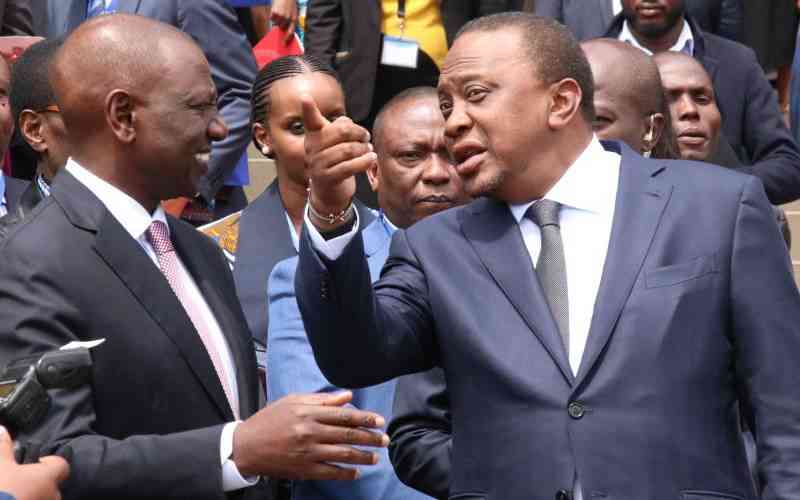 In one of the widely circulated video clips on social media, Deputy President William Ruto prides himself as a respectful deputy to President Uhuru Kenyatta, who is cautious enough not to antagonise or outshine his boss – a strategic move he believes will enable smooth transfer of power to him.
Today, however, as the DP angles to succeed Uhuru at State House, the envisioned "smooth transfer" of power is a mirage as Ruto and his three challengers are equally engaged in a stormy battle for the coveted political seat. This is in total contrast of the scenario painted in the video clip in question that went viral when signs of political fissure between Uhuru and Ruto became evident.
In the June 2016 clip recorded at the burial of former Housing minister Soita Shitanda in Malava, Ruto says his loyalty to Uhuru and the need "to play the fool" is a political lesson he learnt from his predecessors, especially fellow kinsman Daniel Moi, "who played cool and safely behind this gentleman's (Uhuru) father (Jomo Kenyatta) until he smoothly succeeded to take over power".
Ruto then chides former Prime Minister Raila Odinga for what he terms "kuletea Mzee Kibaki fujo (undermining the leadership of President Mwai Kibaki), with whom he served in the Grand Coalition Government between 2007 and 2013: "He (Raila) would have possibly been our President today, but for choosing to antagonise Kibaki, he has been condemned to political oblivion".
Self-reflection
With this kind of self-reflection and good lessons learnt from Moi, it is difficult to comprehend why Ruto failed to follow through his very own advice to Raila. Did the DP willingly discard the wisdom drawn from the country's second President to embrace a confrontational path "Raila-style", or was it a case of the Swahili adage, "kumbe muwinda huja akawa muwindwa" (the hunter becoming the hunted)?
Ideally, the reasons to the Uhuru-Ruto political divorce and the subsequent hostilities towards each other – lie in answers to the aforementioned questions. These very answers also explain why the DP, who would have had a relatively easier ride to the top seat, is sweating it out with Raila, George Wajackoyah and Waihiga Mwaure.
Initially, teamwork was visible in the activities of the two leaders. They shared a uniform stand on a host of government policies and development agenda, with the more vocal Ruto verbalising these positions. This is probably why to date, the blame on the 2013 and 2017 unimplemented campaign pledges of dishing out laptops to children enrolling in primary school and the building of 14 stadia across the country, rests on the DP's shoulders. Since the symbolic handshake between President Kenyatta and the ODM leader in March 2018, State House has moved to whittle down the DP's political influence in government.
The President also cut Ruto's influence through an Executive Order in January 2019, thereby granting Interior CS Fred Matiang'i supervisory roles across ministries – an act that DP's backers viewed as taking away his principal assistant's powers. Garissa Town MP Aden Duale, claims it was aimed at compelling the DP to resign: "But those are small issues that do not bother the DP. He is a constitutional office holder and those public servants who want to embarrass or humiliate him must learn from the history of their predecessors of presidents Mzee Kenyatta, Moi and Kibaki."
The import of Duale's rejoinder is that Ruto has opted to stay put whatever the amount of humiliation. Those who have humiliated him over the time, argues the former National Assembly's Leader of Majority, "need to be reminded that by doing so they have been humiliating and demeaning the President, the government and the entire Kenyan population."
However, according to ODM chairman and National Assembly's Minority Leader John Mbadi, Ruto has been his own enemy courtesy of a self-imposed marathon campaign "that has put himself under pressure and at loggerheads with the President". The Uhuru-Ruto relations have indeed been a major delicate experiment under the 2010 Constitution. It was the first arrangement since independence where a deputy president's tenure office is well secured, thereby making it impossible for the president to fire his deputy. This has got the country thinking – as hostilities between the two escalated – on whether this particular legislation should be retained or amended to allow for a seamless flow of governance by the Executive.
By mid-2019, there were practically two governments within the one Jubilee government with Uhuru and Ruto pulling on opposite ends.
The situation was made worse by by-elections in Juja and Kiambaa constituencies in Kiambu and Msambweni in Kwale, where Ruto and his boss flexed political muscle with the former flooring candidates allied to Jubilee. In the Msambweni contest, Ruto backed an independent candidate against the Uhuru-backed ODM candidate. The emerging divide would become even clearer when Ruto invaded Raila's political stronghold of Kibra in Nairobi, following the death of area MP Ken Okoth. Against the will of Jubilee party bigwigs, who had expressed a wish to skip the poll, the DP influenced the nomination of ex-international soccer star MacDonald Mariga as Jubilee's candidate for the race.
Typical of twins, in 2013 at the beginning of the pairs' first term in office, Uhuru and Ruto seemed to share a vision and wore uniform outfits, mainly red neckties on clear white shirts, during official public events.
The five-year period was also more of a co-presidency, as reflected in the hiring of individuals, who were either allied to Uhuru's The National Alliance (TNA) and Ruto's United Republican Party (URP), to the Cabinet and other senior positions in government, which was baptised a political correct name of "UhuRuto".
Pointedly, the two now accuse one another for derailing their union. The DP accuses his partner of political infidelity by bringing on board Raila and in the process abandoning their "Big Four" development agenda, touching on food security, healthcare, affordable housing and manufacturing, while Uhuru blames Ruto of abandoning ship to engage in premature campaigns and allegedly partaking in economic scandals.
In a powerful imagery this Wednesday, the President likened Ruto to a co-driver in a public vehicle, who was busy stealing vehicle parts and harassing passengers while the vehicle was in motion. He told his audience in Kisii County that he had no option but offload his partner midway the journey, "otherwise there would be nothing, except for a wreckage, for me to hand over to Kenyans at the end of my term of office".
Spirited efforts
Political analyst Prof Macharia Munene observes that the DP's political hold onto the Mt Kenya region is an achievement that has been realised over a long period of spirited efforts of charm offensiveness. The History and International Relations lecturer at the United States International University says similar concerted efforts have been required to counter the DP's infiltration, hence the direct involvement of Uhuru.
Until the entry of Musalia Mudavadi and Moses Wetangula, amongst other bigwigs, Prof Macharia says that the DP was surrounded by lightweight politicians as allies, who were mostly first term MPs: "They may have helped to lay the ground for the big boys, including raising some sense of awareness in the Mt Kenya region, but it is ideally the political heavyweights who have given the Ruto campaign a national face and presence."
Separately, Ruto has over the last 10 years in office enhanced networks with foreign governments, with Ugandan leader, Yoweri Museveni appearing to be his closest ally. There is no denying that over the last 10 years, Ruto has undergone a major political metamorphosis, from a political operative associated with the government of the day to a self-styled champion of the poor – aka hustler.