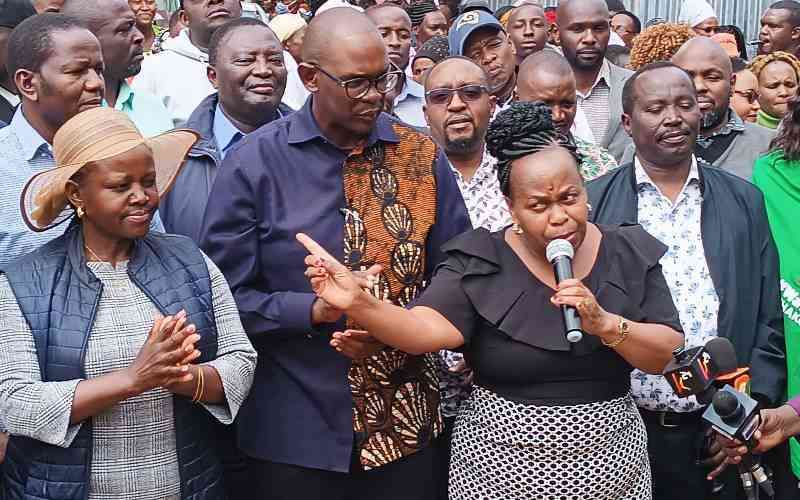 Days to the General Election, several governor candidates are in a dilemma after their running mates dumped them.
The situation is likely to put the candidates in an awkward position should they win.
The decision by some running mates to opt out of the campaigns and throw their weights behind opponents has complicated matters for the governorship candidates.
With ballot papers already printed bearing the photos and names of the candidates and their running mates, the die is cast.
Legal experts argue that should the affected governorship candidates win the seats, then the running mates who have dumped them will either be sworn in as deputy governors or opt to resign formally.
Some of the affected governor candidates have exuded confidence that their running mates decision will not impact their chances of winning the election on Tuesday.
On Wednesday, DAP-K Kisii governor candidate Prof Sam Ongeri became the latest victim after his running mate Eng Josiah Maaga opted out and declared support for UDA candidate Ezekiel Machogu.
"I was presented to Prof Sam Ongeri as his running mate by Abomachoge professionals. To the interest of my community they have withdrawn my name. They have made a decision that Ongeri has not run his campaigns well and he has no chance to win the seat," Mr Maaga said.
"This is not an accident, we have joined the winning team and we will support UDA candidate Ezekiel Machogu," he added.
Interestingly, Mr Maaga has been conspicuously missing from Prof Ongeri's campaigns. Few days to clearance by the Independent Electoral and Boundaries Commission (IEBC), there were reports that he had quit but he later appeared alongside Prof Ongeri to present their papers to the commission's county headquarters.
In July, Kenya National Congress party leader and Kisii governor candidate Manson Nyamweya's running mate, Alfred Ndemo dumped him and joined ODM candidate Simba Arati.
Mr Nyamweya said he heard about Mr Ndemo's defection on the radio and read the same on social media. He nonetheless dismissed his running mate's departure as inconsequential.
A week ago, Maendeleo Chap Chap Machakos governor candidate Francis Maliti also faced a similar fate after his running mate ditched him to support former State House Chief of Staff Nzioka Waita.
Rose Wambua ditched the Machakos deputy governor Maliti's camp saying he was headed nowhere.
"I compared Waita and Maliti and realised that I was in a bad 'marriage.' We have had lots of problems in our camp. I didn't want to carry the previous baggage in the county. My new camp has people with the right track record," she said.
After businessman Suleiman Shahbal dropped his bid for Mombasa governorship, his running mate, Selina Maitha, decamped to the United Democratic Alliance (UDA).
On April 17, Mr Shahbal withdrew from the race in favour of Mvita MP Abdulswamad Nassir after President Uhuru Kenyatta and ODM leader Raila Odinga brokered the deal.
In May, former police spokesperson Charles Owino dropped out of the race for Siaya governorship to be running mate to his opponent former Rarieda MP Nicholas Gumbo on United Democratic Movement (UDM) party ticket.
Mr Owino later made a U-turn and returned to the National Police Service (NPS).
Eng Gumbo picked former journalist David Ohito as his running mate.