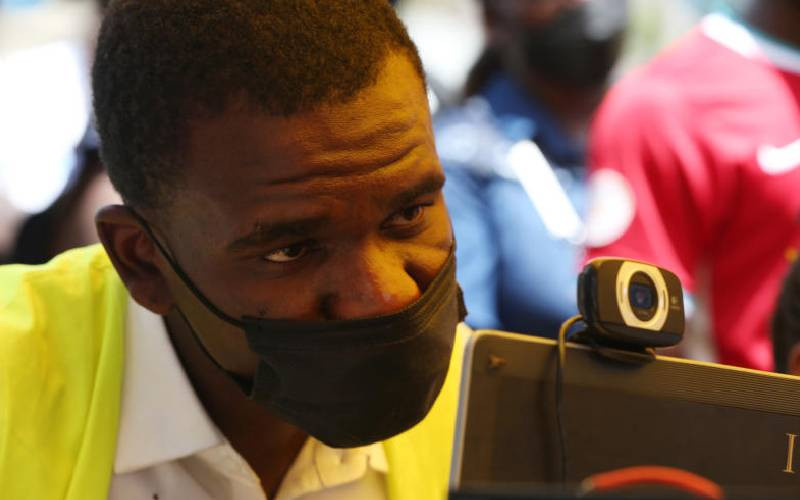 United Democratic Alliance (UDA) yesterday revealed why it is backing an all-electronic voter register to identify voters.
In its argument before High Court judge Thande Mugure, the party said there is a likelihood of returning officers voting for persons who do not appear if the Independent Electoral and Boundaries Commission (IEBC) relies on printed voter registers.
UDA's lawyer Elias Mutuma said that instead, there should be a truncated voter register, which should only be used as a last option and with the authority of the commission.
A truncated register, he said, should have some details concealed in order to make it impossible for other persons other than the intended ones to vote.
Mutuma said the case filed by civil society groups seeking to compel the Wafula Chebukati-led commission to use both Kiems kits and a manual register as a complementary system for voter identification should be dismissed.
"IEBC has put in place an adequate complementary mechanism for voter identification. There is alphanumeric identification, a truncated register, and a list posted on the polling station. A truncated register is one that conceals some of the details of a voter. This is because previously, rogue officers would vote on behalf of those who did not vote," Mutuma said.
Truncated register
"A person who has not been identified by the Kenya Integrated Election Management System (Kiems) kit will provide their National ID and the name is keyed in and their names will pop up. If that fails, then there will be the use of a truncated register.
"The petitioners have sought to misdirect this court in the case of Raila before Supreme Court that the issue of voter identification was addressed. The decision addressed the failure of technology at the point of transmission of results and not voters identification."
UDA backed IEBC which said that only Kiems kits will be deployed for voter identification.
Electoral technology
Attorney General Kihara Kariuki backs the seven lobbies who filed the case and said a position by Azimio coalition that there must be a manual register as a complementary to the Kiems kit.
The party was responding to the case filed by Kenya Human Rights Commission, Katiba Institute, Kenyan Section of the International Commission of Jurists (ICJ)-Kenya, Haki Yetu, Inuka Kenya Ni Sisi, Africa Centre For Open Governance (Africog), and Constitution And Reform Education Consortium.
Their lawyer Fidelis Limo said IEBC cannot guarantee that its electoral technology will not fail on August 9 and added that the only guaranteed backup is a manual register that should correspond with the data in the Kiems kits.
"IEBC arrived at the aforestated administrative decision in clear violation of the provisions of the law and in particular Section 44A of the Elections Act which provides for the provision of a complementary system of voter identification using the manual register of voters," said Limo.
The lobbies said that IEBC has failed to comply with the 2017 Supreme Court judgment requiring it to ensure polling stations are connected to 3G/4G network. Approximately 2.5 million voters had to rely on the physical register in the 2017 General Election after verification of their details failed.
According to the court documents, IEBC allegedly admitted that at least 1111 polling stations lack 3G mobile network coverage.
"Further to the decision of the Supreme Court in the 2017 Presidential Petition, the first and second respondents have not taken any measures to guarantee that there is a working and reliable 3G/4G network connectivity and that technology shall not fail," Limo said. "They have not implemented the 2017 Supreme Court judgment at all." The civil society groups said the kits can only function if they are connected to a reliable network and voter identification can only be done using either a fingerprint or an alphanumeric search.