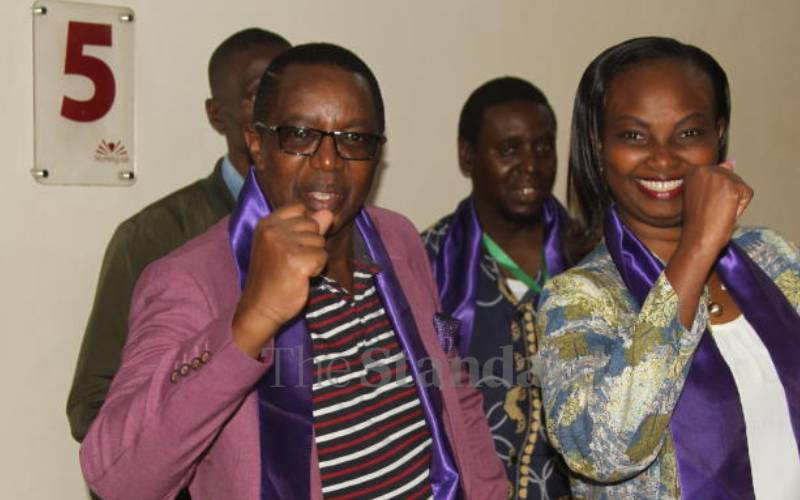 Agano Party presidential candidate David Waihiga has promised to bring back to the country Sh20 trillion illegally obtained and stashed abroad by powerful individuals.
Addressing the press in Nairobi, Mr Waihiga gave a sneak preview of his manifesto to be launched on Monday saying that he would stop the loss of Sh5 billion daily through theft in various government departments and agencies
The Agano Party presidential candidate promised that he will waive tax accrued from the date he is sworn in if elected president, to give Kenyans a new start and reduce the Pay as You Earn (PAYE) for every employee.
"I will constitute a Truth and Recovery Commission to assist in recovery of all funds illegally stashed abroad and corruptly lost and obtained, I will ensure that at no point maize flour will go beyond Sh100 by introducing Unga subsidy," said Mr Waihiga.
The presidential candidate said that his campaign is premised on the democratic principles of political tolerance and clean government given that he was a Christian and an ordained Church Minister and it was his duty to call on his other competitors in the race to order.
Mr Waihiga explained that his presidential ticket was a sacred one and it was his duty to give direction during this democratic process saying it was the reason he was against violence, intimidation, drug peddling and glorification of public plunder which will erode gains of fragile democracy.
He said that his candidature offers a clean departure from the noxious norm Kenyans have become accustomed to and he was ready to serve the nation as the fifth President from August 9.
"I want to be remembered as the President who will have slayed the dragon of corruption, wastage, maladministration, bureaucracy and made Kenya a first world country if Kenyans deem it fit to elect me as their next President," said Mr Waihiga.