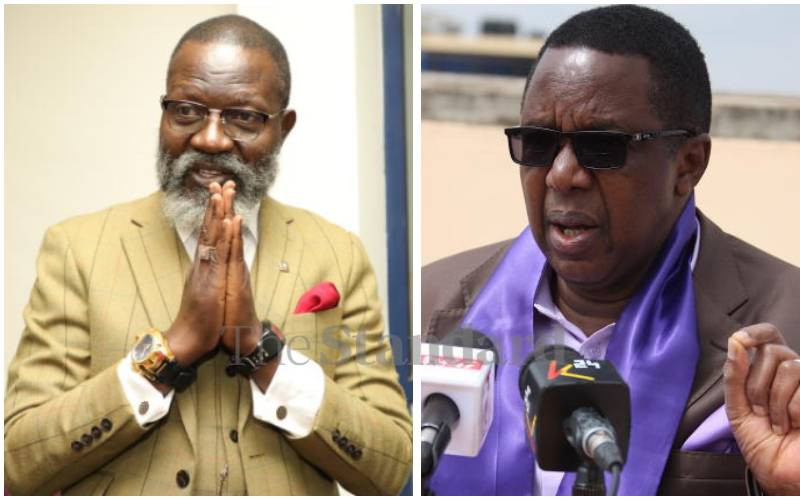 Agano Party presidential candidate David Waihiga has called for the arrest of Roots Party presidential candidate Prof George Wajackoyah for encouraging drug trafficking and consumption of illegal substances.
Mr Waihiga said that Kenyans have watched in shock as Prof Wajackoyah advocates for the planting of marijuana (bhang) in public places, opening of bars in schools, and suspension of the Constitution among others.
Speaking during a press briefing in Nairobi, the Agano Party leader said that as an Advocate and a Church Minister he was deeply concerned about the values the Roots Party presidential candidate was espousing to the millions of youths in the country.
"The same presidential candidate has the temerity to insult church leaders and urge Christians to abandon their places of worship, I would introduce mandatory toxicity and mental aptitude test for every Kenyan aspiring for office if I am elected President," he said.
The Agano Party presidential candidate called on the Independent Electoral and Boundaries Commission(IEBC) Chairman Wafula Chebukati to constitute a panel of experts to ascertain the mental state of Prof Wajackoya.
He said if he is found to be of unsound mind, the Roots Party presidential candidate should be accorded the best medical attention possible, however, if he is found to be of sound mind he should be arrested and charged in a court of law for willfully planning to commit a felony
Mr Waihiga expressed concern that a person threatening to turn Kenya into an opium den is a joke taken too far and it was sad this is happening in the full glare of government security.
He said a presidential election should be a contest, not an opportunity to parade private vices.
The Agano Party presidential candidate also criticised the glorification of bootleg economic policies like Deputy President William Ruto's bottom-up economic model saying that those who eat the bottom cannot be expected to rehabilitate it but will swallow the little that is left.