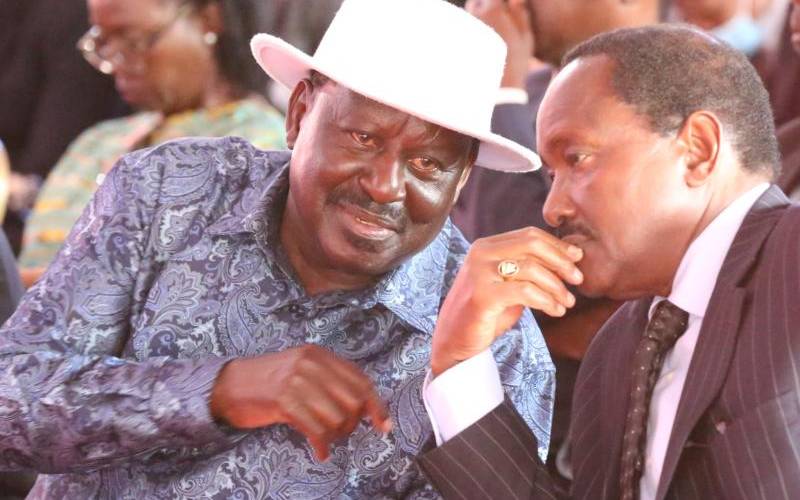 At a rally held by Azimio la Umoja One Kenya in Trans Nzoia County on Friday, Sirisia MP John Walukhe thanked the coalition's presidential aspirant for appointing three leaders to top positions in government.
Said Walukhe; "We thank the former Prime Minister (Raila Odinga) for appointing Governor Wycliffe Oparanya as the CS Treasury, Kenneth Marende as Speaker for Senate and Eugene Wamalwa as the CS for Defence."
Walukhe's statement has been repeated by other politicians, often to excited crowds who appear to believe that their sons have actually landed the coveted jobs. In Kenya Kwanza, Ford Kenya leader Moses Wetang'ula has also not disappointed expectant supporters attending their rallies that have been strategically scheduled to counter Azimio counterparts.
"We signed a deal that will ensure that Mulembe people, Sabaots and the Ateso in this region get 30 per cent of government positions and that includes recruitment into the army, police and other jobs," he told a cheering crowd in Busia, recently.
But how practical are promises being made by Azimio la Umoja - One Kenya and Kenya Kwanza coalitions and will they be fulfilled should either Raila Odinga or William Ruto become president? The positions dangled remain proposals, at least for now, and appear targeted at shoring up support from regions as campaigns gather steam. Is it automatic, for instance, that Azimio would raise requisite numbers to vote and make Marende Senate speaker, if the coalition wins the August 9 election?
Vote-hunting gimmicks
Some analysts argue that ministerial positions dangled to the likes of Wiper party leader Kalonzo Musyoka by Azimio and ANC leader Musalia Mudavadi among others are vote hunting gimmicks that may either be met, amended or trashed once the president aspirant assumes office. Others contend that the proposed government nominations will create some constitutional and operational challenges that may lead to some activists rushing to court to stop the appointments later in the year.
Political commentator Martin Andati says both sides are playing populist politics to create perceptions and excitement among voters from certain communities, but without looking at underlying issues.
"All manner of promises being made during the campaigns are because of political expediency. How for example can one community get 30 per cent of jobs in the country?" asks Andati.
He cites the proposal to nominate Narc Kenya leader Martha Karua the CS for Justice and Constitutional Affairs as part of her deputy president docket as an appointment that could be challenged.
"Will she appear in parliament for vetting as a CS, when she will already have been elected deputy president? How sure are they that they will have numbers in parliament to approve such nominations?" he asks.
Although appearing before a vetting committee is no big deal, some may argue that it is demeaning for the DP to be subjected to questioning by partisan MPs while others may read mischief from those demanding scrutiny. The issue was raised earlier this year, when Wiper MPs insisted that party leader Kalonzo Musyoka be made deputy president nominee because it would be demeaning to be vetted by parliament if he got a lesser position because of his seniority, having served as Vice President. Article 132 of the Constitution says the president shall nominate and with the approval of the National Assembly appoint cabinet secretaries who assumes office by swearing the oath of allegiance before the president.
Legal experts are, however, divided over the issue. Some argue that all Cabinet secretaries should be vetted as provided for in the law, while others maintain that the president can use his powers to create ministries under the office of the presidency.
"In Kenya people challenge almost everything and yet the president can choose to allocate himself a docket if he so wishes and serve without going through the vetting process because he will have met all requirements before running for office," says law lecturer Stanislus Murunga.
Political scientist prof Amukowa Anangwe argues that such appointments will not be new because they were done by Raila when he served as Prime Minister in the "nusu mkate" grand coalition government.
At that time, two ministries were created under the presidency and Dalmas Otieno and Wycliffe Oparanya appointed Minister of State for public affairs and Minister of State for planning and vision 2030 under the office of the prime minister.
"I suspect that is what Raila could be having in mind for Karua's position, so that she becomes Minister of State for Justice and Constitutional Affairs," says Anangwe.
He, however, argues that such deals are mere verbal commitments that can be actualized and disowned in equal measure like what happened in President Kibaki's coalition government.
"They were never fulfilled. They mean nothing in law and are not catered for even in the Azimio agreement itself," says Anangwe.
This could perhaps explain why some leaders are now keen on signing agreements before entering into any coalition partnerships in both Azimio la Umoja – One Kenya and Kenya Kwanza coalitions.
Anangwe says the Kenya Kwanza agreement could be honoured because article 21, on sharing of national government responsibilities appears to bind parties that signed the document.
It says: "The President shall accept and appoint the ANC nominee to the position of Cabinet Secretary, and then within 14 days of being sworn in create the position of Prime Cabinet Secretary and publish the functions of the office within 30 days."
The coalition shall then introduce in parliament legislation for greater legal clarity to amend the national government coordination act of 2013, to include office of PCS to incorporate and align the functions as proposed.
An unsigned document titled "Deed of Agreement" allegedly drafted by the Wiper Party with SKM initials on each page was this week circulated by unknown persons claiming that the former Vice President was ready to serve as Chief Minister.
The document was disowned by a close ally of the party leader, who said it may have come from their detractors, with unknown intentions. But who could have generated the detailed agreement and why?
Was it being used as a teaser balloon by some Wiper MPs who are beholden to Musyoka's presence in Azimio for their own survival or was it done by his opponents to paint him as a man who is desperate?
The agreement addressed to the Azimio council, listed among other demands, that the party be given three infrastructure ministries of roads, transport and works among other positions.
"The document does not look genuine but it is only the party leader who can comment on that. He is currently in London attending a meeting but we will get back to you," said the Wiper MP when contacted.
A day before, the document was circulated, Kathiani MP Robert Mbui accompanied by some Ukambani opinion leaders addressed the media in Athi River and asked Musyoka to reconsider his position and return to Azimio.
Whether this was genuine or not Waluke raised the issue again on Friday telling Raila to ignore, threats from Musyoka for allegedly demanding that Wiper gets 30 ambassadorial positions for them to support the Azimio candidate.
"Utashinda na kura yetu hapa western na sehemu zingine. Chukua mama Charity Ngilu akue Chief Secretary kutoka huko halafu utakuwa umemaliza maneno, usihangaike. (Our votes here and other parts will help you win. Pick Charity Ngilu from Ukambani as Chief Secretary and close that debate," said Waluke.
Andati says after giving out the running mate position to Mt Kenya through Karua, Raila had to please the Kambas who were getting restless by giving Kalonzo Chief Secretary.
He had to assure them that they had not lost out but the question is whether that position is legal or not. Some people would say it does not exist just like the position of cabinet assistant secretary which was invalidated by the courts last year.
Murunga, however, counters that it is no big deal, because the Chief secretary will supervise others, the way CS Fred Matiang'i was designated by the president to take charge of national coordination for effective running of government.