Uhuru Kenyatta retreat from Azimio campaigns bonus to Raila, Karua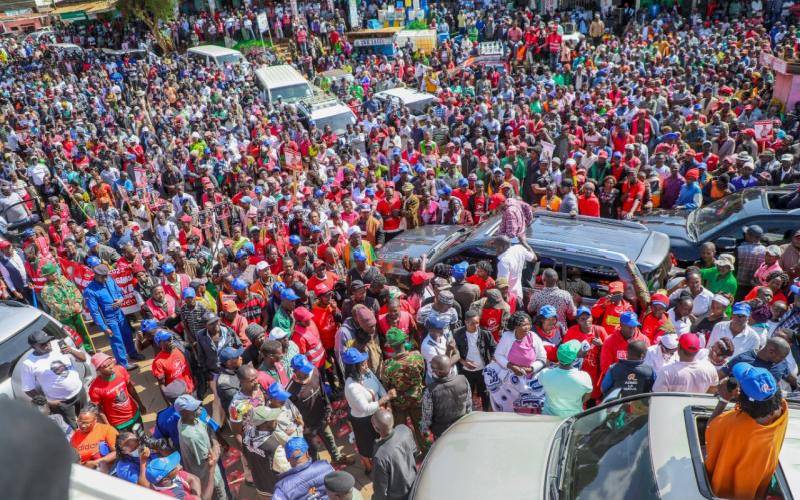 By picking Martha Karua as his running mate, Azimio la Umoja One Kenya coalition leader Raila Odinga appears to have offloaded the baggage that was creating challenges for his campaign.
First, Raila can now reach out for Mt Kenya through Ms Karua without going through President Uhuru Kenyatta, whose involvement had received hostility.
Secondly, all the energy and focus is now on the campaign trail, because the ruckus that Wiper leader Kalonzo Musyoka was creating in Azimio is over, at least for now.
"It is in Raila's best interest to minimise Uhuru's open involvement because the more he is on the forefront, the more his ticket looks weak because of the notion that he cannot campaign for himself," says Macharia Munene, a political analyst.
Uhuru's involvement had also tended to reinforce the view that Raila is a project who cannot stand on his own.
Disengaging and picking a running mate gives Raila the opportunity to tell voters that he is his own man and not somebody else's project.
It also dispels fears in some political circles that not picking Musyoka could have caused a fallout.
Prof Munene describes Karua as an independent, seasoned and aggressive politician who can do everything that Uhuru and his handlers could do for Raila.
"If she can do that, then there is no need for Uhuru being on the campaign trail. And if people boo Martha, it is okay because she is ready for it," says Prof Munene.
It is not the same as people openly disagreeing with Uhuru in his presence or booing him because of his status as president, which can have a serious impact on Raila's campaign
And it also makes a lot of sense because Karua is a candidate and she can take whatever comes with the territory.
"Uhuru is not the candidate. So why should he take the flak or praise when he does not have a stake?" asks Prof Munene.
During her whistle-stop campaign accompanied by Agriculture Cabinet Secretary Peter Munya, Karua has pulled no punches.
She has repeatedly reminded crowds that she has not been in government for 10 years, but together with Raila, they have continued fighting for their rights.
And from the reaction of the audiences, it appears she is getting an ear, which comes as a relief to the Azimio coalition.
"It is giving her and Raila a lot of mileage because she can go to places where he has problems going and withstand the exchange with the people, which is very positive," says Munene.
Sources say Raila stamped his foot and insisted on having Karua as his running mate at a meeting with the president on the eve of Karua's unveiling, despite efforts by others to advance Musyoka's case.
It all began a few weeks earlier, when Mama Ida Odinga hosted top women politicians in Kisumu and heaped praise on Karua, describing her as a comrade who among other lawyers represented Raila when he was in detention.
Raila's close allies had all along argued that he was buying time before making his move when other interested coalition partners like Musyoka could no longer opt out.
Last month, political analyst Martin Andati told The Standard that Raila would settle on Karua because they have a lot in common and because of their shared past in the fight against one party dictatorship.
He also said Raila was going for a fresh face that creates more excitement because partnering again with Musyoka for the third time would appear stale.
Karua then let the cat out of the bag, when she announced that the Musyoka-led One Kenya Alliance, of which she was a member, was dead.
"It was a strategic move which was informed by the discussions she was having with Raila, who was tactfully keeping Musyoka roped in before giving him a take it or leave it offer," said Andati.
Asked why Uhuru has retreated from the Raila campaign, he says it is a tactical move because the anger in the mountain region is largely directed at his Jubilee government.
It appears those around him may have decided that Uhuru makes a tactical retreat but still play a big role behind the scenes, especially in fundraising using his influence and meeting campaign delegations.
Speaking in Murang'a yesterday, Deputy President William Ruto's running mate Rigathi Gachagua said he was happy that Uhuru had kept off the campaign trail.
Gachagua, who is also Mathira MP, said Raila was the same person the region had rejected in previous elections and the reasons for doing so haven't changed.
Being shielded
"He's been hiding behind President Kenyatta's political figure. Whenever we take aim at him (Raila) we see he's being shielded by Uhuru Kenyatta, who is our leader and son from Mt Kenya. We're therefore forced to step back," he said.
The fact that Kenya Kwanza Alliance leader William Ruto and his team have repeatedly insisted that Raila is Uhuru's project meant Raila was the one carrying the baggage of incumbency.
Signs of Uhuru's withdrawal from the frontline were seen at the KICC grounds during Karua's unveiling on Monday, where a seat reserved for him was quietly withdrawn.
Andati says that before Karua's entry, Raila also found it difficult to counter Ruto's campaign allegations that Raila was part of government without annoying Uhuru.
"It is most likely that the National Intelligence Service also told them to allow Karua run the show and she has arrived in the mountain in a very aggressive way," says Gitile Naituli of Multi Media University.
He says Raila has done well to remove the albatross hanging around him because people go to elections in the hope of achieving change.
Prof Gitile sees change in the Raila-Karua ticket because apart from being tough, Karua is sincerely against corruption, is not greedy and has demonstrated firmness and selflessness in the past.
The fact that Karua is also from the so called hustler or the hoi polloi class creates a lot of impetus for the Azimio ticket because it counters a similar narrative from their opponents.
Why Mike Sonko could still prevail in Mombasa
Uncertainty reigns over whether he can vie following his impeachment by the Senate for abuse of office as analysts say whichever way the courts rule, Sonko will still have an impact.