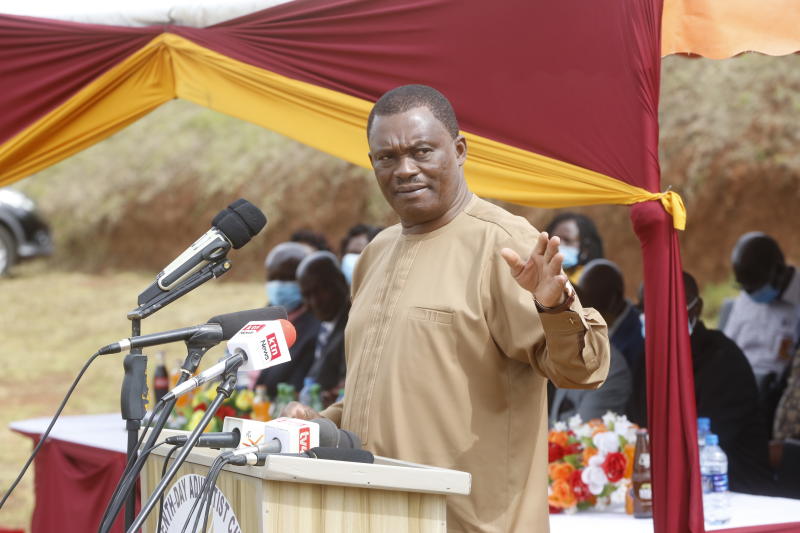 National Assembly Speaker Justin Bedan Njoka Muturi popularly known as JB Muturi, 65, is constitutionally number three in the ranking order.
In the absence of the president and the deputy, the Speaker would take over leadership.
He is also among experienced Kenyan politicians in statecraft having clocked two terms as MP and two terms as Speaker, a powerful post.
The fact that he has presided over one the highest political organs in Kenya places him in good stead to understand the complexities and diversity of Kenya.
It is has also given him the latitude to create a large political network.
Muturi also has the right political temperament, according to his friends as well as political commentators such as Prof Gitile Naituli of Multi Media University.
"Muturi would be perfect for Ruto," says Prof Naituli. "He is from Ruto's extra stronghold of Mt Kenya East and has the right political experience to make a great number two."
Were they to win as a pair on August 9, Ruto will be55, that is 10 years younger than Muturi which some observers see as a perfect pairing with the President's youth flavoured by the maturity of the deputy.
"The 65-55 age combination is a perfect balance for the pair. Muturi is the second ranking politician in Mt Kenya in terms of seniority behind Uhuru Kenyatta. He has confidently led one arm of government (Parliament) for 10 years. and he is not soiled by any corruption scandal," Prof Naituli said.
"Picking of the running mate will entirely depend on the presidential candidate of our alliance but it is clear Muturi ranks above all the other contenders in our stable," said Democratic Party chair Essau Kioni.
"His experience, political profile and name recognition in the entire Mt Kenya speaks for itself. As a matter of fact, the only question should be what does he not have?"
Muturi started as a judicial officer rising to Principal Magistrate. He ventured into politics in a by-election in 1999 following the death of Siakago MP Silas Ita of DP.
Elected on a Kanu ticket, their paths with President Kenyatta would cross in Parliament when the latter was nominated to Parliament and appointed Local Government Minister by President Moi.
Muturi and Uhuru would form a strong bond in 2002 when they found themselves in the opposition after Mwai Kibaki won the election under National Rainbow Coalition (Narc).
The Speaker then served as Opposition chief whip and chair of the Public Investment Committee (PIC) in the tenth Parliament.
In 2007, he lost his seat to Lenny Kivuti and an attempt to reclaim the seat (now Mbeere North constituency) in 2013 when Kivuti vied for Embu Senate seat ended in another humiliation by newcomer Muriuki Njagagua.
Many had expected the Speaker to cross over to Ruto's side despite earlier launching his presidential bid on Democratic Party ticket.
Muturi's former ally, the Jubilee Party vice chair David Murathe said the defection of the Speaker and Nairobi Senator Johnson Sakaja to the Ruto's side was a betrayal of President Kenyatta.
"These are two men whose careers Uhuru built from nothing or salvaged," said Murathe.
"His is not a loss to Uhuru by any description. Muturi failed to get re-elected in Mbeere North twice, losing to new comers only for the president to rescue him and make him number three in the country."
Murathe claimed that the Speaker is not adding much value to the Ruto camp because he had indicated that he is following the masses into UDA, meaning he is bringing nothing to that camp.