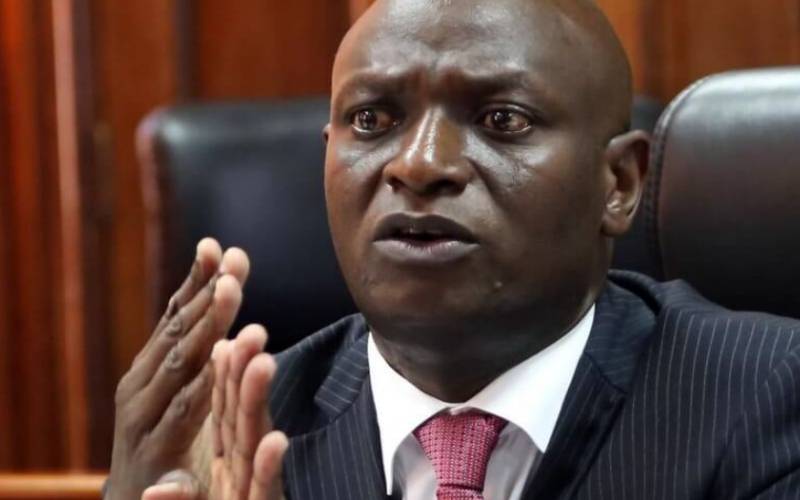 Former Devolution Cabinet Secretary (CS) Charles Keter has conceded defeat after Erick Mutai was declared the winner for UDA ticket in Kericho gubernatorial race.
Keter got 60,342 votes in the United Democratic Alliance (UDA) primaries held on April 14, 2022.
Mutai, on the other hand, amassed 126,038votes to be declared the winner.
The margin in the number of votes between the two contenders was wide – 65,696, which is more than double what Keter got.
Keter, 52, had gone into the primaries confident of victory.
On February 15, 2022, during an interview on Citizen Television, he said he was coming to the polls with a solid reputation of winning all elections that he'd participated in.
"Let me promise you one thing, I have never lost any election. In the 2002 General Election, I went in [for Belgut parliamentary seat] as a new person [and won]. Belgut Constituency, between 1963 and 2002, had never re-elected any MP, I was the first to get re-elected [in 2007]. I was also the first Senator of Kericho County. [At the same time], I was the first full Cabinet minister from Belgut," he said on News Night show.
Keter has served in different ministries as either assistant minister or minister. After securing re-election as Belgut MP on ODM ticket in 2007, he was appointed the Assistant Minister of Energy. In 2013, he ran for Senate seat on the now-defunct United Republican Party (URP). In December 2015, during President Uhuru Kenyatta's first term, Keter was appointed CS for Energy, triggering a by-election on March 7, 2016.
Aaron Cheruiyot of Jubilee Alliance Party (JAP) won the seat, getting 65.16 per cent of the votes cast followed by Kipkorir Marisin Sang of KANU at 33.55 per cent.
In his February 15, 2022 Citizen Television interview, a week after his resignation as Devolution CS on February 8, Keter said he had his eyes on the Kericho governor's seat, exuding confidence that the experience he'd acquired from Cabinet would help him clinch the UDA ticket.
"I am going to this [UDA] election knowing that I have worthy competitors, and I believe [that] with my experience acquired from being in government, I'll emerge victorious," he said.
After serving in the Energy docket as CS for nearly six years, on September 29, 2021 President Uhuru Kenyatta transferred Keter to the Devolution ministry in the same capacity.
Asked whether his perceived close relationship with UDA leader William Ruto, Kenya's Deputy President, would tilt the poll outcome in his favour, Keter said: "There will be zero influence from the deputy president. I am going in the election as Charles Keter. William Ruto is not an added advantage. He is running for President."
On April 16, after being floored in the party primaries, Keter took to Twitter to congratulate the winners, among them his rival Dr Erick Mutai.
"I thank the great people of Kericho for turning up to vote peacefully in the just concluded nominations exercise. Congratulations to all winners, I wish them all the best. To all my supporters, agents and teams, I convey my appreciation and gratitude for your support," said Keter.
It remains unclear what Keter's next move would be. If he still harbours Kericho gubernatorial ambition, then the only option left for him is running as an independent candidate, as party-hopping was blocked by the law.
If Keter wishes to explore the independent candidate option, then he has 10 days to register as an independent candidate.
This is after the Registrar of Political Parties Ann Nderitu said on March 3, 2022 that aspirants who fail to win party tickets during April primaries will be allowed 10 days to register as independent candidates.
Dr Erick Mutai, who defeated Keter in the UDA primaries, is a trained educationist. He holds a PhD from Laikipia University.
The Bureti-born and raised governor hopeful is an alumnus of Litein High School in Kericho County.
He pursued a Bachelor's Degree in Education at Maseno University, then a Master of Arts Degree at Kabianga University.
Before trying his hand at politics, Mutai worked as a Senior Lecturer at Embu University.