Inter and intra-coalition clashes loom in Nakuru West MP contest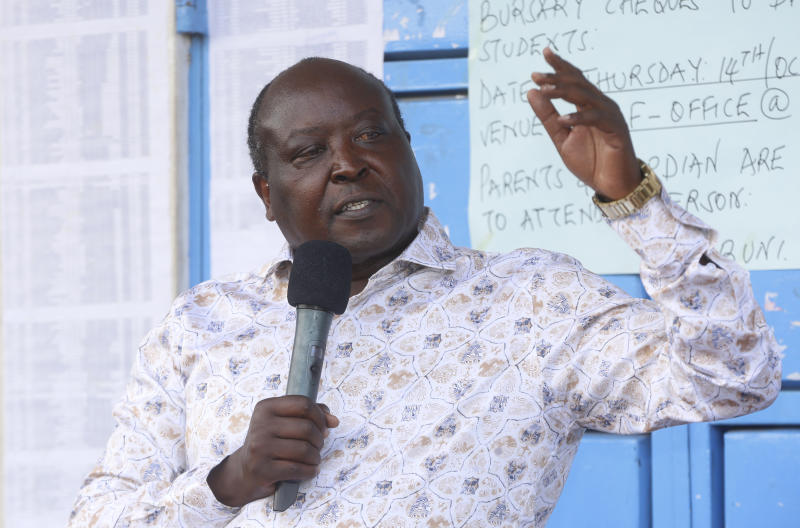 The race for Nakuru Town West parliamentary seat will be interesting to watch especially regarding how sibling rivalry within political parties and inter-coalition competition plays out.
The constituency, which was carved out of larger Nakuru Town constituency ahead of the 2013 elections, is currently led by Samuel Arama, a two-term MP.
Nakuru West was the only constituency out of 11 in Nakuru County won by ODM candidate in the 2013 polls. Arama successfully defended the seat in 2017 on a Jubilee ticket.
Jubilee, ODM and the United Democratic Alliance (UDA) are among the parties to watch in this year's contest for the constituency, each with a notable following.
Arama is the only incumbent Jubilee MP in the county who has not defected to UDA and has announced that he will defend the seat on the same party that sponsored his second term in Parliament.
"Jubilee Party is alive and I am confident its popularity and my performance for the two terms will be my strength in this race. My good working relationship with the President has made it easier for me to lobby for projects that have been delivered," said Arama.
The lawmaker enjoys a good-political working relationship with both President Uhuru Kenyatta and ODM leader Raila Odinga.
"I was previously a member of ODM. I have hosted Raila several times including organising his last week successful rally in Nakuru East. Though ODM may field a candidate, am hopeful to get Raila's support too," said Arama.
Analysts says his relationship with Raila will boost chances to retain the seat under the Azimio La Umoja coalition.
"Arama has played his political cards well by sticking with Jubilee and embracing Raila and his Azimio agenda," says Andrew Nyabuto, a local political commentator.
On his scorecard, Arama boasts of upgrading most schools in the constituency with modern buildings in addition to issuing bursary to needy families.
"Tarmacked roads in Nakuru West outnumber the remaining earth roads. It is the only constituency that got additional locations and sub locations recently bringing services closer to the people. These has been made possible with the blessings of the President and the Interior Ministry," he said.
However, he faces a strong challenge from ODM's Dr Isoe Ochoki who told The Sunday Standard that he will contest for the seat for the second time after coming second to Arama in 2017.
"I am in the race. I am undertaking the necessary steps in preparation for the coming nominations through ODM party. I have already engaged the electorates and am confident of their support," said Dr Ochoki.
After the 2017 polls, Ochoki disputed the results and moved to court seeking the nullification of Arama's victory.
The Independent Electoral and Boundaries Commission (IEBC), in its report, declared Arama the winner with 29,682 votes while Ochoki managed 25,071 votes.
In his suit, Ochoki alleged that there was voter bribery, voter intimidation, inconsistency of serial numbers in IEBC's form 35A, alteration of election papers and differences in entries. The case was, however, dismissed in February 2018 by Justice Mumbi Ngugi, who ruled that Ochoki failed to provide enough evidence to support his claims.
He was ordered to pay Arama Sh2.5 million and a similar amount to IEBC.
Kanu's Jedidah Wairimu Kiplenge, a new entrant and mother of two, has also launched her campaigns in an effort to dethrone Arama.
"I am vying for the first time but politics is not new to me. I am ready to face off with the political veterans with the support of my party- Kanu. My focus will be on women and youth empowerment in the small and micro-enterprise sector," said Kiplenge.
Also in the race are Shabab Ward Representative Kamau Githengi who is seeking the United Democratic Alliance (UDA) nomination ticket.
Githengi, a businessman, was first elected in 2007 as a councillor on a Narc ticket. He was elected as the ward rep in 2013 on a The National Alliance (TNA) ticket and in 2017 on a Jubilee ticket.
"I will be on the parliamentary ballot for Nakuru West on a UDA ticket. I selected the party because it is popular and that is where competition is. That is where I can gauge the strength of my candidature," said Githengi.
He explained that his move to vie for the MP seat was informed by the services he has delivered as a ward rep in the past fifteen years making his area stand out in the constituency.
"I have achieved infrastructural change for the ward. On youth empowerment, I bought them a truck for garbage collection and opened car wash businesses for them. I want to replicate this development and empowerment across the constituency," said Githengi.
On education matters, the ward representative explained that his focus would be on increasing the number of public boarding schools in the constituency.
"The entire constituency has only one boarding school-Moi Primary. I would wish to see this increase and especially for secondary schools for a better learning environment," said Githengi.
Also seeking the UDA ticket is Kariko Mwangi who previously served as Nakuru deputy mayor.
In 2017, Mwangi vied for the seat as an independent candidate after defecting from Jubilee Party and garnered 12,766 votes.