Musalia: Was it an earthquake or just a tremor at his feet?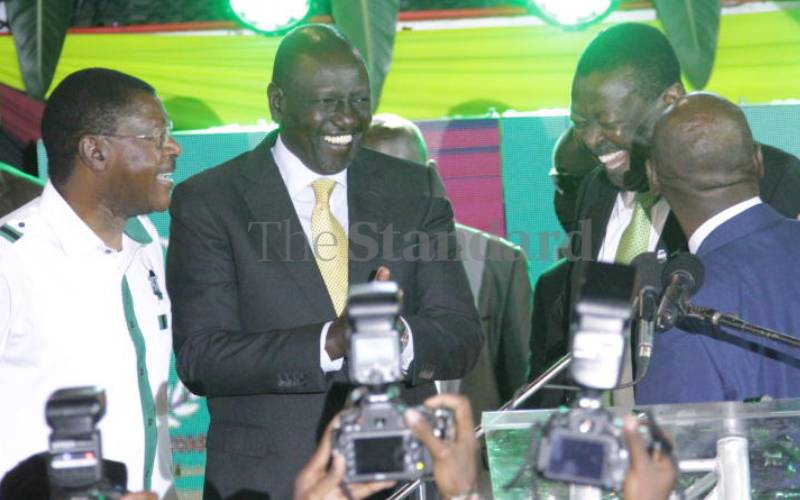 He promised Kenyans that a political earthquake would happen yesterday, and few can deny that Amani National Congress (ANC) Musalia Mudavadi's move to publicly embrace Deputy President William Ruto will shake up current political alignments.
Musalia's own One Kenya Alliance (OKA) was ironically the first victim of the so-called earthquake – thanks to internal rifts leading to the walkout of co-principals, Wiper and Kanu party leaders, Kalonzo Musyoka and Gideon Moi, as well as Jimi Wanjigi, the ODM presidential hopeful, from ANC's National Delegates Conference at the Bomas of Kenya, Nairobi.
The two OKA principals, and probably Cyrus Jirongo of United Democratic Movement (UDM) who was absent from the Musalia event, were clearly irked by the presence of the DP, whom they separately regard as a key political opponent. In other words, while Musalia was certain about a political earthquake, he probably had no idea the resultant debris would fall not far away from his feet.
Yesterday, Musalia firmly pointed out that Azimio la Umoja, or rather ODM leader Raila Odinga, was not going to be part of his political journey. And his invitation of Ruto alongside the OKA chiefs appears to have been a well-calculated move aimed at isolating Raila politically by denying him the crucial votes to win the top seat.
By siding with Ruto, for instance, Musalia and Ford-Kenya leader Moses Wetang'ula could swing the vote of the Maragoli and Bukusu – who are the largest Luhya sub-tribes – towards Ruto. If Wiper party's Kalonzo plays as per the script, he too would pass over the numbers to Ruto, thereby leaving Raila exposed. The former Prime Minister has relied on these voting blocs over the last decade.
The decision by the Ruto-Musalia-Wetang'ula trio to team up, leaves the other OKA principals in political quandary. Kalonzo, for instance, who was largely tipped to fly the OKA flag has the option of joining Musalia in the new formation, or cobbling up what is left in OKA and leading it or leading to Raila's Azimio outfit. That will make a mouthwatering poll contest.
Nyeri Town MP Wambugu Ngunjiri, separately argues the earthquake aborted. According to the legislator, who is allied to President Uhuru Kenyatta's Jubilee Party, the teaming up of Musalia and Ruto "has been the worst kept secret in Kenya for months". In his opinion, the surprise would only have been evident if the two had not declared their political union.
And noting that some legislators allied to Musalia and Wetang'ula, including Kakamega Senator Cleophas Malala and Kabuchai MP Kalasinga Majimbo, have been openly engaging in political dalliance with Ruto, political scientist Dr Richard Bosire, concurs that the Musalia-Ruto pact was an open secret.
Indeed over the last two months, talk of the union has been so strong not to mention documents, whose authenticity is unclear, that have been circulating on social media purporting to be a Memorandum of Understanding (MoU) between Ruto and Musalia.
Ideally, Musalia is unlikely to be the presidential flag bearer in this arrangement considering that Ruto is barred by constitutional dictates to run for the DP's position for a third consecutive time. And secondly, as Ngunjiri points out, the DP "has invested heavily in the race over the last four years – financially and in terms of time", meaning he is unlikely to step aside to back another candidate.
Nonetheless, anything is possible in politics and the DP can similarly back Musalia for presidency, which is what would fully amount to a political earthquake. In fact, Ruto made some reference to this effect yesterday when he pointed out that "we will have to make the right sacrifices in order to take Kenya to the next level".
Musalia's speech was no doubt punchy – well crafted and punctuated with proverbial lines as well as quotations from the United States' 16th President, Abraham Lincoln, complete with a theme-line, "tusidanganyane". However, there is a risk that the one-time Vice President has opened up many war fronts, against Uhuru, Raila, his OKA colleagues and the Central Organisation of Trade Unions (Cotu) Secretary General Francis Atwoli.
Clearly, therefore, Musalia has opened himself up to many battles including with the President, whom he has hit out hard over a "non-performing" economy, poor development record and graft. In essence, by associating with the DP, Musalia joins the ranks of Uhuru's sworn enemies. This is a double-edged sword that will work for him or against him, depending on how successfully he and Ruto manage demonise the Jubilee administration and brand Raila as a "government project".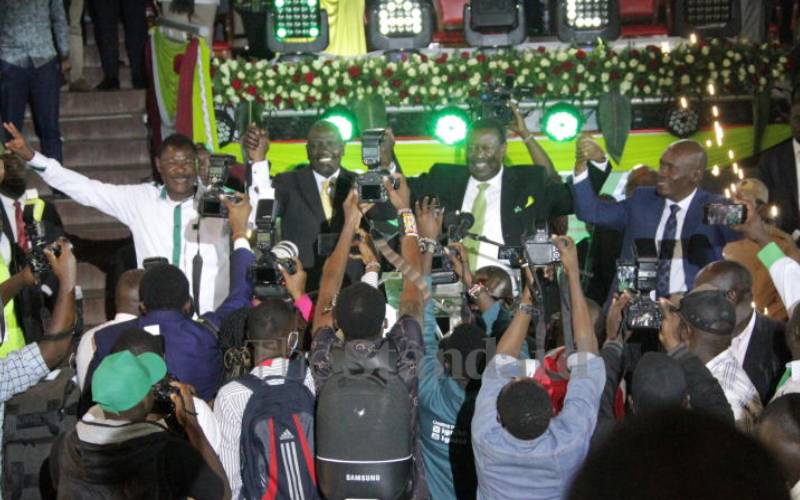 On Sunday, Musalia curiously unleashed his scathing attacks on Raila and the Jubilee administration, right before the DP, who was in attendance. Dr Bosire finds this "very pretentious" and describes Musalia as a pretender "who has betrayed the kind of argument he is fronting, yet he is dining and whining the corrupt individuals".
Claiming that Ruto "has been mentioned in virtually all major corruption scandals", the University of Nairobi lecturer attributes Musalia's move to that of "a desperate man, who has run out political options."
In working with Ruto, Dr Bosire argues that the DP is the biggest political winner and that Musalia and Wetangula "are keener on rescuing their pride and career than winning the presidency."
According to Prof Edward Kisiang'ani, though, the latest development precipitates a win-win situation for all, Prof Kisiang'ani, who leads Ruto's think-tank argues that together three (Ruto, Musalia and Ford-Kenya Chairman, Moses Wetangula) now have a coordinated weapon to lock out Raila from the region.
"Even if the pact amounts to Musalia and Wetang'ula are turning over the numbers to Ruto, the move is okay because it will help the Luhya political bigwigs have their dignity restored, having lost it all to Raila," argues Prof Kisiang'ani.
The History lecturer at the Kenyatta University hails Musalia and Wetangula for teaming up with the DP because, "if you want to your career to soar in politics you must move away from Raila, because in his grouping he will always be regarded as the flag bearer."
And terming Musalia as a man on a mission, Kericho Senator Aaron Cheruyiot describes the ANC leader as one who has come of age "by refusing to join the gravy train of people only keen on political power".
According to Cheruyiot, Musalia seems to have listened to the soul of Kenya "and not the big boys who are out of touch with the general populace".
"This move can only make both leaders stronger. They have what it takes between them to put together a team that will take Kenya to the next level," he told this writer.
However, Ngunjiri maintains the ANC leader "has fatally wounded himself", politically: " If he cannot be the flag bearer, he may insist on being given the DP's slot, which is the only way for him to remain politically relevant. Ruto is unlikely to give in because he would then automatically lose most of the Mt Kenya vote that he currently controls."
Collectively, though, and as Kirinyaga Governor Anne Waiguru rightly puts it, the Ruto-Musalia duo stands a good chance to amass votes across the country, to see either of the two assume the leadership of the country after Uhuru.
A combination of the two can claim well over 60 per cent of the votes in western Kenya, Rift Valley and Mt Kenya region, from among the three populous communities of Luhya, Kikuyu and Kalenjin as well as additional votes from the rest of the country. However, victory at the ballot will depend on the role that Musalia will assume in the Ruto-Musalia pact.
Musalia and Ruto have previously worked together – albeit briefly – under former President Daniel arap Moi and with Raila in the ODM, where both were members the Pentagon – the outfit's top and influential organ, whose other members included Raila, Tourism Cabinet Secretary, Kitui Governor Charity Ngilu and the late Joseph Nyagah.
Today's announcement is bound to trigger new realignments on the political scene. However, only time will confirm the prudence of his action, for as he has repeatedly pointed out since December last year, the only predictable thing about him this year is going to be his unpredictability.